INIS MEÁIN ISLAND STAYS - PRESS 2023
See press below for Inis Meáin Island Stays from 2023.
Evolved from Inis Meáin Restaurant & Suites, the team, location, architecture, design and many more elements remain the same.
Hospitality Ireland: A New Chapter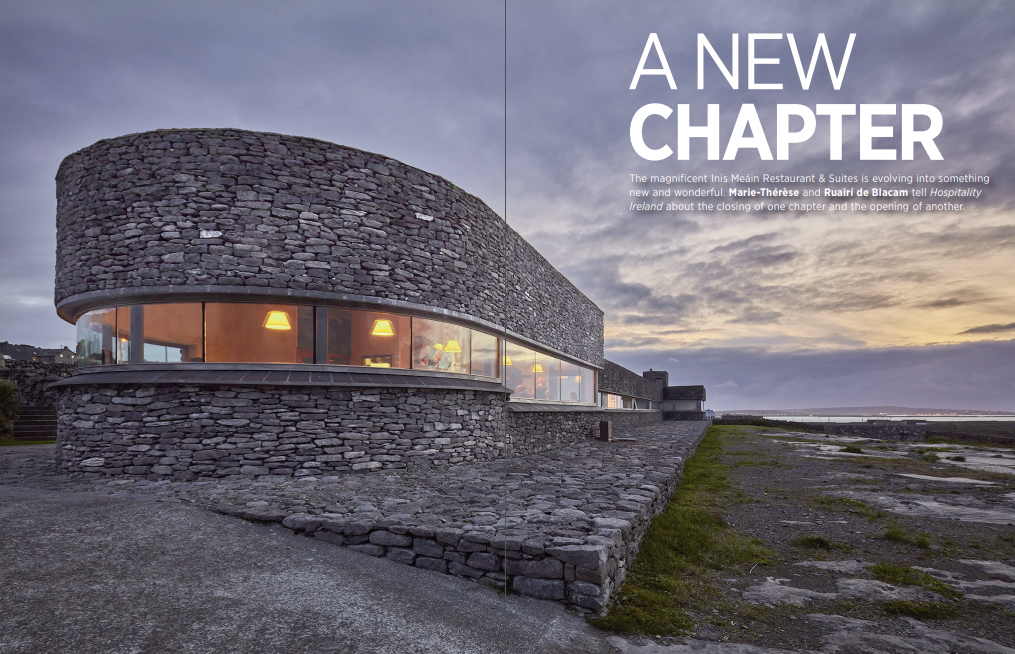 The magnificent Inis Meáin Restaurant & Suites is evolving into something new and wonderful. Marie-Thérèse and Ruairí de Blacam tell Hospitality Ireland about the closing of one chapter and the opening of another.
Tell us why you have decided to close Inis Meáin Restaurant & Suites.
From 2023, the restaurant will be closed, but we will be offering beautifully designed accommodation on our farm estate. We have renovated a new building, the Boat House, which will join our iconic limestone-clad Stone House, with both properties being available for groups of up to four and eight, respectively. These special and historic structures – the Boat House is where the traditional island fishing boats, or currachs, were made – will be available on a self-catering basis. Delicious pre-prepared meals, fresh baking, vegetables and honey from our farm will also be offered. In late 2019, we added a special 66- acre island farm to our landholding, which includes areas dotted right through the island, from the north coast to the south coast. The Aran Islands form part of the Burren, so the landscape is spectacular and very ecologically rich. The farm will be accessible to our guests, with an in-depth ecological study to guide them around the various terrains.
Along with our livestock of cattle and bees, and vegetable-growing, the farm has many spectacular and diverse natural and archaeological features and will offer a private off-road and up-close nature experience to our guests – but back to the question: why are we changing from the Inis Meáin Restaurant & Suites format?
There are many factors, but the main one is that Ruairí's parents, Tarlach and Áine de Blacam, would like to retire from the business that they set up 45 years ago, and we would like to take on the running of that business, Inis Meáin Knitting Company. The knitwear company is the largest employer on the island, with a team of around 20 out of an island population of 180. It plays a pivotal role in the island community, which is something that we wanted to help sustain. It is also an international expert in its field of designer knitwear, using luxury yarns, and has forged strong relationships with clients all over the world through the tenacity of Ruairí's parents and their team. However, any business is particularly challenging to manage on a small oceanic island, so we have always known that we couldn't run Inis Meáin Restaurant & Suites and Inis Meáin Knitting Company simultaneously, as they currently operate. This is because they both involve a huge amount of personal commitment and time to produce what they do at a very high level of quality. Therefore, if we were going to stay in hospitality and also run the knitting company, at least one of those businesses had to change significantly, to enable us to do both well while retaining a life balance. The upcoming retirement of Ruairí's parents, the needs of our own children, the purchase of our farm, and more came together in the last couple of years to favour running the knitting company in its current guise and evolving the hospitality business to be more centred around our farm and immersive nature stays.
How hard was that decision?
Very difficult. At first, it seemed crazy to even contemplate it. Inis Meáin Restaurant & Suites has been like a baby for us. Ruairí bought the three-acre site in 2000, it took over two years to get planning permission, we started building in 2005, opened in 2007, and now it's 2022 – that's half of our lifetime already invested in it! Although it brought challenges and required sacrifices over the years, we persevered, and it's now a good, solid business with a wonderful clientele, but there are many life considerations – as well as business considerations – involved, and we are now happy to be evolving our baby to its next stage. Much of the creativity and constant rethinking every winter to keep improving Inis Meáin Restaurant & Suites will be as relevant in our new chapter as the previous one, so it's great to know that there is continuity there, and that a lot of hard work is not going to waste.
Why is this the right decision for now?
The option came up to take over the knitting company, and there seemed to be several factors in favour of this move at this time in our lives. One is that our two girls are now 11 and nine, and we'd like to have more flexibility to be able to offer them opportunities that might involve more regular trips to the mainland. For example, this year the three Aran Islands combined had enough children – for the first time in 12 years – to form a mixed under-12s GAA football team, but the matches were on the mainland, which could involve a whole day trip for a one- hour match because of ferry times. These logistics can be considerable and time- consuming, and not very compatible with running a restaurant on the island. Covid has also made a difference. It has exposed the fragility of the hospitality industry, while, at the same time, helping to make Inis Meáin Knitting Company more manageable. It has done this by making it acceptable to show the new knitwear collections to buyers in New York and Tokyo through online meetings from our island showroom. This is replacing the need for the extensive international travel that was previously required, which was particularly challenging from a west-of-Ireland, offshore island base! Covid has also helped drive forward the retail side of Inis Meáin Knitting Company, selling directly to customers online. It has traditionally been a wholesale business, primarily, but it makes sense to continue to grow the online retail side of the business, and that will be one of our main areas to focus on for the future.
What kind of legacy do you think that Inis Meáin has left?
We are very happy with what we achieved with Inis Meáin Restaurant & Suites, in that over the 15 years since we opened, we kept reinvesting in the business to eventually bring it to a level of quality that we ourselves were satisfied with. We feel our guests responded well to this approach, many rewarding us by returning every year, always eager to see what new additions had been made. Having the opportunity to welcome about 65% of our guests back each year has not only given great joy, but has been the best form of job satisfaction we could have imagined. We feel that part of our legacy are the happy Inis Meáin memories that are embedded in the minds of these special guests. Inis Meáin Restaurant & Suites, when we opened in 2007, offered something new in hospitality. We had both travelled extensively, internationally, for work and leisure in our previous lives – getting married in Brazil along the way – and neither of us had ever come across the model that we created. What we did know from our travels is what we liked and what we didn't like, and, after that, the island – being the unique location that it is – guided every other decision, in terms of forming the ideas for what we were going to offer. This amounted to the creation of a travel experience that was unique at the time and still seems quite rare, in terms of a beautiful, remote, quiet island location with a design-orientated nature lodge, on a tiny scale and at very high quality, with great food and wine. With the combination of those factors, it was always going to be hard work to make it feasible, especially independently, without deep pockets or financial investors. So, having succeeded in creating a viable business – almost against the odds – and having guests like it so much that it ran at 100% occupancy for almost all of its 15 years is something we really appreciate. We're very grateful for that positive reaction from so many that helped us along the way, including fellow islanders, our regular guests, and a very supportive press over the years. Perhaps Inis Meáin Restaurant & Suites helped open the door for other hospitality businesses to think outside the box and see that doing so could be a success – that it doesn't have to fit into the traditional categories of hospitality for people to be able to understand and support what you do if you do it well enough. We introduced a no-choice, daily changing menu as the only option back in 2013 because we were loath to have any of our freshly harvested garden vegetables linger at the back of a fridge if left unordered from an à la carte menu. This was a significant move at the time, particularly on an island with very few other dining options available. All of the decisions we made as we evolved Inis Meáin Restaurant & Suites over the 15 years were to create the best- possible product we could for our guests, given our unique circumstances, however challenging, surprising or unconventional these decisions may sometimes have seemed to others. We have seen many of these ideas replicated in the industry over the last few years, as interesting owner- run businesses brought sustainability and guest well-being to the fore. Designing a business in empathy with a natural location, a daily changing set menu, restaurants growing their own or cultivating close relationships with vegetable growers and other small suppliers, shorter opening hours, allowing for higher quality and sustainability, delivered breakfasts, unconventional accommodation formats, a renewed focus on nature and enabling guests to get closer to it are all elements that, 15 years on, now appear much more regularly in the hospitality offering in Ireland and internationally.
Some of your best memories over the years …?
It has been an ongoing pleasure, through the years, to continuously welcome back returning guests and islanders to the restaurant and suites, and to host them while they make their own unique memories for their special occasions, or simply have the opportunity to rediscover themselves, or each other, in Inis Meáin. However, it is the special friendships that have come out of our work that have created some of our best life memories over the years. We have had the most fantastic, intimate experiences, from San Sebastian to San Francisco, shared dinner tables with amazing winemakers, and made wonderful lifelong friends who share our love of good food, wine, the island, and our outlook on life. These are opportunities and friendships that probably wouldn't have happened out of an office job, and that more than make up for the challenges we faced over the years.
What are the challenges and sources of excitement in the new chapter?
We are evolving one business and taking over a second one that, combined, have 60 years of hard work behind them. They both have fantastic brand loyalty and a wonderful, unique product. They operate in two different industries, across international markets, and currently employ 30 people on a very small offshore island. So, the next couple of years are absolutely chock-a-block with both challenges and sources of excitement in equal measure – too many to mention. That said, there is one big thing that we are all really looking forward to: our first- ever summer family holiday next year. Italy seems to be calling. Ruairí spent two years there cooking, he speaks Italian, and there are also knitting company links there, but the rest of the plan is another item on a very long to-do list this winter!
The Gloss Magazine This New Naturist Travel Experience is Top of Our Wishlist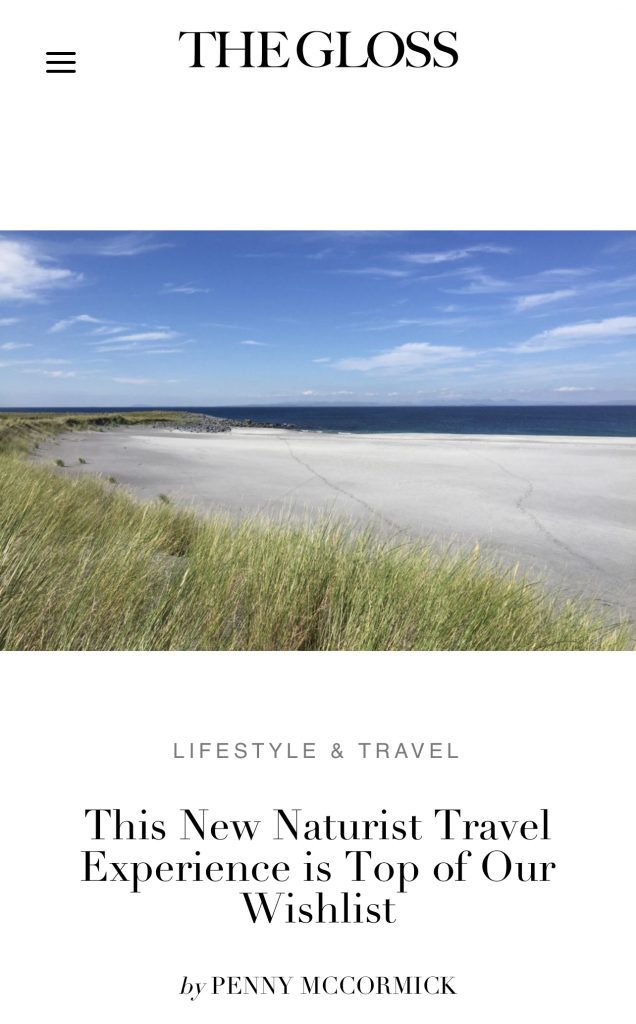 By
Penny McCormick
Published
The Gloss Magazine
2023
CURATED TO ENHANCE GUESTS' APPRECIATION OF THIS REMOTE OFF-SHORE ARAN ISLAND, HERE'S ALL YOU NEED TO KNOW ABOUT THE NEW INIS MEÁIN ISLAND STAYS …
Marie-Thérèse and Ruairí de Blacam's Michelin green-starred restaurant and guest house on Inis Meáin has gained almost mythical status. A multi award-winning enterprise, the suites have consistently booked out nearly a year ahead with return guests.
After 15 successful years, the duo has embarked on a new chapter by developing the hospitality offering further, leaving the restaurant behind and creating the new Inis Meáin Island Stays. These stays will place an emphasis on slow travel and environmental preservation.
"Inis Meáin Island Stays, with our 70-acre island farm estate and ecology guide, will enable our guests to delve deeper into understanding this special place, giving off-road access and bespoke ecologist notes on what to look out for, in each part of the farm, during each season," explains Marie-Thérèse.
"With Inis Meáin Island Stays our guests are investing more of their time and understanding into a unique natural destination, giving them a deeper sense of relaxation and well-being, and helping to avoid a constant stream of travellers coming and going which can upset the local balance of nature and community."
Guests have a 70-acre working farm of Burren landscape to explore, with its small herd of breeding cattle, native Irish bees, hens, vegetable garden, and biodiversity preservation.
"The farm land stretches like a broken chain for 5km through the whole length of the island," says Marie-Thérèse. From seaweed rights, coastal birds and otter-nesting at the north-coast, to the reed lake, the old farmstead, through land on which the large pre-Christian fort – Dún Chonchúr was constructed, and finally to winterage fields which run to the storm beaches on the south coast.
All of the farm terrain features an abundance of wild flowers, particularly the rare Burren flowers, for much of the year. The whole farm, like the rest of the island, contains fossilised limestone formations and endless dry stone walls in varied patterns. The Ecology Study of the Farm will guide guests within this abundantly rich landscape of nature, archaeology, history and culture.
More accommodation has also been added. The original iconic, curved, stone-faced building is now called the Stone House. It is available for exclusive-use, sleeping groups of up to eight guests in four Studio Suites, with a large separate spacious apartment for the group to meet, dine and relax together.
This conviviality is matched by comfort. Soft furnishings – in silk, cashmere, alpaca and merino wool – are tactile and luxurious, while toiletries are provided by Burren Perfumery and Aveda. Guests will also find a range of equipment to ensure that they maximise the surroundings and natural amenities including binoculars, tow floats, swimming guides, wet suits, walking sticks, yoga mats, thermos flasks and beach towels.
In addition, there's a new, beautifully renovated Boat House, also available for exclusive use, sleeping groups of up to four guests in two ensuite bedrooms. It features spacious open-plan living quarters with a large picture frame window to the west. The Boat House is where the traditional island boats or currachs were made and repaired until recent years, and this important heritage has been part of its renovation design.
Both the Stone House and the Boat House, although on separate private grounds, are located in the centre of the island, within easy walk to all amenities, with expansive views of the island and Galway Bay.
"To enhance Island Stays, a delicious Island Dinner is available for delivery to the houses every day, along with a large selection of special wines, freshly baked bread and harvest boxes of our farm produce," explains Ruairí.
Undoubtedly, elemental beauty and personal space are two of the benefits of these stays. Indeed, Inis Meáin has attracted artists and been the inspiration for many well-known works including JM Synge's The Aran Islands and Martin McDonogh's The Cripple of Inishmaan.
"If not inspiring a great work, an island stay at least brings a sense of calm and calibration," admits Marie-Thérèse. "For most guests, often travelling from cities, there are few reminders of their daily lives in Inis Meáin – this enables them to return refreshed and clear thinking after an Island Stay immersed in nature."
Need to know: The Island Stays are available from April to September. There will be just 60 bookings available in 2023; 30 for the Stone House and 30 for the Boat House. Rates for up to four guests for a five day, four night stay are from €2,950. Included are welcome goodies and a larder starter kit, with optional extras such as a wine delivery service, mini deli, harvest box among others; www.inismeain.com.
INIS MEÁIN RESTAURANT AND SUITES - PRESS 2007-2022
See press below for Inis Meáin Restaurant and Suites from 2007-2022.
While evolved to Inis Meáin Island Stays from 2023, the team, location, architecture, design and many more elements remain the same.
ALHAUS magazine: Inis Meáin Restaurant awarded a Michelin Green Star...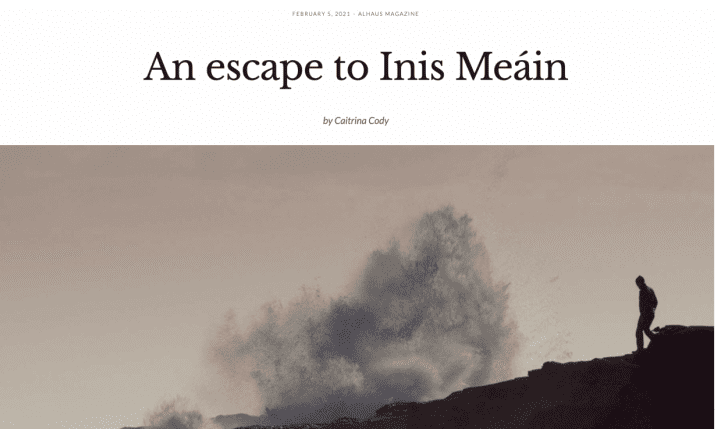 By
Caitrina Cody
Published
ALHAUS magazine
February 2021
On a remote patch of the Aran Islands, surrounded by sea and scored by hundreds of miles of dry stone walls, sits Inis Meáin Restaurant & Suites. Described as an 'elemental travel experience', the boutique Irish destination is designed to embrace the natural beauty of its environment; clad in hand-carved local limestone it seamlessly blends into the rugged terrain of Inis Meáin.
In January 2021 the restaurant was awarded a prestigious Michelin Green Star for its efforts to promote sustainability and environmental ethics. Founded in 2007 by chef and Inis Meáin native Ruairí de Blacam and design consultant Marie-Thérèse de Blacam, the eco-friendly restaurant is contemporary in style, with incredible views of Inis Meáin, Galway Bay and Connemara.
Restaurant ingredients are harvested from the island, with lobster and crab caught by local fishermen from traditional fishing boats called currachs. Vegetables, fruit and herbs are grown by the de Blacams using only island seaweed as fertilizer, while shoreline and island paths are foraged for wild food.
Marie-Thérèse de Blacam credits the Michelin award to the core ethos of Inis Meáin. "We are delighted that Michelin have created this category and to be awarded this accolade, as it completely aligns with what we have been doing since opening in 2007," she told ALHAUS magazine.
"In creating Inis Meáin Restaurant & Suites we have added to the island a place to dine and stay that is complementary and preserving of its special location in scale and quality. Much of the restaurant produce comes from the vegetable gardens around the restaurant, and the surrounding land and coast, including in recent times the addition of our own island farm."
Design is central to the de Blacams' approach to hospitality; the building itself was designed by de Blacam & Meaghar, a firm dubbed "the godfathers of contemporary Irish architecture" by Architects Today. Attention to detail shows in the carefully considered interiors of both the restaurant and adjoining hotel, which hosts just 10 guests at a time.
Uncluttered spaces are softened by furnishings in natural fibres and tones, while a 10-meter long continuous window in each suite brings the outside in. Sleeping areas feature super king-sized Iroko beds and granite-tiled Philippe Starck bathrooms; living areas include cashmere Aran-patterned cushions and Iroko cabinets.
Guests have access to lots of fun toys while they stay, including custom-designed Cube bicycles, Steiner binoculars, ash walking sticks and fishing rods. There are no televisions on site; instead, guests are encouraged to explore the cliffs, beaches, rock formations, dry stone walls and wildflower fields that surround the small hotel.
As travel options remain limited, it's unique destinations like this that will represent a true escape from the routine of everyday life. Inis Meáin Restaurant & Suites' credentials as a sustainable, eco-friendly food location tie neatly into a growing demand for ethical travel options. As people take fewer holidays, they are choosing to invest in bespoke experiences with powerful stories — the stuff of long-lasting memories.
The Financial Times: This was unquestionably one of my best meals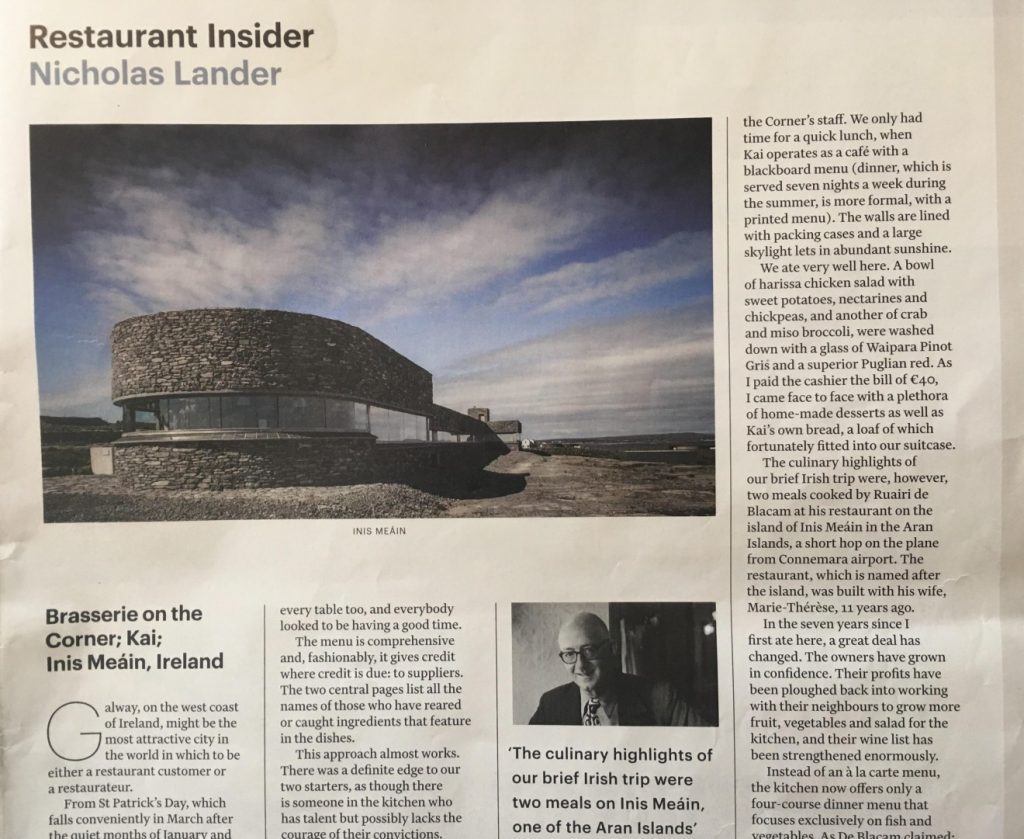 By
Nicholas Lander
Published
The Financial Times
July 2018
Inis Meáin excerpt…
The culinary highlights of our brief Irish trip were, however, two meals cooked by Ruairi de Blacam at his restaurant on the island of Inis Meáin in the Aran Islands, a short hop on the plane from Connemara airport. The restaurant, which is named after the island, was built with his wife, Marie-Thérèse, 11 years ago.
In the seven years since I first ate here, a great deal has changed. The owners have grown in confidence. Their profits have been ploughed back into working with their neighbours to grow more fruit, vegetables and salad for the kitchen, and their wine list has been strengthened enormously.
Instead of an à la carte menu, the kitchen now offers only a four-course dinner menu that focuses exclusively on fish and vegetables. As De Blacam claimed: "Our guests immediately welcomed the lack of choice, overriding our innate nervousness."
The two dinner menus we enjoyed were most impressive: a crab salad with finely diced apple; a thick chunk of lobster laid upon the flattened leaf of what must have been an enormous cabbage; turbot with a perfect sauce Grenobloise (ie plenty of capers); and an apricot tart with lemon verbena ice cream.
The views from the dining room are stunning. This was unquestionably one of my best meals of 2018 so far — and I hope it will be one of yours at some point in the future.
The New York Times: The singular high-end restaurant and inn on the islands...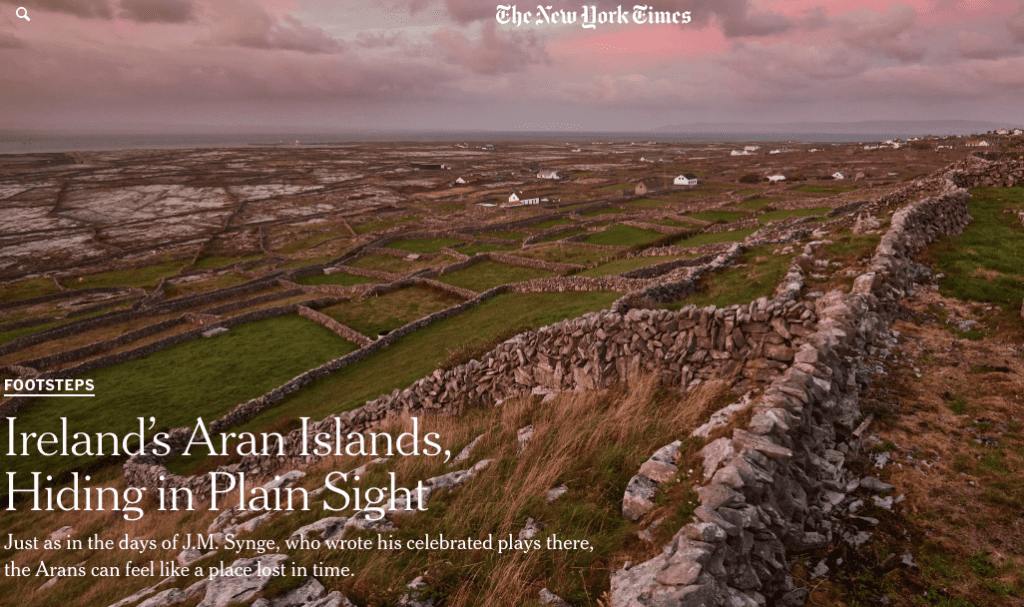 By
Andrew McCarthy
Published
The New York Times
September 2018
Inis Meáin Excerpt
Mr. de Blacam is a local boy who made (extremely) good. In 2007 he and his wife, Marie-Therese, opened Inis Meáin, the singular high-end restaurant and inn on the islands. "It's unlikely, if not impossible, we could have done this if I wasn't from the island," he said as I sipped some of his delicious lobster bisque and watched a setting fireball sun slash light across the limestone just outside the restaurant's picture window. "You need the people's support."
He continued: "We're on a precarious perch out here in the ocean. People lean on each other in all sorts of ways. When I was a kid, I went with a candle to bed, and people still dressed in traditional clothes. Ireland was 20, 30 years behind the rest of the world, and Aran was 20, 30 years behind Ireland." The sun dropped, as Synge wrote of a similar sunset a century earlier, "like a lozenge of gold flame into the sea" and the ocean was cast in a purple hue. "But things are moving fast; we're catching up a bit," Mr. de Blacam smiled and placed a dish of scallop ceviche with toasted almonds in front of me. "What you have to understand is that the people here live a very simple life. And we're here by choice. There's an understated pride, and the legacy of Synge is certainly a part of that."
The Irish Times: Worth every morsel of its 9.5/10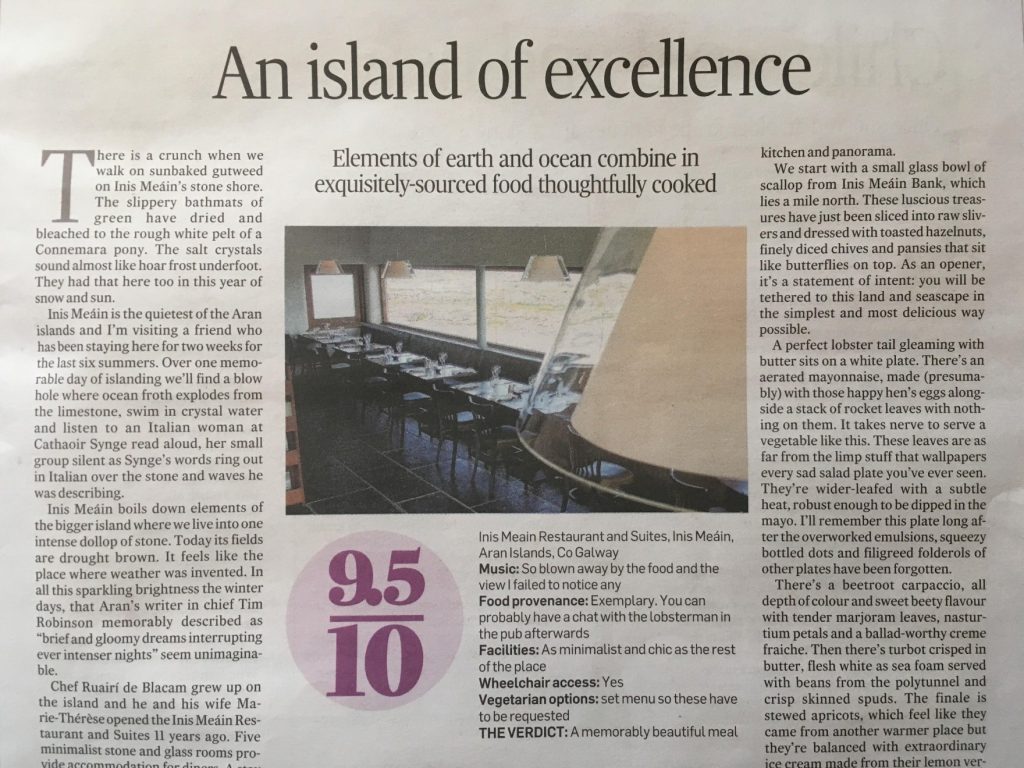 By
Catherine Cleary
Published
The Irish Times
August 2018
There is a crunch when we walk on sunbaked gutweed on Inis Meáin's stone shore. The slippery bathmats of green have dried and bleached to the rough white pelt of a Connemara pony. The salt crystals sound almost like hoar frost underfoot. They had that here too in this year of snow and sun.
Inis Meáin is the quietest of the Aran islands and I'm visiting a friend who has been staying here for two weeks for the last six summers. Over one memorable day of islanding we'll find a blow hole where ocean froth explodes from the limestone, swim in crystal water and listen to an Italian woman at Cathaoir Synge read aloud, her small group silent as Synge's words ring out in Italian over the stone and waves he was describing.
Inis Meáin boils down elements of the bigger island where we live into one intense dollop of stone. Today its fields are drought brown. It feels like the place where weather was invented. In all this sparkling brightness the winter days, that Aran's writer in chief Tim Robinson memorably described as "brief and gloomy dreams interrupting ever intenser nights" seem unimaginable.
Chef Ruairí de Blacam grew up on the island and he and his wife Marie-Thérèse opened the Inis Meáin Restaurant and Suites 11 years ago. Five minimalist stone and glass rooms provide accommodation for diners. A stay in the suites is expensive and returning guests get first dibs on the bed nights. (They're booked up already for half of next year's season). But the restaurant is open to non-residents three nights a week. So with a last-minute email, a dash by train, bus, boat and island taxi with a detour to pick up my friends we're here.
Marie-Thérèse has time to show us the kitchen garden. The soil had to be brought over by boat and they fertilise it with seaweed. A stone wall was built around the polytunnel to keep the storms from snatching it. The rest of their produce is grown in a bigger garden "off-site" which means roughly "two fields away," Marie-Thérèse explains. There is a henhouse with an ingenuous long-handled cup fashioned by an islander to fish out the tricky-to-reach eggs.
The couple allocated a strip of precious soil to asparagus and after four years they had their first harvest this summer. There were just enough spears for lunch for the two of them. Next year there should be more. Inis Meáin asparagus is the ultimate slow food.
Inside the restaurant has the world's best view. The rounded prow of the long, low building noses its way through the stone like a whale. Sliced through its length is a gleamingly clean (today was window-washing morning) line of glass with a wide-angle view of the unfeasibly beautiful horizon. There is a banquette facing away from it. Chairs in felted wool face towards it. They put up a long mirror so the people with their backs to the sea can see both kitchen and panorama.
We start with a small glass bowl of scallop from Inis Meáin Bank, which lies a mile north. These luscious treasures have just been sliced into raw slivers and dressed with toasted hazelnuts, finely diced chives and pansies that sit like butterflies on top. As an opener, it's a statement of intent: you will be tethered to this land and seascape in the simplest and most delicious way possible.
A perfect lobster tail gleaming with butter sits on a white plate. There's an aerated mayonnaise, made (presumably) with those happy hen's eggs alongside a stack of rocket leaves with nothing on them. It takes nerve to serve a vegetable like this. These leaves are as far from the limp stuff that wallpapers every sad salad plate you've ever seen. They're wider-leafed with a subtle heat, robust enough to be dipped in the mayo. I'll remember this plate long after the overworked emulsions, squeezy bottled dots and filigreed folderols of other plates have been forgotten.
There's a beetroot carpaccio, all depth of colour and sweet beety flavour with tender marjoram leaves, nasturtium petals and a ballad-worthy creme fraiche. Then there's turbot crisped in butter, flesh white as sea foam served with beans from the polytunnel and crisp skinned spuds. The finale is stewed apricots, which feel like they came from another warmer place but they're balanced with extraordinary ice cream made from their lemon verbena patch.
At the risk of gushing like a blow hole I love every moment of our meal in the Inis Meáin Restaurant. Elements of earth and ocean sounds like a marketing cliche but that's what's here.Exquisitely-sourced food thoughtfully and calmly cooked is something we could do more on the mainland. Islander wisdom comes from seeing your place in the scheme of things with a clear unblinking eye. Dinner for three with a glass of wine, prosecco, elderflower cordial and sparkling water came to €249.
Wall Street Journal: Luring travelers who seek an understated approach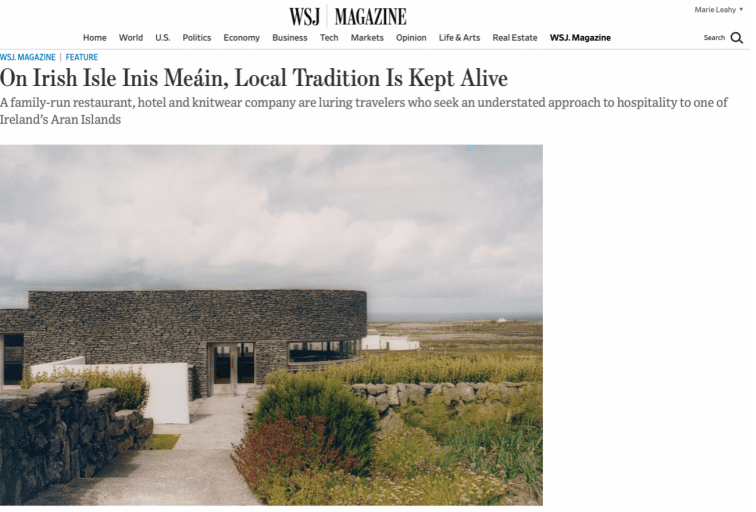 By
Tom Downey
Published
Wall Street Journal
December 2019
We want pilgrims to come here, not tourists," says Tarlach de Blácam, co-owner of the Inis Meáin Knitting Company, a knitwear operation that sends its garments to boutiques and high-end department stores around the world. The 72-year-old Irishman is among the 160 year-round residents of Inis Meáin (or Inishmaan, as it's known in English), the middle isle of the three Aran Islands off the west coast of Ireland. Born in Dublin, de Blácam moved here in 1973 with his wife, Áine, who grew up on the island. The couple wanted their children to be fluent in the local Irish, which they consider an especially pure variant of the language.
"Everything we are about is embodied in this language," says Tarlach. "Two hundred and fifty years ago, 70 to 80 percent of the population in Ireland spoke Irish. We had the richest folk literature in all Europe. We are here to try to keep that language and culture alive." De Blácam faces long odds. Although interest in the language has increased and a greater number of schools have an all-Irish curriculum, today roughly 74,000 of Ireland's 4.8 million inhabitants actively use the language.
Inis Meáin's unspoiled natural beauty goes a long way toward explaining why it has been continuously inhabited for more than three millennia. The ocean here is everywhere. One can smell the salt air and hear the low rumble of waves crashing into cliffs from every path. Green grasses, ferns and mosses blanket an otherwise spartan landscape, crisscrossed by gray stone walls that partition three and a half square miles into hundreds of parcels.
The island's two main businesses—the knitting company, run by Tarlach and Áine, and Inis Meáin Restaurant & Suites, run by their son Ruairí de Blácam and his wife, Marie-Thérèse—together employ about 20 percent of the island's population. The hotel, five suites housed in a low-slung limestone edifice whose facade echoes the island's traditional stonemasonry, allows a small number of guests to explore the cliff tops on foot or to swim in the bracing ocean waters.
"When I was a child here, there was no running water. There was no electricity," says Ruairí, 45. "The boat from the mainland came once a week. You had to row out to reach it in a currach, a kind of ancient rowboat. It was a life of pure hardship, but also of almost total self-sufficiency."
Islanders subsisted largely on what they could grow, catch or raise themselves. Potatoes were fertilized with seaweed dragged up to the fields from the shore. The men netted fish, crabs and lobsters, salting some to preserve it for days when they couldn't venture to sea or came home empty-handed. "People lived in almost exactly the same way they had for centuries," Ruairí says. "It was a way of life I feel very lucky to have witnessed."
Raised on Inis Meáin, Ruairí left for 13 years, starting at 13 when he went to boarding school on the mainland and then to work in restaurants in Milan and Dublin. And like his mother and father, when it came time to start a family, he and his wife decided their children should grow up speaking Irish.
After spending a few years helping Ruairí's parents run the knitwear company, the couple struck out on their own. Ruairí's uncle Shane de Blacam, an acclaimed Dublin architect, drew up plans for a building using indigenous materials that could house a restaurant and bar, as well as rooms where the couple could live, and others they might one day rent out. The plan called for a thoroughly modern outer shell to be fashioned of the same stone that generations of islanders had used to construct their own walls and houses. But as work began at the tail end of the Celtic Tiger building boom, when fortunes were being made on the mainland, hiring a building crew was next to impossible. Ruairí, reared on the can-do spirit of the island, oversaw construction himself.
In 2007, they opened a restaurant much like the ones Ruairí had worked in, a European-style bistro. They soon realized there weren't enough visitors to support a casual eatery. To be sustainable, the restaurant would need to specialize in high-end cuisine, and diners would need a place to stay. So they fast-tracked completion of the remaining rooms, moved out of the building and opened the hotel. Each of its five rooms features a huge window running its length, offering panoramic views out to the sea.
Marie-Thérèse thought carefully about what would make the property stand apart. "We want people to see this island the way we see it," she says. "We want to let our guests experience what lured us back here to live." And so, rather than offering guided tours or concierge services, they enabled guests to take in the island themselves, with long walks across rocky expanses of cliffs or on beaches that are secluded even on prime summer days. They wanted every aspect of the guest experience to allow for solitude and the freedom to enjoy the island in its elemental splendor.
Each day begins with breakfast in a teakwood box, delivered silently to an anteroom attached to the suites. Later, guests are offered a packed lunch, a backpack, a small map, a personally written guide to the island's walkways, a bicycle and fishing gear for surf-casting. This understated approach has been hugely successful. Despite being one of the highest-priced hotels in all of Ireland, starting at around $500 a night, it consistently sells out as soon as rooms open for reservations. About half of its customers are return visitors.
At sunset, hotel guests and any other visitors convene in the hotel's long, narrow dining room. Cocktail service includes a drink made with a local gin distilled with dillisk, a native seaweed, then mixed with tonic and garnished with freshly harvested dillisk. Marie-Thérèse's wine list includes Róisín Curley Burgundy, produced in minuscule quantities in France by a pharmacist from County Mayo who learned everything she could from French masters before venturing out on her own.
Ruairí's menu typically includes one vegetable course, two seafood courses and dessert (he also keeps meat on hand for older islanders who, raised on a relentless diet of fresh or salted seafood, rarely order anything from the sea). After the first go-round with the more casual restaurant, he realized he needed to be more than a chef. "If we wanted to get great ingredients," he says, "we needed to grow them ourselves." The couple raise their own greens and vegetables in a nearby field and greenhouse and grow potatoes the traditional way, using seaweed to enrich the sandy soil.
Ruairí calls his style of cuisine "elemental eating." "What I realized after years of honing this menu," he says, "is that the ingredients here are so exceptional that the most important thing for me to do as a chef is to stay out of the way." Over the few days I visited, guests were served lobster from traps that ring the island, potatoes just pulled from Inis Meáin's soil and some of the most tender squid I'd ever eaten, all dressed with subtle sauces that enhanced the flavor of the main ingredient without overpowering it.
On my last night, an amuse-bouche was a perfect distillation of the island's ethos. "I grabbed these mussels just an hour ago," Ruairí says, "from right next to the beach." Small and succulent, they'd been cooked just to the point of opening and were served without sauce or garnish.
Ruairí's reverence for time-honored tradition and local ingredients came in part from watching his parents make their way in the sweater business. Tarlach and Áine got their start in the mid-1970s supplying wholesalers, who in turn sold to souvenir shops on the mainland and stores in the United States specializing in goods for Irish-Americans nostalgic for the old country. Their rough, off-white knitwear, featuring elaborate stitching, was marketed as fishermen's clothing. "But that style of sweater would never have been worn for fishing," says Tarlach. "Those kinds of garments were people's Sunday best."
When the U.S. dollar took a nosedive in the mid-1980s, jeopardizing their primary market, the couple decided to take the business in a new direction. Sourcing high-quality yarn from Ireland and other parts of the world, they introduced lesser-known stitches and patterns from Inis Meáin, some dating back generations, and began to weave high-quality knitwear that would appeal to more than a niche clientele.
In 1986, Tarlach traveled to New York with a suitcase full of samples and a handwritten list of the city's top clothing stores. Buyers at Paul Stuart and Barneys took one look at the merchandise and placed orders. The sweaters sold, and these stores became loyal customers. In subsequent decades the business expanded across the U.S., Europe and Asia, and a few years ago the de Blácams started to sell knitwear via their own online retail portal.
Tarlach shows me an old dark-blue sweater with gaping holes across its midsection. "This is what a real fisherman's sweater looks like," he says. "Some decorative stitching around the shoulders and across the chest and arms, but the middle and bottom is much more plain. The holes are there because this sweater's owner hauled rocks to build walls."
Such threadbare garments have played an important part in the de Blácams' inspiration. When Tarlach first arrived here, he'd seen islanders wearing a distinctive shoe made from untanned cowhides called bróga úrleathair, tweeds stitched by a local tailor and hand-woven sashes called crios boasting color patterns signifying an Inis Meáin provenance. "They dressed so differently from head to toe, as soon as they set foot on shore, everyone recognized them as Aran Islanders," Tarlach says.
"Customers today don't just want to try on a garment," he continues. "They want to know exactly where it's from, why it's been made the way it has." Those islanders, he says, "strolled through the streets of Galway with a fierce independence, an assuredness. They were so confident of who and what they were. And that's maybe the most important thing for us to capture in the knitwear—an attitude to life."
The Irish Times: The Irish Times: Best Meal of the Year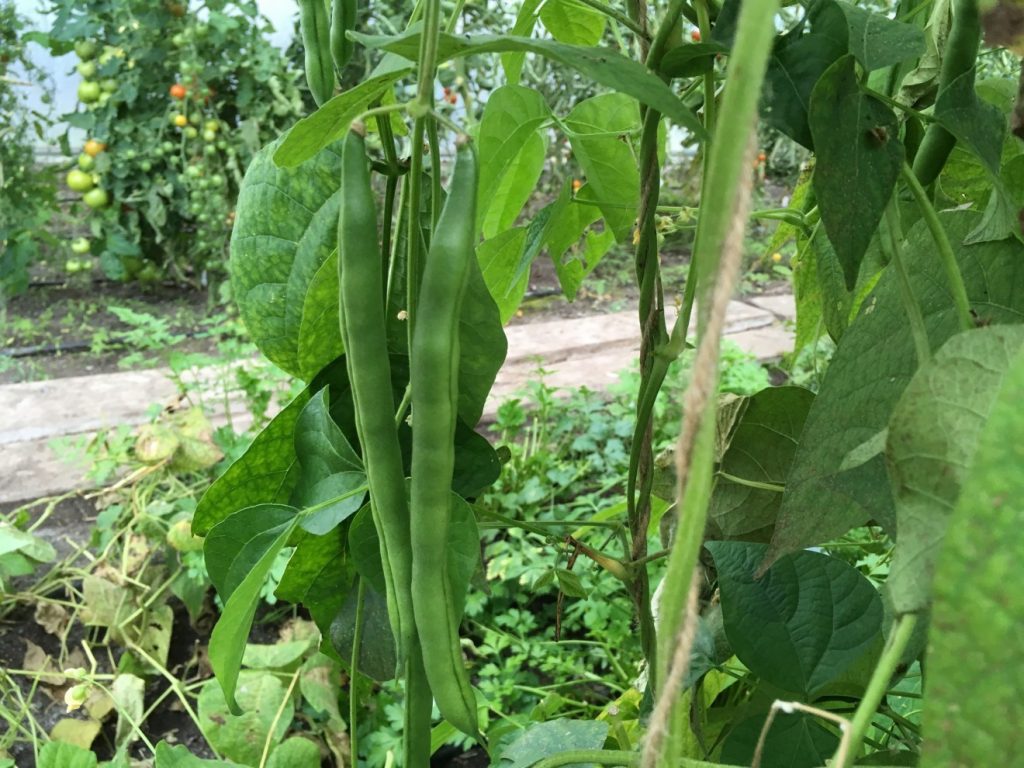 By
Catherine Cleary
Published
The Irish Times
December 2018
If you build it beautifully they will hammer down your door to come is what Ruairí and Marie Thérèse de Blacam have proven on Inis Meáin. The 2019 bookings for their suites sold out in 24 hours recently. We ate in the restaurant with the world's best view as non-residents and you should make plans to do so too. At the height of summer, we ate looking out at the most memorable sunset in a vast expanse of sky and ocean. There was scallop from Inis Meáin Bank a mile north, lobster with rocket grown in the restaurant garden, a beet carpaccio and turbot with island beans and spuds. Paying attention to every bite was never easier than it was in this magical, beautiful place.
JancisRobinson.com Newsletter: I cannot recommend this escape highly enough

By
Jancis Robinson
Published
JancisRobinson.com Newsletter
July 2018
This week Nick and I had the inordinate pleasure of spending two nights on Inis Meáin, the quietest of the Aran Islands off the usually wet west coast of Ireland – in a heatwave. Bed and delicious board provided by Inis Meáin Restaurant and Suites. I cannot recommend this escape highly enough, but this establishment is tiny, its owners have won myriad awards and tend to be booked up for their fairly short season well in advance. It's worth planning ahead though.
We drank well too – not just Guinness in the island's only pub but from a wine list put together with love. We particularly enjoyed a charming red Beaune 2015 from Co Mayo pharmacist Roisin Curley. Available only in Ireland, I fear, but quite a feat.
The Irish Times: Martin Hayes, Musician - "A wonderful restaurant"...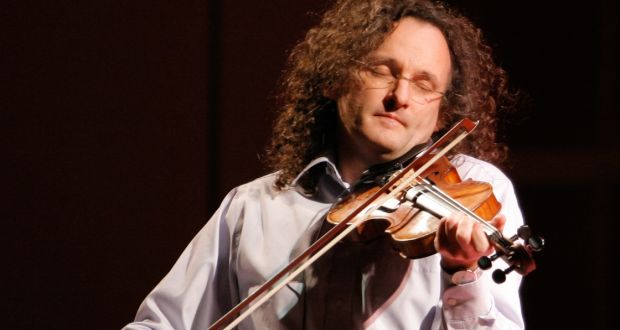 By
Martin Hayes
Published
The Irish Times
August 2019
Martin Hayes: On My Cultural Radar
Restaurant
The last restaurant I was at was a remarkable one called the Inis Meáin Restaurant on the island of Inis Meáin. It has simplicity and excellence and at its heart, but there's a refinement too. You're looking out across the beautiful island out to the ocean, across these rocky stone wall fields, and the architecture of the building is as exquisite as the food and the scenery. They only have one menu, and each course combines two main ingredients, which they try to source locally. I loved the endive and lobster; we also had beetroot carpaccio and mussels and clams, and hake with roasted red pepper, and crepe with mixed berries. They've decided to do things at the maximum level that you can do them, so it's really a wonderful restaurant.
Artist/designer
I'll go back to the islands again: the Inis Meáin Knitting Company designs these beautiful sweaters with beautiful colours, which they sell to shops all over the world – all from that little island where they design and make the whole thing themselves. It's quite incredible. The design of the factory and the materials they use are of the highest level. There's nothing about it that's stereotypical, yet it's of its place, and it's also completely modern. I came back with a lot of shopping bags, and so did my wife.
Coast magazine: 10 Best Island Hotels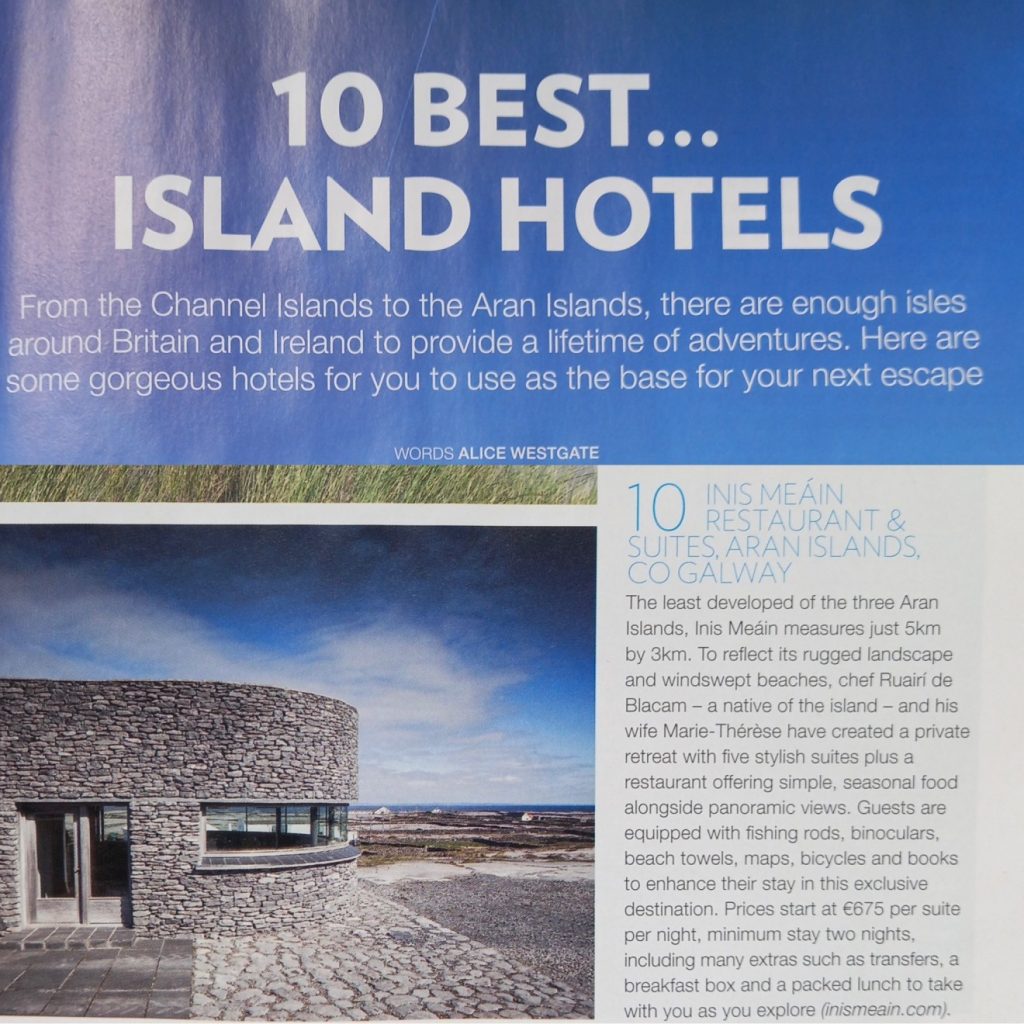 By
Alice Westgate
Published
Coast magazine
July 2022
The least developed of the three Aran Islands, Inis Meáin measures just 5km by 3km. To reflect its rugged landscape and windswept beaches, chef Ruairí de Blacam – a native of the island – and his wife ​Marie-Thérèse have created a private retreat with five stylish suites plus a restaurant offering simple, seasonal food alongside panoramic views. Guests are equipped with fishing rods, binoculars, beach towels, maps, bicycles and books to enhance their stay in this exclusive destination. Prices start at ​€675 per suite per night, minimum stay two nights, including many extras such as transfers, a breakfast box and a packed lunch to take with you as you explore.
Food & Travel magazine: Gourmet Boltholes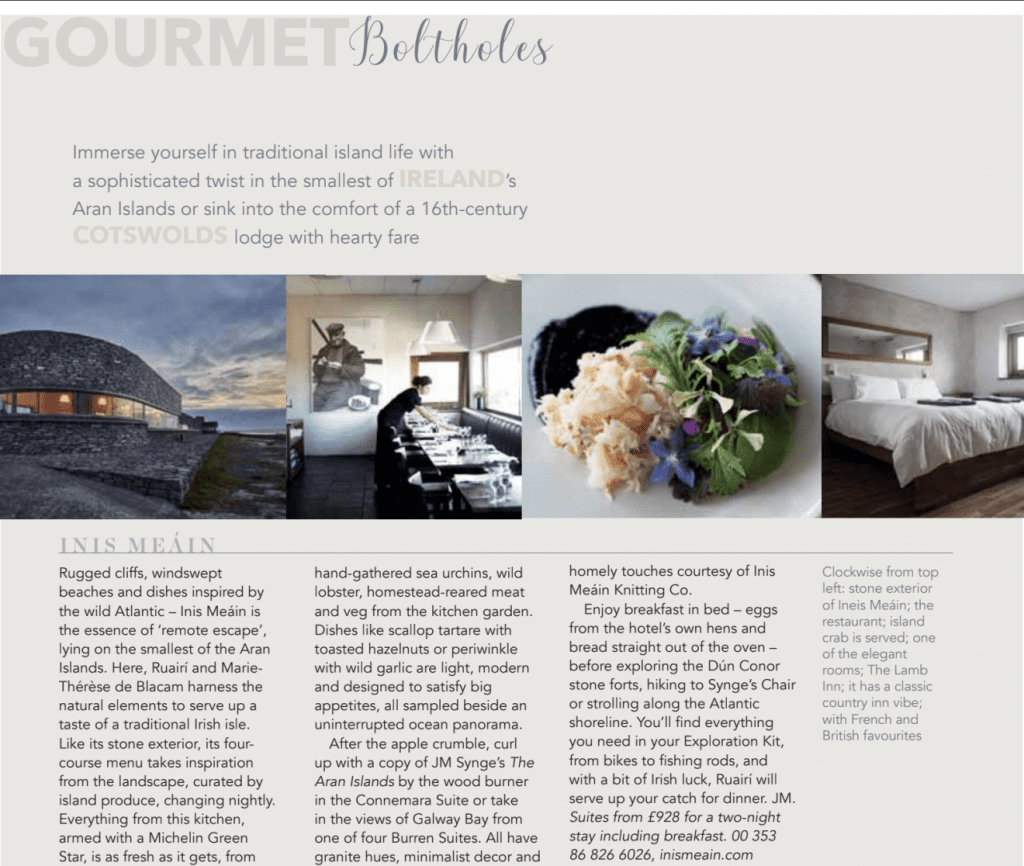 By
Jasmina Matulewicz
Published
Food & Travel magazine
October 2021
Rugged cliffs, windswept beaches and dishes inspired by the wild Atlantic – Inis Meáin is the essence of 'remote escape', lying on the smallest of the Aran Islands. Here, Ruairí and Marie-Thérèse de Blacam harness the natural elements to serve up a taste of a traditional Irish isle. Like its stone exterior, its four-course menu takes inspiration from the landscape, curated by island produce, changing nightly Everything from this kitchen, armed with a Michelin Green Star, is as fresh as it gets, from hand-gathered sea urchins, wild lobster, homestead-reared meat and veg from the kitchen garden. Dishes like scallop tartare with toasted hazelnuts or periwinkle with wild garlic are light, modern and designed to satisfy big appetites, all sampled beside an uninterrupted ocean panorama. After the apple crumble, curl up with a copy of JM Synge's The Aran Islands by the wood burner in the Connemara Suite or take in the views of Galway Bay from one of four Burren Suites. All have granite hues, minimalist decor and homely touches courtesy of Inis Meáin Knitting Co. Enjoy breakfast in bed – eggs from the hotel's own hens and bread straight out of the oven – before exploring the Dún Conor stone forts, hiking to Synge's Chair or strolling along the Atlantic shoreline. You'll find everything you need in your Exploration Kit, from bikes to fishing rods, and with a bit of Irish luck, Ruairí will serve up your catch for dinner.
Food & Wine Magazine: Ireland wins big: Irish Chefs react to Michelin Guide...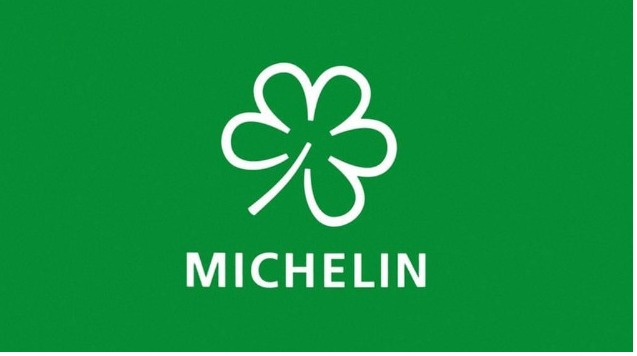 By
Jordan Mooney
Published
Food & Wine Magazine
January 2021
Inis Meáin excerpt
"We are delighted that Michelin have created the Michelin Green Star, and to be awarded this accolade, as it completely aligns with what we have created with Inis Meáin Restaurant & Suites," the team told us. "Inis Meáin is essentially a concentrated patch of Burren karst limestone landscape, surrounded by sea and crisscrossed by hundreds of miles of dry stone walls and archaeological treasures. Since 2007, we have added to the island a place to dine and stay that is complementary and preserving of its special location in scale and quality. Much of the restaurant produce comes from the vegetable gardens around the restaurant, and the surrounding land and coast including the recent addition of our own island farm."
Cereal Magazine: Inis Meáin is a haven for escapists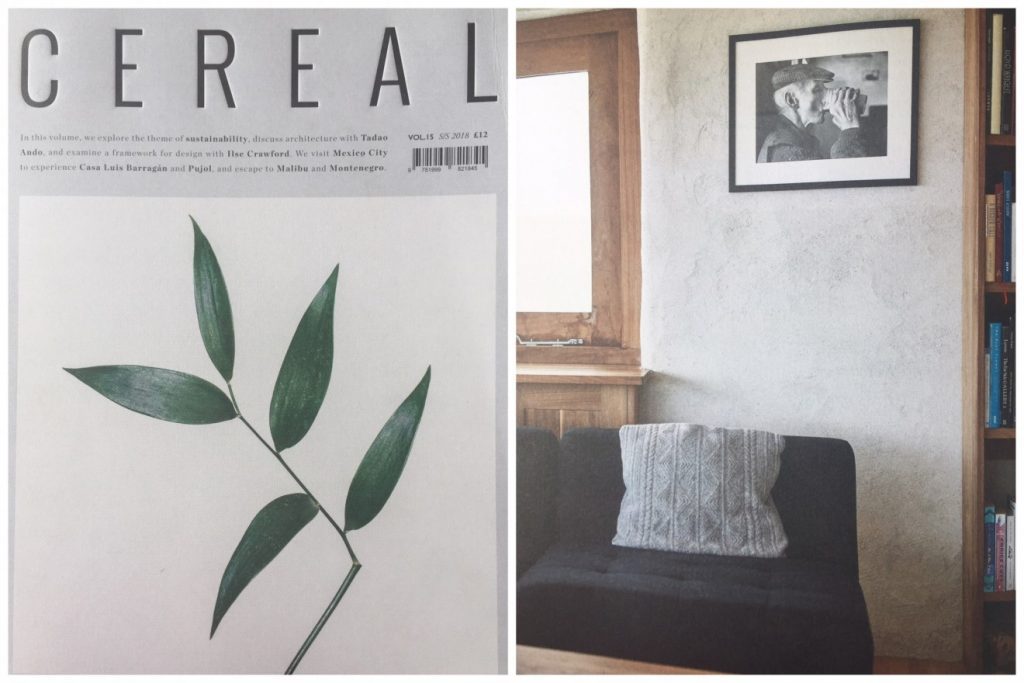 By
Libby Borton
Published
Cereal Magazine
February 2018
Sitting snuggly between Inis Mór and Inis Oírr in the Aran Islands off the west coast of Ireland, Inis Meáin is a haven for escapists. Unspoiled landscapes unfurl towards the rugged coastline, soothing the soul with its wild splendour. In the midst of all this unordinary beauty sits the outstanding Inis Meáin Restaurant & Suites. The understated integrity and vivacity of founders Marie-Thérèse and Ruairí de Blacam have fuelled a devotion to the enhancement of their guests' experience over the course of a decade. Abundant breakfasts are delivered to your door. Leather explorer's backpacks, stocked with a flask of homemade soup and freshly baked focaccia to be enjoyed on a blustery trek, are distributed daily. Bicycles and hiking sticks are supplied to whomever needs them. Such attention to detail brews a level of adoration that makes it hard to leave. Their elegant restaurant alone has visitors enthralled and coming back for more, year after year.It's a cold, clear morning on the Aran Islands, and despite the premises being in hibernation until spring, Marie-Thérèse and Ruairí are as busy as ever. Their plans for the year ahead – alongside embarking on the expansion of their hospitality experience – includes selling their hand-blown and Irish-made glassware and tableware.
Marie-Thérèse:
This island is just a tiny dot in the ocean, with a community of about 160 people. It has one shop, a pub, a church – everything you need. Although it has lots of history and culture, it's also a very natural place. The beaches and cliffs are beautiful. You can walk anywhere. Even in August, you're unlikely to encounter anyone on your path…
Ruairí:
You'd be disappointed if you did! It would ruin your walk!
MT:
You basically have this amazing, stunning place, all to yourself and on your own terms, and yet you can still go to the pub for a pint and a bit of small talk or a deep conversation with the barman or the guy next to you.
CEREAL:
Ruairí, your family before you worked to reinvigorate the island. How do you feel your business contributes to that legacy of sustaining the community?
R:
There aren't many people of my age in this part of Europe who remember going to bed with a candle. There was no electricity here until I was about five or six. Every house had its own rainwater tank for grey water for washing, and there was a pump by the church. My mum is from the island, and my dad married into it. He was involved with community development at the time – getting the national supply board to bring electricity here, having water piped into every house, building a runway, tarring the roads. Then, he started the Inis Meáin Knitting Company – he's celebrating 40 years in business this year. It sustained the workforce at times when things were pretty bad, not only on the island but nationally. We also contribute to everything that is going on.
MT:
People here have their own jobs and it's not an expensive place to live, so that's not exactly how we contribute. We use the plane company, the ferry company, the shop, the pub. We have to find staff every year and accommodate them on the island. Some of them have been with us from the start and they come back every year. It doesn't sound like much, but their going to the shop and pub helps the community because it makes those businesses that bit more feasible.
R:
I suppose by coming back here and putting our money – or the bank's money – where our mouth is, we've given this place a huge vote of confidence. I'd like to think some of the young people who have set up here over the last couple of years might have thought: "Well, they did it, so why can't we?" But we're on a pretty precarious perch – and it's not just us, it's the island community as a whole.
CEREAL:
How does the community support you?
R:
Marie-Thérèse is the main gardener growing all our vegetables with help from neighbours and friends. If we are away and something is arriving on the boat, we can always phone somebody and say: "Pick up my wine. It's coming tomorrow on the boat. Please, don't drink it!" When we first opened our doors, we hadn't really banked on having a lot of local business, but, in fact, we had a huge amount of support. People are very proud to have a posh restaurant on their island, and they want to show it off to friends and family when they come to visit.
MT:
This local input is great for our guests. There's a 91-year-old lady who had the first B&B on the island. Three Irish presidents have stayed there. She makes a point of coming to the restaurant every August with her sister. She's such a character to have sitting next to you. She's just one example. There are plenty of other regulars.
CEREAL:
How do the locals respond to visitors?
MT:
When we reopen in March, they say: "Oh, it's great to get more bodies on the island." There isn't a tourist pub and then a separate pub for locals. It's not like, when you go in there, they won't talk to you. Visitors are not a hindrance or an intrusion. It's so quiet here, new faces are always welcome. That's kind of hard to find in these days of mass tourism.
CEREAL:
What are your plans for the future?
MT:
We're constantly updating. We're putting a lot of effort into the restaurant, bringing in more soft furnishings and upping the comfort level. We have our own glassware, hand-blown in Ireland to our designs, and our own set of tableware. The idea is that we will start selling them this year.
R:
We had a real stroke of luck in that the people living in the house next door to us wanted to sell. They very kindly phoned us to ask if we would be interested, and we said "Absolutely!". We'll house all our staff there. It's a big house, with six bedrooms and a shed, that will be ideal for storing wine. It also comes with about three acres of land. I applied for permission to build two villas on the site and two two-bedroom apartments. They will be in keeping to what we have now, but on a scale not really seen in Ireland and the UK, and to a very high level of architecture. It's quite an ambitious plan. It'll keep me out of Marie-Therese's hair during the winter. I'll be throwing sand into a concrete mixer on the other side of the island.
MT:
I guess what we're offering is super-duper architectural design, connected to a respected, established brand in a place of remote beauty.
The Irish Times: Elemental cooking in a calm oasis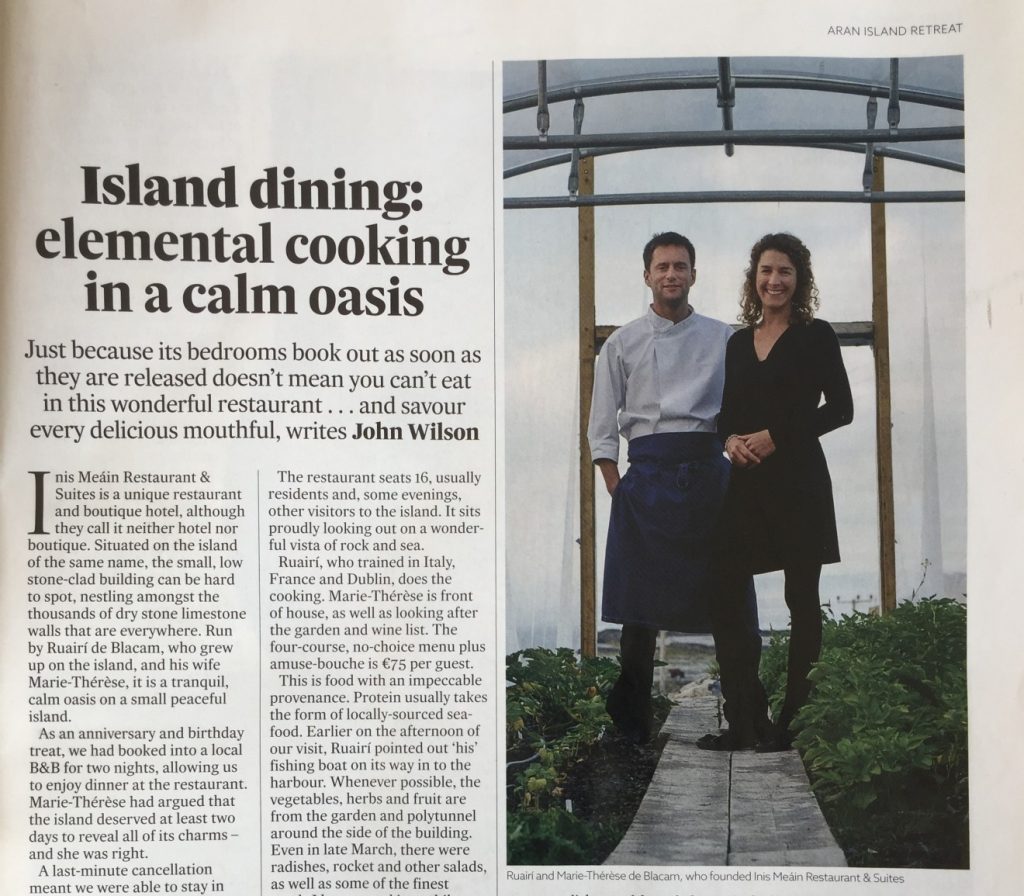 By
John Wilson
Published
The Irish Times
May 2019
The bedrooms may book out immediately but it doesn't mean you can't eat in this wonderful restaurant.
Inis Meáin Restaurant & Suites is a unique restaurant and boutique hotel, although they call it neither hotel nor boutique. Situated on the island of the same name, the small, low stone-clad building can be hard to spot, nestling amongst the thousands of dry stone limestone walls that are everywhere. Run by Ruairí de Blacam, who grew up on the island, and his wife Marie-Thérèse, it is a tranquil, calm oasis on a small peaceful island.
As an anniversary and birthday treat, we had booked into a local B&B for two nights, allowing us to enjoy dinner at the restaurant. Marie-Thérèse had argued that the island deserved at least two days to reveal all of its charms – and she was right.
A last-minute cancellation meant we were able to stay in one of the Inis Meáin rooms as well. The five rooms are booked up for the entire 2019 season and generally sell out very quickly on launch each year. See inismeain.com/book for availability and cancellations.
The rooms are a minimalist's dream – all stone, cement, glass and wood, they seem to mirror the sparse beauty and peace of the Inis Meáin landscape, while still exuding a genuine warmth.
Included in the price (it is not cheap) is breakfast, delivered to your door in a beautiful wooden box/tray, and lunch, a rucksack filled with homemade soup and bread, ready to take with you on a walk (or cycle; bikes also provided) around the island. The views out over the landscape are stunning.
The restaurant seats 16, usually residents and, on Wedndesday, Friday and Saturday, other visitors to the island. It sits proudly looking out on a wonderful vista of rock and sea.
Ruairí, who trained in Italy, France and Dublin, does the cooking. Marie-Thérèse is front of house, as well as looking after the garden and wine list. The four-course, no-choice menu plus amuse-bouche is €75 per guest.
This is food with an impeccable provenance. Protein usually takes the form of locally-sourced seafood. Earlier on the afternoon of our visit, Ruairí pointed out 'his' fishing boat on its way in to the harbour. Whenever possible, the vegetables, herbs and fruit are from the garden and polytunnel around the side of the building.
We started with a brochette of lobster served with the lightest mayonnaise, alongside softly spicy rocket and other pristine leaves. This was followed by cauliflower with watercress, the cauliflower served seared and puréed, the watercress providing peppery punch. Vegetables are given a course of their own – Inis Meáin primi, jokes Ruairí. Our main course was turbot, perfectly cooked in a parchment parcel with herbs and tomato, alongside magical spuds from the lazy beds (a real misnomer) just down the road.
The second evening of our visit, we started with a bowl of pristine mussels and clams, sweet and briny, followed by a perfectly dressed delicate salad of courgettes, radishes and fennel. Our main course was monkfish served on a bed of Madeira lentils.
Amuse bouches included a potato skin stuffed with smoked mackerel one evening, an impeccably fresh oyster topped with a beetroot caviar the next. Desserts were a hedonistic burnt cheesecake one night, a crisp refreshing Amalfi lemon tart the next.
This is food, like the rooms, stripped down to its bare essentials, Every flavour seems magnified, "elemental cooking", according to Ruairí, relying on the quality of ingredient rather than myriad foams, emulsions and sauces.
The short but impeccably chosen drinks list is put together by Marie Thérèse each year. It includes a range of craft beers, alcohol-free drinks and a mouthwatering selection of wines, including some from JC Ramonet (sourced from Bill Kelly of Kelly's Resort Hotel, who has one of the finest collections of wine in the country). There is a welcoming pub (the only pub) a short stroll up the road – ideal for an aperitif or digestif.
Outside, the landscape is sparse, almost lunar, with no trees to be seen. In the sunshine, a walk along the seashore, the Cliffs of Moher in the distance over the dazzling blue sea, or half an hour simply sitting staring out into the Atlantic, was magical. Above all, it was quiet, the occasional car simply emphasising the peacefulness. This is a special place.
Condé Nast Traveller: An extraordinary take on the remote-shack vernacular...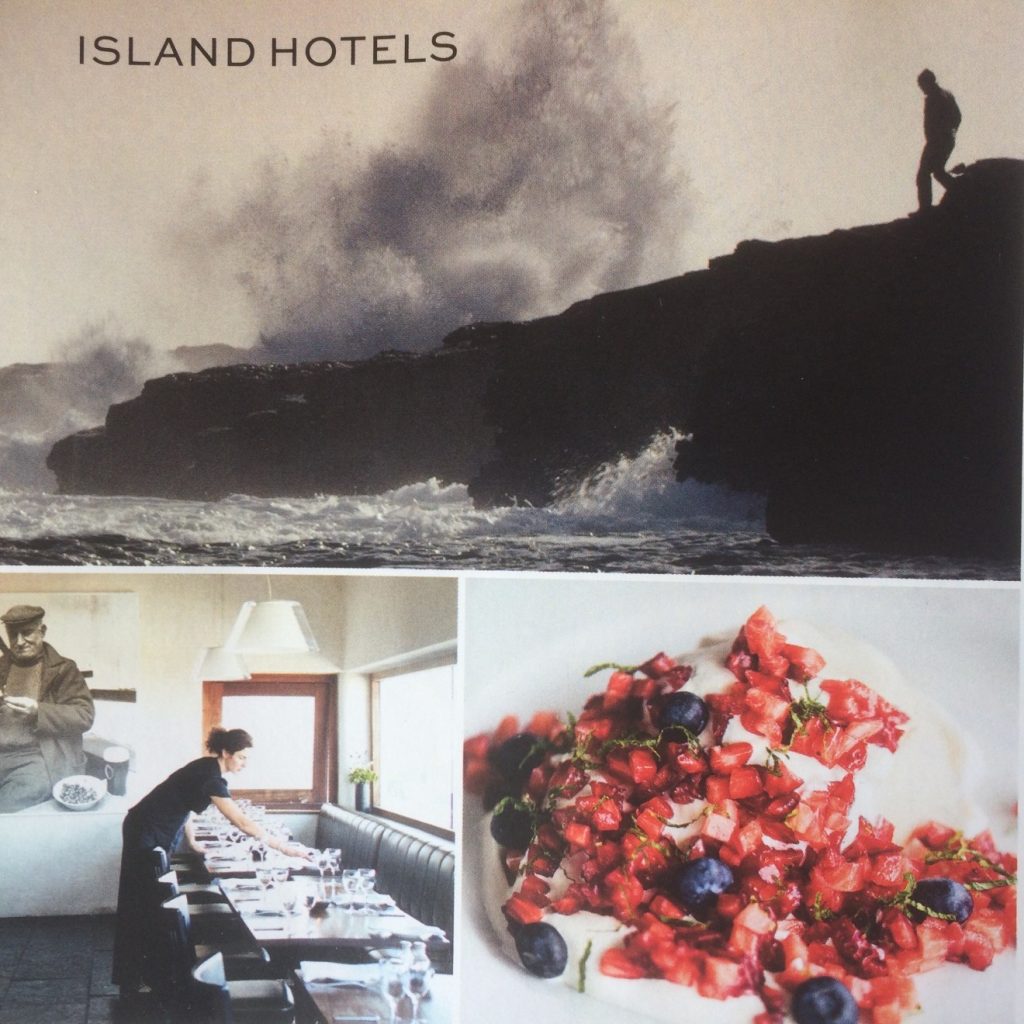 By
Aoife O'Riordain
Published
Condé Nast Traveller
March 2016
Inis Meáin Aran Islands, Ireland
Why stay? To be far removed from the rest of the world: this is the edge of Europe, teetering on the vast, churning waters of the Atlantic Ocean.
Why Now? Because it books up fast and you'll want to make sure you get a room when it reopens in March.
What is it? And extraordinary take on the remote-shack vernacular, this is rugged-island living reimagined for the style-savvy traveller with pared-back, intelligent simplicity. Inis Meáin is the middle and least visited of the trio of the Aran Islands off Ireland's west coast.
Behind the Scenes It's owned and run by Ruairί and Marie- Thérѐse de Blacam, a husband-and-wife team with an easy, welcoming charm. Ruairί grew up on Inis Meáin, and after several years working as a chef in Dublin, Italy and France, the island's pull proved too strong and the couple returned and opened the restaurant-with-rooms in 2007. Part Italian-Style agriturismo, part contemporary safari Lodge, the hotel was designed by Ruairί's architect uncle, who founded one of Ireland's leading practices. The duo's inspiration came from their many travels. The exterior echoes the austere stonewalls that lattice the island and is one of its most arresting features.
Sleep All five rooms have a retreat-like sense of tranquillity and are done in a spare but warm style: iroko carpentry, oak floors and wall hung with black-and-white photographs of the islands. A single, slim window runs the length of each room, giving wide-angle panoramas of the coast. Bathrooms are small but functional, tiled in polished black granite with powerful showers but no baths. There are fishing rods, bicycles, deck chairs, binoculars and beach towels, but no TV's or telephones: the landscape is your entertainment.
Eat Ruairί mans the stoves and his cooking is simple but skilful. Guests sit down at 8pm for a four-course set feast that changes daily, but there is no pressure to mingle. Freshly landed lobster, seabass and vegetables from the hotel's garden (in a beetroot carpaccio, for example) all appear. Lunch is provided in a backpack with a flask of soup and some still warm foccacia to take wherever you wander.
Who comes here? The hotel attracts a diverse bunch from local creatives, chefs, and CEOs to curious travellers from further afield. At dinner you could be sitting next to a retired couple from Dublin or some loved-up honeymooners from New York. Almost half are returning guests.
We Like Waking up to breakfast delivered silently in a custom-made teak box. There is still-warm brown bread and fruit cake, homemade muesli, yogurt, mackerel paté, cured salmon, a luscious chocolate pot, and a boiled egg, which even has its own Aran jumper.
We don't like It's all about the views here, but some windows have no blinds, so chances are you will be up with the sunrise. Bring an eye mask.
Out and About Hike around and discover the island's towering cliffs and deserted beaches; you can wander for hours without seeing a soul. Visit playwright JM Synge's thatched cottage, stock up on merino and cashmere pieces at Inis Meáin Knitting Company's factory shop and savour a quiet pint in the island's only pub, Teach Osta.
Irish Independent: Wilderness is the New Wellness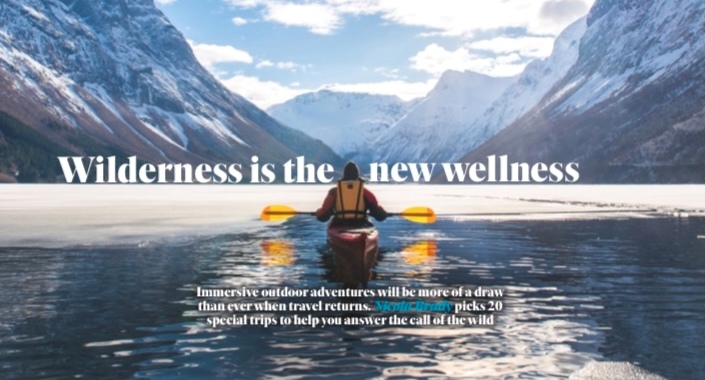 By
Nicola Brady
Published
Irish Independent
January 2021
ISOLATE IN INIS MEÁIN
How: It's notoriously tricky to snag a reservation at the Inis Meáin Restaurant & Suites. Usually, bookings are snapped up almost as soon as they are announced. And while that's still true for 2021, the likelihood of spots opening up due to international cancellations is pretty good. Which means you might be able to score a stay in these blissfully chic suites, with uninterrupted views of the desolate beauty of Inis Meáin and Galway Bay. Inside, the suites are the epitome of Scandi-Irish style, with cashmere Aran cushions, granite bathrooms and Oroko teak joinery.
Details: Suites from €960 for two nights, including breakfast, lunch, transfers and an Exploration Kit; inismeain.com
Luxury London magazine: The best sustainable restaurants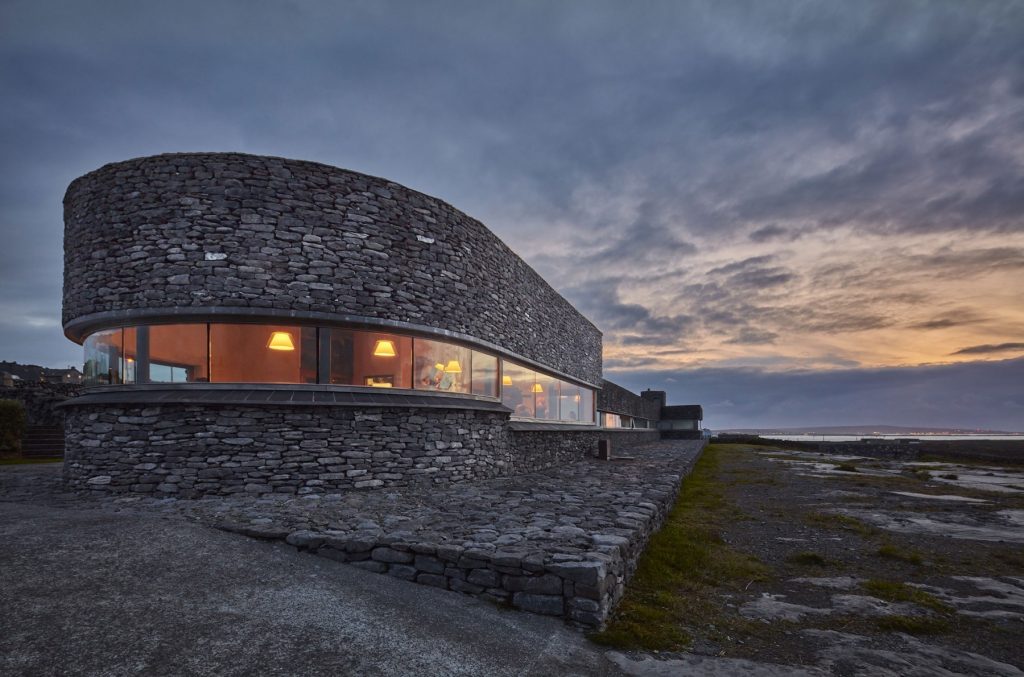 By
Ellen Millard
Published
Luxury London magazine
February 2021
Michelin Green Star Guide: The best sustainable restaurants in the UK and Ireland
In recognition of their commendable sustainable practices, 23 fine dining restaurants have been awarded a new accolade: a Michelin Green Star.
A four leaf clover is the highly coveted new badge of honour in the culinary world, and not just for its links to luck. Given to restaurants that have made exceptional steps to be sustainable, the so-called Green Star is the latest accolade awarded by the Michelin Guide. Restaurants can only qualify for the symbol if they have already been awarded quality recognition from Michelin, either in the form of a star, Bib Gourmand or Plate.
Commended for holding themselves accountable for their ethical and environmental standards, and for working with sustainable producers and suppliers to avoid waste and reduce or remove plastic from their supply chain, 23 fine dining restaurants in the UK and Ireland were presented with a Green Star in the 2021 guide. All of them work directly with growers, farmers and fisherman, forage for food, grow their own plants, rear their own animals and use regenerative methods such as no-dig vegetable gardens. They are also recognised for taking steps to improve the quality of life of their staff, and for contributing to charity and educational projects. Read on for the complete list of 2021 green-starred restaurants.
Inis Meáin
Ruairí de Blacam was born on Inis Meáin before the island had electricity. Just one supply boat would visit the island each week, every house sourced milk from their own cow and rearing pigs and chickens was common practice, as was foraging. This simple and grounded approach to food informs the chef's cooking at his restaurant, which takes its name from the very same island on which it can be found. Using the best available ingredients, de Blacam creates a four-course dinner that changes nightly. Vegetables, salads, herbs and fruit are grown in the neighbouring greenhouse and gardens, shellfish is caught off the coast of the island and the restaurant only serves wild Atlantic fish and homestead-reared meat. De Blacam encourages visitors to discover the island during their visit, and as such the menu is always designed to suit those who've worked up an appetite exploring the elements.
List of other Restaurants
Angela's, Margate – angelasofmargate.com
Belmond Le Manoir aux Quat' Saisons, Oxfordshire – belmond.com
Black Swan, Oldstead – blackswanoldstead.co.uk
Coombeshead Farm, Lewannick – coombesheadfarm.co.ukilo, Hackney – silolondon.com
The Dining Room, Malmesbury – whatleymanor.co.uk
The Ethicurean, Wrington – theethicurean.com
The Small Holding, Kilndown – thesmallholding.restaurant
Tredwells, Covent Garden – tredwells.com
Where the Light Gets In, Stockport – wtlgi.co
Daylesford Organic Farm, Kingham – daylesford.com
Henry Robertson Dining Room, Llandderfel – palehall.co.uk
Hypha, Chester – hypha.restaurant
Inver, Strachur – inverrrestaurant.co.uk
Kai, Galway – kairestaurant.ie
L'Enclume, Carmel – lenclume.co.uk
Loam, Galway – loamgalway.com
New Yard, Trelowarren – newyardrestaurant.co.uk
Oxo Tower Brasserie, Southwark – harveynichols.com
Petersham Nurseries Cafe, Richmond – petershamnurseries.com
Restaurant Sat Bains, Nottingham – restaurantsatbains.com
River Cottage Kitchen, Axminster – rivercottage.net
The Sunday Times: Ireland's 100 Best Restaurants 2020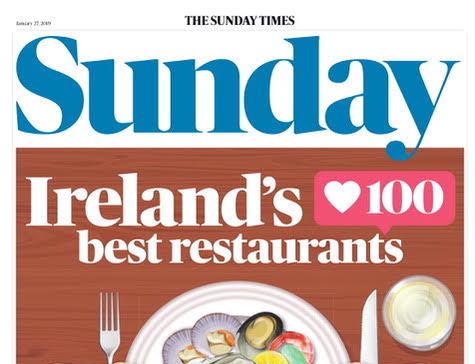 By
Sally & John McKenna
Published
The Sunday Times
January 2019
Working with his own produce grown and caught just outside the Inis Meáin restaurant, in the pristine sea salt air of Aran, taught Ruairí de Blacam that his role "as a chef, is to stay out of the way". That's the very zen approach to cooking – and to hospitality – that Ruairí and his wife Marie-Thérèse take at Inis Meáin and it has made for the biggest success story in Irish hospitality: booking a room here verges on the impossible. Ruairí lets the food speak, and the chances are that you will say of the scallop with hazelnut, or the lobster with beets, or of their own potatoes – especially the potatoes – that they are the best things you have ever eaten in all your life.
Irelands-100-best-restaurants-2019
"People here lead a very simple life," Ruairí de Blacam told The New York Times last year when it asked him about living, working and cooking on the little island of Inis Meáin. True enough, but De Blacam might have added that he and Marie-Thérèse, his wife and business partner, have created a simple life, and that it is this which they offer to diners and guests at Inis Meáin Restaurant and Suites. De Blacam's food appears elemental – scallop ceviche with toasted almonds; lobster bisque; carrots with chives; turbot with spuds – yet this culinary simplicity has a power beyond the gently coddled flavours you find on every plate. Eating at Inis Meáin is a stunning experience, as a result of the room, the setting, the sunset, the cookery and Marie-Thérèse's service – and it will still be haunting your mind weeks after you have returned to the mainland.
Town & Country Magazine (US): Getting on culinary travelers' radar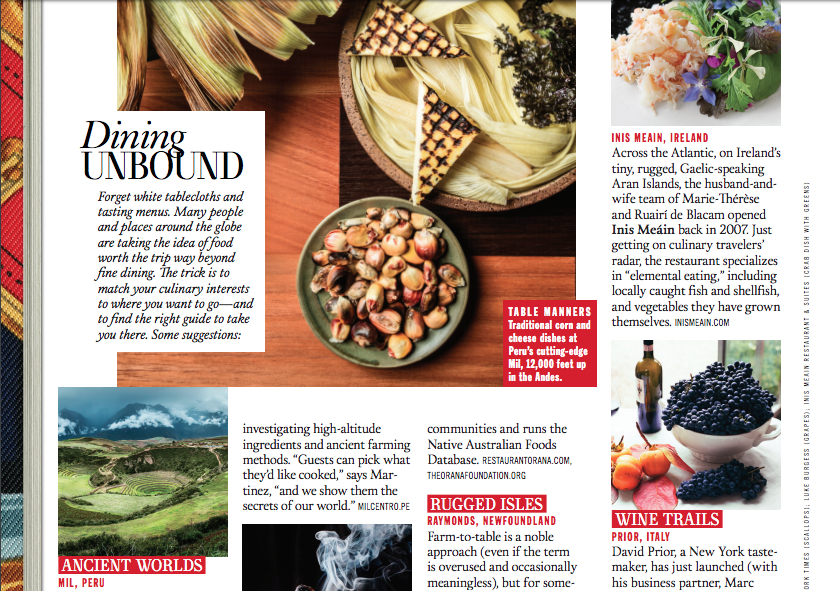 By
Adam Sachs
Published
Town & Country Magazine (US)
October 2018
Culinary Odysseys – Food's New Frontier
Traveling to eat used to mean checking fine dining restaurants off an international bucket list. But white tablecloths and tasting menus do not always memorable moments make. How about a mind-blowing barrage of colored lights with your jamón ibérico? Or high-altitude ancient ruins alongside your tun-tas? Or a Burgundy barge trip prelude to a bottle of Romanée-Conti? Such is the wonderful (and sometimes weird) world of today's true culinary adventures.
Inis Meáin, Ireland
Across the Atlantic, on Ireland's tiny, rugged, Gaelic-speaking Aran Islands, the husband-and- wife team of Marie-Thérèse and Ruairí de Blacam opened Inis Meáin back in 2007. Just getting on culinary travelers' radar, the restaurant specializes in "elemental eating," including locally caught fish and shellfish, and vegetables they have grown themselves.
The Independent: One of Ireland's most desirable destinations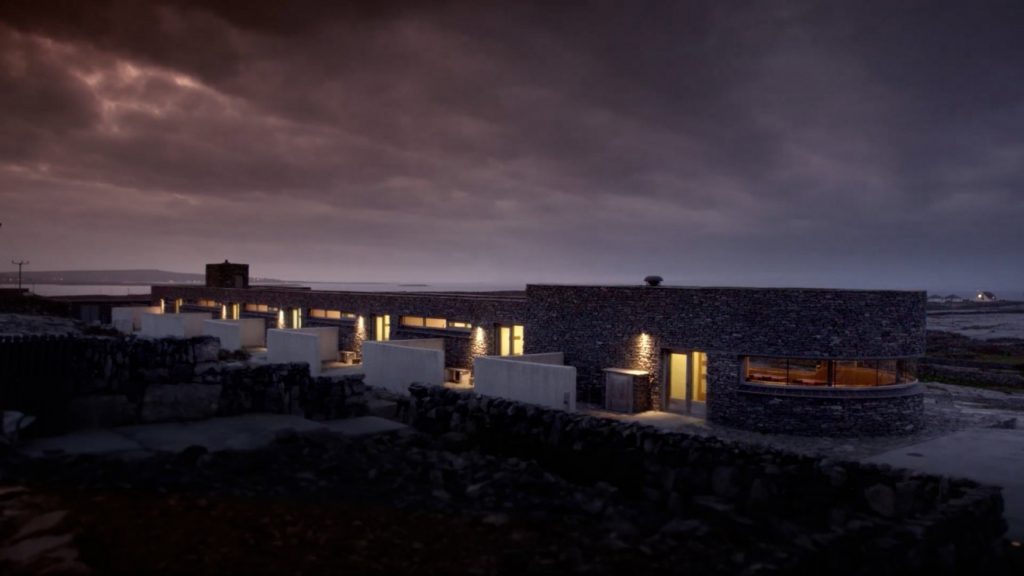 By
Georgina Campbell
Published
The Independent
February 2018
This wonderful place on the most tranquil and least visited of the Aran Islands has earned an international reputation as one of Ireland's most desirable destinations. Chef Ruairí de Blacam, a native of Inis Meáin, and his wife, Marie-Therese, offer a unique experience, serving beautifully simple seasonal food in a modern restaurant with a panoramic view of the island. Suites are designed to help guests discover the peace and quiet of the island, with fishing rods, bicycles and books instead of TV or a spa. A place apart.
The Financial Times: Fresh and Wild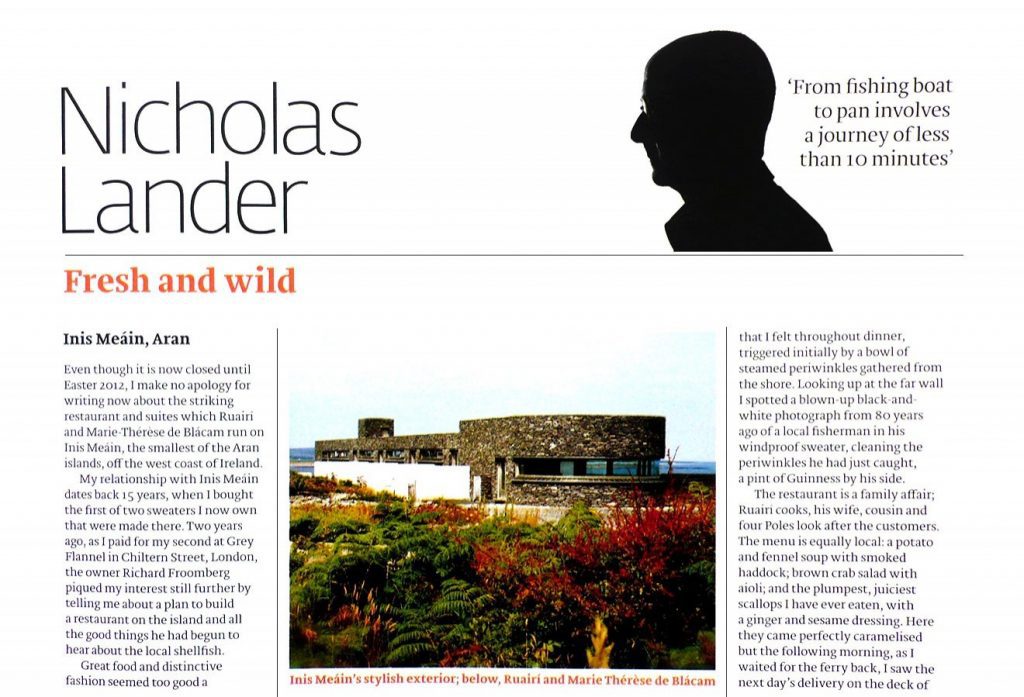 By
Nicholas Lander
Published
The Financial Times
October 2011
The journey from fishing boat to pan takes less than 10 minutes. Even though it is now closed until Easter 2012, I make no apology for writing now about the striking restaurant and suites which Ruairí and Marie-Thérèse de Blácam run on Inis Meáin, the smallest of the Aran islands, off the west coast of Ireland.
My relationship with Inis Meáin dates back 15 years, when I bought the first of two sweaters I now own that were made there. Two years ago, as I paid for my second at Grey Flannel in Chiltern Street, London, the owner Richard Froomberg piqued my interest still further by telling me about a plan to build a restaurant on the island and all the good things he had begun to hear about the local shellfish.
Great food and distinctive fashion seemed too good a combination to miss, although as I set off on the 45-minute ferry crossing from Rossaveal, on the coast west of Galway, I had no idea just how closely they were intertwined within the de Blácam family itself, thanks to the diverse skills of three of its members.
The instigator of all this is Tarlach de Blácam, a Dubliner, who travelled west 38 years ago to pursue his studies in the Irish language, fell in love with Inis Meáin – all four by two miles of it – and settled there. Having quickly spotted the potential of its knitwear, he set up the white-walled factory which today ships 20,000 highly sought-after garments a year around the world and employs 16 people – 10 per cent of the island's population. Next comes Ruairí, Tarlach's eldest son, who was sent to boarding school near Dublin, and whose only happy memories of that time were the meals his grandmother made for him. He duly began cooking professionally, first in Germany and Italy, then at Cooke's Café in Dublin, taking advantage of his father's forays to Europe for fashion shows to pursue his interest in restaurants.
In 2000, Ruairí and his wife Marie-Thérèse, a student of architecture and business, moved back to Inis Meáin to open their own restaurant. But the fact that birds would be their only regular passing trade meant they had to think (and invest) bigger – it had to be a restaurant with rooms attached.
Enter Uncle Shane, an architect based in Dublin and, in due course, a low, long and narrow building made of stone and glass that has extraordinary views stretching from across the bay to Galway in one direction and to the cliffs of Moher in the other, clouds permitting.
We eschewed the bicycle and fishing rod provided with every suite and headed off on a three-hour walk. Below our path lay the bay that contains what local divers refer to as the "supermarket shelf" – the crayfish are so abundant that they can just pluck them off the underwater shelf. The walk back took us through tiny, stone-walled fields to the island's only pub.
But none of this had really prepared me for the sense of place that I felt throughout dinner, triggered initially by a bowl of steamed periwinkles gathered from the shore. Looking up at the far wall I spotted a blown-up black-and-white photograph from 80 years ago of a local fisherman in his windproof sweater, cleaning the periwinkles he had just caught, a pint of Guinness by his side.
The restaurant is a family affair; Ruairí cooks, his wife, cousin and four Poles look after the customers. The menu is equally local: a potato and fennel soup with smoked haddock; brown crab salad with aioli; and the plumpest, juiciest scallops I have ever eaten, with a ginger and sesame dressing. Here they came perfectly caramelised but the following morning, as I waited for the ferry back, I saw the next day's delivery on the deck of a boat: from boat to pan involves a journey of less than 10 minutes.
My main course, a fillet of the freshest cod with spinach and a grain mustard sauce, suffered only because it was served in a bowl rather than a plate and had to contend for attention with a bowl of simply steamed, red-skinned potatoes that just been dug from one of the fields we had walked past.
The following morning over tea and a freshly baked fruit loaf Ruairí, 37, and Marie-Thérèse, 33, took stock. Their assets include a 10-month-old daughter, the only addition to the island's population in 2010, and an exceptional restaurant which has cost them €750,000 – all their savings, I guessed, and a little bit more.
Nature, which provides their kitchen with such ready bounty, can also play havoc with their bookings and business plan. But if any young restaurant couple in Europe deserve to flourish it is the de Blácams, deeply rooted on its very western extremity.
The Financial Times: The delectable dozen: 12 best restaurants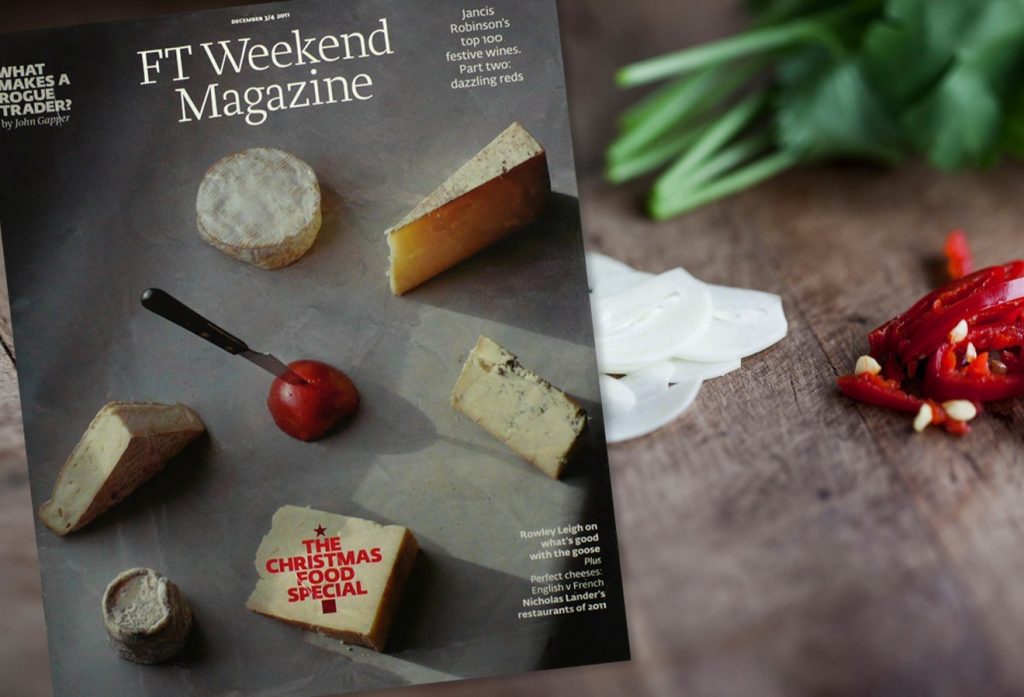 By
Nicholas Lander
Published
The Financial Times
December 2011
The strength of the creator's personality seems to distinguish the most appealing places. It has been a year of eating excitingly. But among memorable introductions there has been the odd, sad farewell. Over the course of a fortnight, I managed to experience my first meal at Noma, Copenhagen, to taste René Redzepi's extraordinary approach to nature's bounty, followed by my final dinner at elBulli in Spain. Memories of this meal haunted me six months later when I cooked dinner for Ferran Adrià, its culinary genius, in our kitchen at home.
As I have been looking back over all the restaurants I reviewed this year, one aspect of the fascinating world of food came into focus. It did so, as the best things often do, from listening to my wife, the FT's wine correspondent. She has long argued that a wine bottle, like nothing else you will find on a supermarket shelf, transports you directly to the region or village where it was made; and, in certain cases, to the individual who made it.
In restaurants, too, the strength of the creator's personality now seems to distinguish those places I find most appealing from the others. This will be a major consideration for restaurateurs as they choose which kind of restaurant to open and where. As Danny Meyer in New York explained: "The challenge for me is to create somewhere that combines the excitement of going out … with the comfort factor of being welcomed and looked after as though you were in my own home." In London, Heston Blumenthal set the bar extremely high at the beginning of the year when he finally opened Dinner in the Mandarin Oriental, Knightsbridge. Over the years several chefs have breathed new life into neglected British recipes, but here Blumenthal has achieved this within the setting of a bright hotel dining room devoid of stuffiness.
Lunch across the horseshoe-shaped counter at Zeb (Zuppe e Bollito) in Florence provided the opportunity to watch mother and son, Giuseppina and Alberto Navari, pace the interior, take orders, cook and open wine. The plates of ricotta-filled ravioli with a duck meat and orange sauce were equally exciting. Zeb is obviously far less expensive than Dinner, but shares the same eye for quality and the same disdain for pretension. Memories of this Florentine meal return whenever I dive into Ducksoup on Dean Street in London. Here too, the bar, the few tables and the kitchen are in close proximity as, invariably, are its owners, Clare Lattin, Julian Biggs and Rory McCoy. The old record player and the even older collection of vinyl are, however, distinctly Soho, not Florence.
Jackson Boxer has also demonstrated with the Brunswick House Café , Vauxhall, how a combination of style and wit, architecture and antiques, as well as fairly priced good food, can compensate for a very small amount of working capital. In southern and north-east Spain I met more committed characters. At La Carboná , once a sherry bodega, husband and wife Javier and Ana Garcia proudly serve what their talented son, Javier, is cooking. At Villa Más on the Costa Brava the exuberant chef Carlos Orta also showed his talents as compiler of an extraordinary list of burgundies and as a DJ (he played until 3am, we were staying very close by…).
What is so exciting about the new wave of Swedish cooking is not just exemplified by what Magnus Nilsson prepares from all that exists in the countryside and lakes around Fäviken , northern Sweden, or by what Mikael Jonsson is cooking at Hedone in Chiswick, west London. It is rather the commitment that seems to exist among Swedish chefs collectively to present their new style of cooking to the rest of the world.
This was most recently demonstrated when Bjorn Frantzé and Daniel Lindeberg left their renowned Stockholm restaurant for 24 hours to cook alongside Jonsson whom, until the morning of the lunch, they had never met.
In New York, the city's dynamism was revealed at three very different occasions. The first was a two-family Sunday brunch at Red Rooster up in Harlem, where chef Marcus Samuelsson has created a restaurant that evokes history and a definite sense of place combined with excellent American food. The second was a two-family dinner at Prune , where the pleasure of Gabrielle Hamilton's approach to cooking continued over the next few days as I read her enthralling autobiography, Blood, Bones & Butter. Finally, there was a memorable dinner at Daniel to celebrate a particular landmark in our family.
The most exceptional memories, however, still resonate from an overnight stay on Inis Méain off the north east coast of Ireland where Ruairi and Marie Thérèse de Blacam have opened a restaurant with five elegant bedrooms. As we waited in the bus for the 8.15am ferry, watching a fisherman unload scallops in the driving rain, a fellow traveller nervously asked Ruairi whether there are any days when the ferry doesn't operate. "A few," he replied. "But on those days you never want to leave the house!"
The Irish Times: Where to stay along the Wild Atlantic Way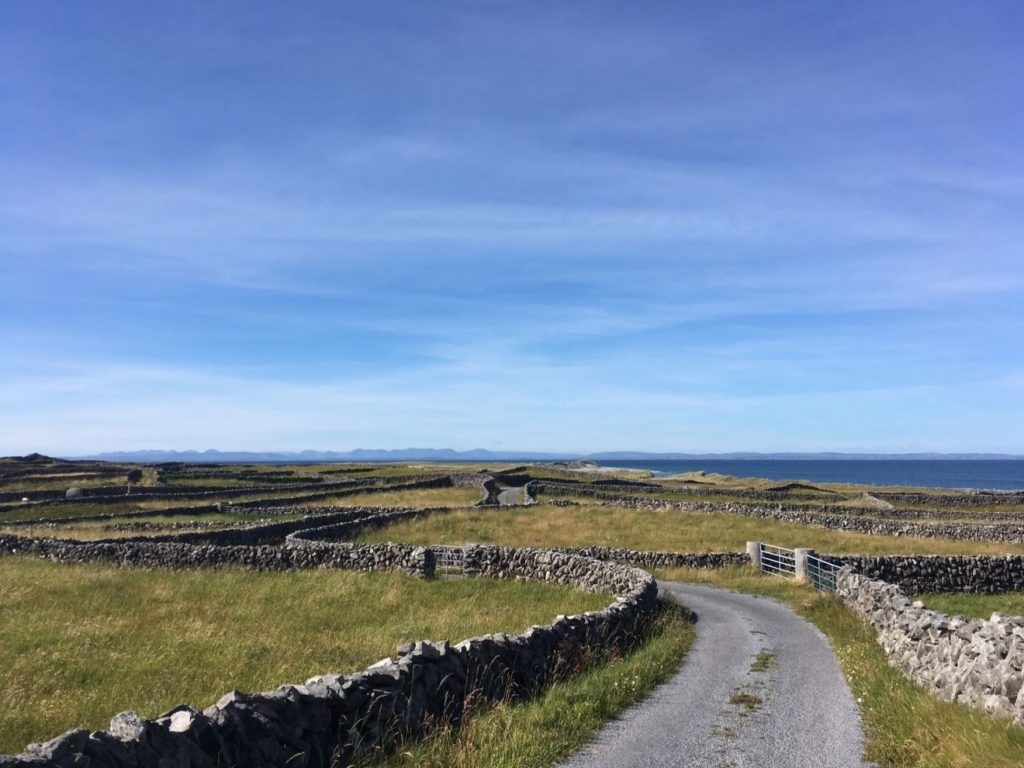 By
Caitriona McBride
Published
The Irish Times
June 2018
Galway's islands have long been one of the west coast's most popular tourist destinations, but for something a little different, and very special, try Inis Meáin Suites on the smallest of the Aran Islands. You get the best of both worlds– the pure, unspoilt, panoramic views and experience of island life, with all the modern luxury you could desire for your accommodation. The food is excellent.
Sunday Independent: Darina Allen's Favourite Irish Restaurant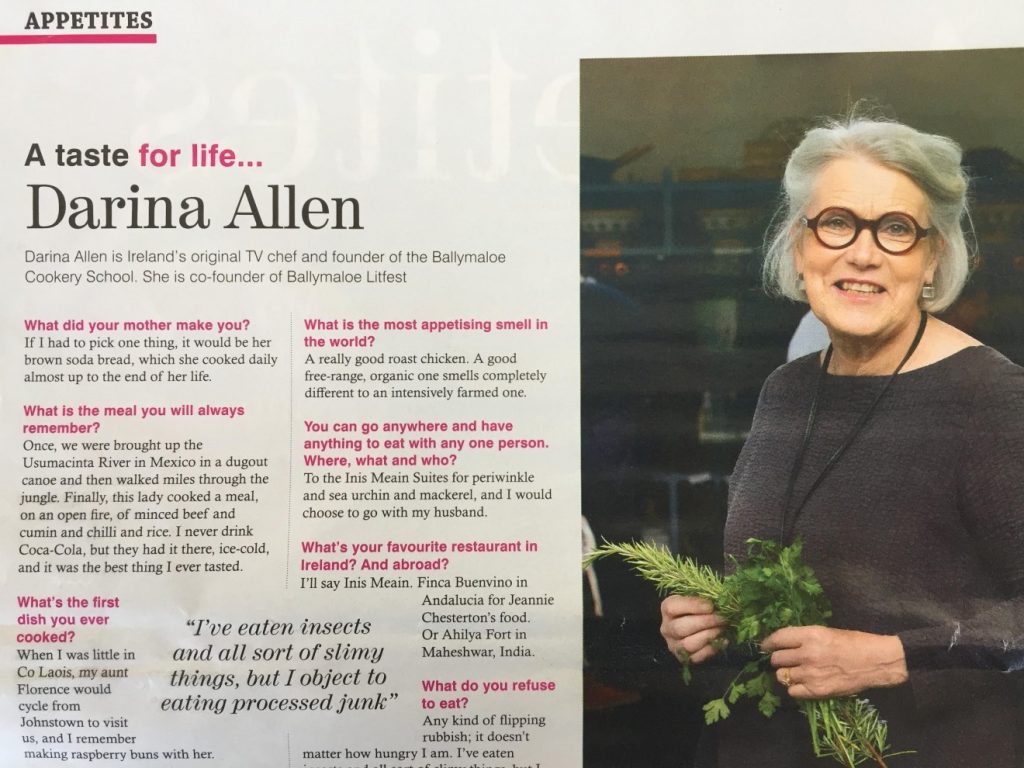 By
Darina Allen in conversation with Sarah Caden
Published
Sunday Independent
April 2017
A taste for life… Darina Allen
Darina Allen is Ireland's original TV chef and founder of the Ballymaloe Cookery School. She is co-founder of Ballymaloe Litfest
What did your mother make you? If I had to pick one things, it would be her brown soda bread, which she cooked daily almost up the end of her life.
What is the meal you will always remember? Once, we were brought up the Usumacinta River in Mexico in a dugout canoe and then we walked miles through the jungle. Finally, this lady cooked a meal, on a open fire, of minced beef and cumin and chilli and rice. I never drink cocoa-cola, but they had it there, ice-cold, and was the best thing I ever tasted.
What's the first dish you ever cooked? When I was little in Co Laois, my aunt Florence would cycle from Johnstown to visit us, and I remember making raspberry buns with her.
What is your comfort food? If I come home late, I find a really fresh egg from the hens and pick a few sage leaves from outside the kitchen door and fry them in olive oil on the Aga. Perfect.
What is your hangover cure? It's been a long time since Ive had a hangover; life is too short. A number of years ago, I discovered natural wine. I'm sure if you drank enough of it, it would give a hangover, but not in moderation.
What do you drink? I love a glass of wine, or several. Red or white. I also like sparkling wine and Aperol spritz. I adore sherry in all its styles. I could drink sherry right through dinner.
If you could only eat three things for the rest of your life, what would they be? Potatoes; butter; pata negra.
What's your sweet treat? Hazelnut praline cake.
What is the most appetising smell in the world? A really good roast chicken. A good free-range, organic one smells completely different to an intensively farmed one.
You can go anywhere and have anything to eat with any one person. Where, what and who?
To the Inis Meain Suites for periwinkle and sea urchin and mackerel, and I would choose to go with my husband.
What's your favourite restaurant in Ireland? And Abroad?
I'll say Inis Meain.
Finca Buenvino in Andalucia for Jeannie Chesterton's food. Or Ahilya Fort in Maheshwar, India.
What do you refuse to eat? Any kind of flipping rubbish; it doesn't matter how hungry I am. I've eaten insects and all sort of slimy things, but I object to eating processed junk.
What is your guilty pleasure? I have a Magnum about three times a year.
What's your signature dish? A simple Ballycotton plaice, roasted in the oven with a fresh herb butter.
Are there any foods you have had to cut out or cut down on that you miss? I eat everything in moderation; but all proper food.
What wont you eat? I've never had a ready meal in my life
What's your perfect family meal? Our Irish Stew – One pot, but full of good things. God, It's good food.
Australian Gourmet Traveller Magazine: The Hot 100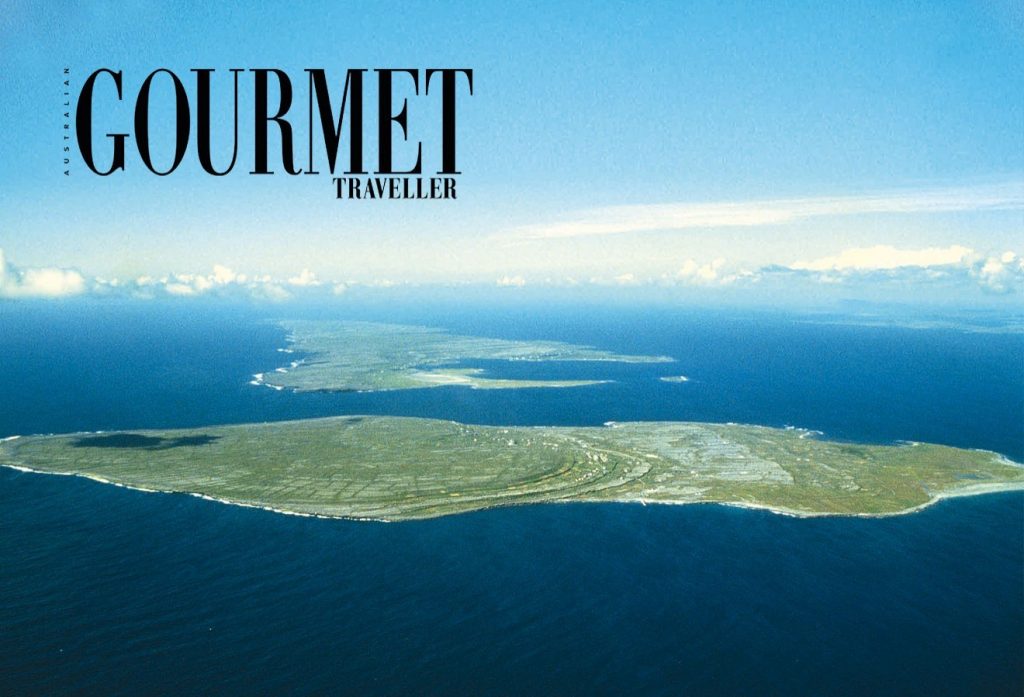 By
Fionnuala McHugh
Published
Australian Gourmet Traveller Magazine
May 2013
An authentic Celtic experience
Ireland's tourism industry has designated 2013 the year of The Gathering for anyone with the faintest tinge of greenery in their chromosomes. But if you'd prefer to escape the general hooley, then head for the Aran Islands, off Galway's coast, and the divine Inis Meáin Restaurant & Suites. Despite opening on the least accessible of the three islands, owners Ruairí and Marie-Thérèse de Blacam have quietly built up a cult following for their delicious locally sourced food and five suites with near-monastic simplicity. Here, in the wild landscape of ocean, sky and rock, you'll see (and hear – the locals speak Gaelic) glimmers of a truly Celtic past.
Scanorama, SAS Inflight Magazine: Pure Genius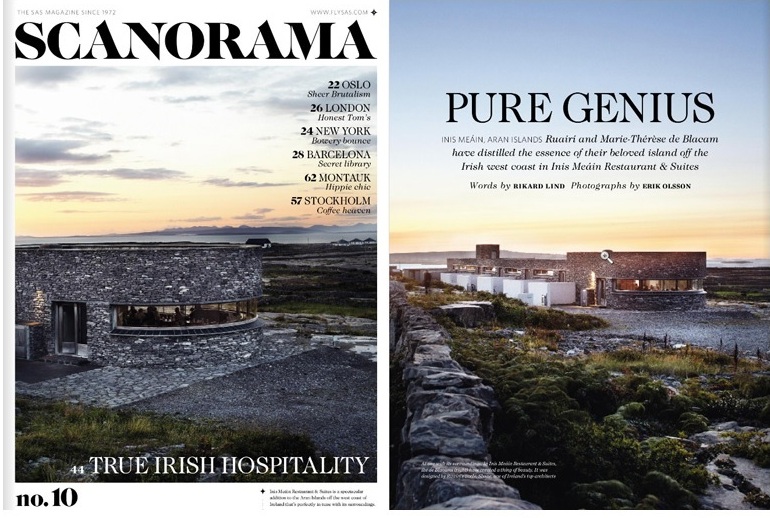 By
Rikard Lind
Published
Scanorama, SAS Inflight Magazine
October 2010
Ruairί and Marie-Thérѐse de Blacam have distilled the essence of their beloved island off the Irish west coast in Inis Meáin Restaurant and Suites.
The bus from Dublin to Galway, which will be relieved by an old double-decker for the journey on to Rossaveal and the ferry over to Inis Meáin, roars through a landscape that stubbornly refused to countenance much more than hypnotic, verdant pastures filled with horses, cows and sheep. In one of the typically charming villages with low, terraced stone houses in vibrant colors along the main street, a gable covered in a giant mural shouts for the attention of passersby. The painting shows a pint glass, tall as a man, filled to the brim with stout. Underneath, the slogan is spelled out in three-dimensional red letters:"Guinness is good for you." It's a classic slogan, along the lines of "my goodness, my Guinness" and "Lovely day for a Guinness", which were also created by the advertising agency S.H.Benson for the giant brewer in the decades before World War II. Naturally that sort of genius should never be questioned. Weighty issues surely benefit from being discussed at length over lashings of the filling dark brew. Not least in this part of the world. On Inis Meáin, a group of old men in flat caps down a pint of Guinness in the evening twilight. They sit on a bench just to the right of the entrance to the only pub on the island. English spoken with a strong Irish accent can be difficult for an outsider to understand, but so is the life they speak of. When they talk about how livestock used to be transported to Galway for slaughter, you imagine al this happening centuries ago, but they mean decades. The livestock were taken by boat, but because there was nowhere to moor, the men rowed the livestock out to the waiting ships. In heavy weather it was easier if the animals swam out, tied with a rope to the rowboat. Once the y reached the ship, the livestock were hauled aboard using a winch and ropes. This was a tough enough procedure at the best of times, let alone in howling winds and roaring seas. The men had to know what they were doing and how to cope with rough conditions. "That was an important day for them" says when I tell him about our conversation. The men were paid for their work, cash in hand, which some then immediately reinvested in the pub.
Ruairί de Blacam was born and bred on the island. He left in his early teens for boarding school on the mainland, but returned 10 years ago with his heart set on running a restaurant and small guesthouse. Having dropped out of university, he'd travelled and become a chef. His education began at the Island Cottage Restaurant and Cookery School on Hare Island, west Cork, off the southwest coast of Ireland, and continued in Italy (Perugia, Milan, Alghero on Sardinia), France and Germany (he sings the praises of an old school brassiere in Dϋsseldorf that had a bakery on the ground floor, meat and fish one floor up and was run by a man who had a weakness for everything Irish). Johnny Cooke, one of Ireland's best-known chefs and the owner of the once star-packed Cooke's Café in Dublin, became something of a mentor. Ruairί worked there on and off for eight years, and the two are still close friends. "I guess I was a bit of a drifter," Ruairί says with a smile. "Which I sorted out," says Marie- Thérѐse, his wife of three years, with an even bigger grin.
Inis Meáin (or Inishmaan) is Irish for "Middle Island." It is the middle of the three Aran Islands on the west coast of Ireland. The islands are the mainland's first line of defense, shielding Galway Bay from the grumpy Atlantic when it kicks up a storm. "In winter, you can get waves six or seven metres high crashing over the cliffs and coming in over the island," Ruairί says. "I run my finger over the windowpane at home and it tastes of salt. It's amazing. You think that the island is sinking. The de Blacams live inland, like most people on the island. Inis Meáin rises gently from sheer cliffs at one end (the end facing the open sea), only to level out halfway toward long, broad beaches and clear saltwater on the other side of the island facing the mainland. Most of the gleaming white houses form something of a row on the far side of the ridge from the open sea, getting as much shelter from the weather as they can. It is a fascinating landscape, wild, rugged, shaped by natural forces and resistant to much human influence. Nevertheless human ingenuity and toil have given the island its most characteristic feature: the hundreds of kilometres of stone walls that divide the island into a fine mesh of small fields, most of which are no bigger than half an acre. The shards of rock that make up these complicated formations have been chiselled out of the ground for centuries. Inis Meáin is after all a lime stone cliff that rose from the sea some 270 million years ago. The head-high stone labyrinth divvies up the scarce grazing while sheltering the crops and the livestock from the wind.
"One of my most vivid childhood memories is playing hide and seek among the stone walls." Ruairί says. "We didn't just pay in one place, but all over the island, so it could take a while before we were done. I also remember when I ran over the cliffs to grandma to fetch the milk, when we got water from a shared well, and Saturdays when the boat loaded with supplies would anchor off the island and the men rowed out to get them. "A lot of what i remember from when I was little is tied to a strong feeling of freedom. I still feel that. Some people feel shut in and isolated here, but I feel free.
Over three generations, the number of school children on the island has fallen from 90m to 35 to 9. Those who Ruairί de Blacam grew up with have moved away and the population has fallen from 350 to about half that. It was a trend that Ruairί's father, Tarlach, felt he had to do something about. Tarlach de Blacam, studied Celtic languages at Trinity College Dublin when his professor sent him to Inis Meáin, which was, and still is, a bastion of Irish culture. He was just fascinated by the independence, spirit, philosophy and beauty of the island as the culture and language, and when he later met his wife, who came from Inis Meáin, it felt completely natural for him to move here. "There was a negative spiral," Tarlach recalls. "Nothing was produced on the island, everything ca, from somewhere else. All the youngsters left for England or America, the schools were teaching English instead of the Celtic languages, so they were dying out. It was obvious that things had to change. It wasn't sustainable." Tarlach got involved in community development and in 1976 founded the Inis Meáin Kitting Company. "We thought about what we could do here on the island that would add something and meaningful and good," he says. "It was mostly the men who were leaving the island. The woman had a long tradition of knitting at home. So we set up a little knitting factory and learned as we went along." The Inis Meáin Kitting Company started out in a small barn-like building without power or water. A power cable only reached the island in the 1990's, so people had to use their own generators and fetch water from shared pumps on the island. The company realized early on that the way to get attention was to focus on quality and design. Organic growth will get you only so far, but with better quality products you can charge more. Today, the company has 16 full staff, is by far the biggest employer on the island, and makes fantastic knitted garments that are sold by luxury department stores including Barneys and Bergdorf Goldman in New York, and other frontline boutiques in Europe and Japan. Inspirations for the patterns and styles often come from the clothes worn by the fishermen and farmers on the island.
Marie-Thérѐse and Ruairί de Blacam are following the same philosophy with Inis Meáin Restaurant & Suites. "We want to become an iconic place on an international scale," explains Marie-Thérѐse, as she drives me from the knitwear factory to the restaurant in the company car. "Oops, traffic jam," she says, as we're forced to back up a few metres on the narrow road to let by an oncoming Massey Ferguson 350 tractor laden with planks. Further on, we pass a man beating sheaths of harvested rye against a rock in an ancient method of separating the wheat from the chaff. The grain will either be re-sown or ground to flour and used mostly for bread-making. The chaff will be used for thatching roofs. A bit later we, we encounter a man herding two cows from his moped.
Marie-Thérѐse comes from Cork. She met Ruairί when they were studying entrepreneurship in the same class at university in Dublin. "I came here for the first time with my class on the last weekend in October, "she says. "There was heavy weather and heavy seas; people were sick on the boat over to the island. It felt like we had left everything behind us as we came away." By the last weekend in October, the bathing season is well and truly past. But their love story started with a dip in the icy sea. Ruairί bet Marie-Thérѐse that she would never dive into the Atlantic. He lost, but gladly paid up on the wager of a dinner in Dublin.
That was in 1997. It would be almost 10 years before Marie-Thérѐse became Mrs de Blacam and moved here permanently. Both Ruairί and Marie-Thérѐse describe themselves as restless perfectionists with a fierce need for independence and the chance to do their own thing. (By Ruairί's own admission he's "totally unemployable") For Ruairί, Inis Meáin Restaurant and Suites is the realization of a childhood dream. "It was always my dream to return sooner or later and do something like this. This is a very special place that leaves an impression on you. On top of that, I grew up in an open, social home where food and hospitality and spending time with others was important, and where I often helped mum in the kitchen."
For Marie-Thérѐse it was a much bigger step. After university she worked in fashion marketing, lived for a while in Paris, bought a house in Cork, had a flexible job, drove a convertible, followed art and architecture, went scuba diving on the weekends and had, on the whole, "a very nice little life" in a somewhat more urban environment. She and Ruairί were a couple despite them living apart and pursuing their own interests. Ruairί had moved back to the island and was working in sales for the knitting company while honing his plan. He had already bought the land. At the same time, Marie-Thérѐse was thinking of starting her own company, making quality prepared meals. "We compared both ideas and decided that Ruairί's was unique, so he won," Marie-Thérѐse laughs.
They wed December 2006 and moved in together in January 2007 and open the restaurant that July. "It was definitely difficult to begin with," Marie-Thérѐse says. "Everyone here is related or connected somehow. It takes time not to feel like am an outsider and to work out how everything fits together, people's relationships with each other, what they laugh about at the pub. There is no woman within five years of me, younger of older. I went from being very independent to feeling alone and even helpless in certain situations. Apart from Ruairί's family I had no friends. People knew me as Ruairί's wife but I had no identity of my own. When we opened the restaurant, I had a clear role. Ruairί had drawn a family tree so that i could see all the connections, but it wasn't until they came to the restaurant and became faces that i began to understand the ties and could meet them as myself. A year later I was loving it here. On opening night, a food critic from The Irish Times turned up. She wrote a small but glowing review that immediately led to 60 bookings – before the first suite was even ready. Ruairί and Marie-Thérѐse prepared lunch and dinner, and worked on the guest rooms somewhere in between. In September, the first suite was finished: six couples got the stay over before the end of the season. That October, Georgina Campbell's Ireland: The Guide recognized Inis Meáin Restaurant & Suites as Best Newcomer. It was a flying start and a success. The Plaudits are certainly well deserved.
Inis Meáin Restaurant & Suites is a spectacular addition to this setting: a designer hotel with a cosmopolitan brilliance, a limited number of spacious suites and ambitious kitchen in and old farming and fishing community, population160, that has long been relatively isolated and is still the lest visited of the three Aran Islands. It would have been easy to fail with such an undertaking, go astray, lose sight of the context and see the island as just a picturesque backdrop. History tells of several such stories. But Inis Meáin knows its place. Even as you approach the building for the first time from the harbour, it is obvious how well it melts into its surroundings. The narrow building of dark limestone sneaks discreetly along the ground, reminiscent of those low stone walls – which was the intention. It is surprisingly modern architecture, but as soon as you rub your eyes you see the beauty of it.
When you walk in, it becomes even more obvious that this place is clearly about two things in particular: feeling and taste. This can be seen partly from the design aesthetic. The four spacious suites, with sheltered outdoor areas, are tranquil, beautiful spaces with clean-lined furniture in dark, warm timber (from a carpenter in Wexford) that counterpoints the raw concrete walls. The thin slit of windows running the length of the building provides a fantastic view of the Atlantic and the summer sunsets from where you reline comfortably in your bed. The restaurant is like an intimate bistro for 30 or so guests. The stone floor, the J-shaped sofa in olive leather; the enlarged Bill Doyle prints of life on the island and – again- the sea views are all eye-catching features.
The kitchen opens up to the restaurant and the sea views. It is also tiny. This leads us to the second, and most important, aspect of taste. The building, which was designed by Ruairί's uncle, Shane de Blacam, one of Ireland's foremost architects, and the design (Marie-Thérѐse has done a lot with the interior) are outstanding, but it's what's under the surface that makes all the difference. More than anything else, Inis Meáin Restaurant & Suites is about Ruairί and Marie-Thérѐse having a feeling for who they are and how they want to live, a feeling for the soul of the place, and for their guests and their expectations and needs. Put simply, it is all about the humanity.
That is why the kitchen is tiny and open (Ruairί calls it "just about a grill bar"). That is why it has a sea view. That is why the whole operation is on such a small scale (Ruairί in the kitchen, Marie-Thérѐse serving, one assistant each). It is about making personal contact, and enjoying whatever it is you are doing at the same time.
It is more a lifestyle than a career choice.
"Even if we were booked out everyday, we would never get rich on this," Marie-Thérѐse says. "But that's not the point anyway. We want to be able to live a comfortable, good life here and have personal contact with our guests."
"It's such a simple life out here that we don't need a lot of money," Ruairί says. "We could market the hell out of this place and have 20 rooms. But those volumes wouldn't work here. That would be like not caring about the island, which should have a 100 tourists, max, per day. And like we said, that's not what we want either. We would rather charge slightly higher price so we can keep it small and personal, but with top quality rooms and dining.
"This is the sort of place we like ourselves: small, good, personal. We travel to places like this for the people. It is important that the owner is there, that there is someone behind it all. It used to be the owner always stood behind the beer tap in the bar and you could talk about local things with the locals. Now it often feels like you could be anywhere around the world."
Despite Inis Meáin Restaurant & Suites' modest size, there have always been a number of significant encounters. The recent visit of Darina Allen, chef, TV personality and founder of Ballymaloe Cookery School, was an honor. Professor Finbarr Bradley- who said, "If you stop now, she will never marry you" when Ruairί decided to drop out of his and Marie-Thérѐse's entrepreneurship course – came here last year and was proved wrong. The doctors who stay every year, and who once saved Marie-Thérѐse's fathers life. The locals who have adopted the place as their own.
"That would never have happened if we didn't have our roots here," Ruairί says. "First you would never get building permission, and if you didn't understand the attitudes here it would break you." Inis Meáin Restaurant & Suites wants to be a catalyst, to help people understand the island, its history and culture, and what it is today. "The best thing that could happen would be if some other young person on the island copied us," Ruairί says. "If this could be an example of what is possible, I would say 'yes!' – and – not see them as a competitor."
Being surrounded by water, you can feel cut off from the world. Like when you are hit by the worst winter in living memory, just before the opening, and the windows you have ordered from the mainland take four months longer to deliver than expected. That is why you have the expression "better looking at it than for it" – you are better off taking home too much of something than spending loads of time travelling around to buy more. And you make sure you are a jack-of-all-trades, because you can't just call a tradesman for help right when you want it. But there is also a liberating simplicity to and immediacy about living here. Like when you suddenly see a red boat out at sea, cry out "There's the scallop guy!", pick up the phone, call him and order the freshest possible scallops for dinner.
Oh, the tastes! We have hardly started. Despite Ruairί's modesty, the food is brilliant. The best and biggest lobster (with butter, a little garlic and capers) I have ever eaten, crab, hake, round roast, scallops, lamb periwinkles (tiny sea nails that Ruairί picks up on the sea meadows) served as an amuse-bouche… It is all about using the best raw materials in a sensible way. Much of it locally produced. Right now, Ruairί has two pigs in a stone-walled field. Next door he is growing fennel, beets, different varieties of potato, onion, carrots, lettuce, spinach, turnips, and more. "I have learned a tremendous amount about gardening from my uncle," he says. "Our main aim is for 95% of everything we serve to come from the island and the sea."
Ruairί and Marie-Thérѐse have plans that they suspect will last their lifetimes. "This is what we want to do," Ruairί says, placing coasters on the table in front of us to illustrate where they want to build their house, where the reception will be, where he will finally get a decent prep area for his kitchen, a little bar here, the fifth and last suite there, a front garden to make the entrance more welcoming, fruit trees, a walled garden, a tunnel, chicken, beehives…
Tomorrow is Marie-Thérѐse's birthday so they have taken the day off to visit some friends who have a B&B in Clifden, Connemara. But for now it's Saturday night, and the only pub on Inis Meáin is jam-packed, hot with humanity. A Group of local girls who ate at the restaurant earlier are continuing to celebrate a birthday. A bunch of lads on a stag night are starting to get merrily cross-eyed. "One more round!" A harp and an accordion play in the corner.
All things considered, it's a lovely day for a Guinness.
And it's good for you.
The Boston Globe: Ireland's Ultimate Getaway
By
Thomas Breathnach
Published
The Boston Globe
March 2012
"Ireland's ultimate getaway, experience understated luxury in a harmonious island setting"
The Guardian: A beautifully conceived design hotel
By
Catherine Mack
Published
The Guardian
February 2011
Rugged Good Looks
The tiny island of Inis Meáin hides a beautifully conceived design hotel, camouflaged among the dry stone walls. From Galway, across the waves of Galway Bay, lies the tiny island of Inis Meáin, one of the three Aran Islands off the west coast of Ireland. I was met there by islander Ruairí de Blacam, who took me to his hotel called, simply, Inis Meáin.
On the short drive (Inis Meáin is only three by five kilometres) I was able to inspect the ridged surface of the island. The ridges are all stone: thousands of dry stone walls enclosing tiny empty fields, most cultured by people long gone, and a few still maintained by the island's diminishing population of around 200. Other expansive slabs of limestone, too resistant to the traditional farming methods when soil was created from sand and seaweed, still boast fissures filled with rare, wild flowers.
These are the elements that inspired the look of the hotel of Ruairí and his wife, Marie-Thérèse, which is an incredibly simple and rustic design hotel. The building was hard to spot among the village cluster of the pub, the shop and a few cottages, as it is perfectly camouflaged by a limestone facade – a long, low-lying glass and stone building that is more like an Andy Goldsworthy creation than a hotel. The interiors mirror what's outside, with soft grey furnishings and large expanses of space in each of the four rooms designated for rumination and relaxation, and large windows along every wall that draw your gaze outside.
When night fell, I headed into the restaurant where Ruairí, who is also the chef, stood centre stage in the open kitchen, chatting and chopping while guests sat in a line watching the sunset in one direction, or their host skilfully preparing a lobster salad, monkfish and dry aged sirloin in the other. The coup de théâtre was when he took a pollock caught earlier by a guest, filleted it, presented it sashimi style, sprinkled with ginger and sesame and passed it round for all to share. He took his well deserved applause for a superb night of epicurean entertainment in the island's only pub, where the whiskey flowed as fast as the fiddles played.
Ruairí's island childhood was spent fishing, rock climbing, or swimming, he said, and he wants his guests to experience the same. Bikes, fishing rods and swimming towels have been placed in the vestibule outside each room for encouragement.During the day I left my enormous white bed, white robes and alpaca throws and set out towards the silky greys of the rock and luminescent blue of the sky and sea. The south west of Inis Meáin is virtually uninhabited, a mass of jagged limestone leading down to imposing cliffs, with waves pounding up over the edge.
Inis Meáin has been the subject of many great writers' works and most were available in the room. The Aran Islands, for example, is a journal of summers spent here by world renowned Irish playwright JM Synge, between 1898 and 1902, and I took a copy up to the pre-Christian ring fort of Dun Chonchúir, a stone construction of mammoth proportions with views across five counties, and sat wrapped in layers, reading in peace. I hiked and biked, and even braved a dip in the sea one day, and as I explored, I felt as if every stone wall had a story to tell. No one shared these stories more poetically than Synge: an emigrated family; a land dispute or a struggle to survive.
When I was walking alone, I felt an air of sadness lingering on the island, though sharing it with a loved one might dissolve that a little. Alone or not, Inis Meáin is also a place to celebrate this new generation of islanders who are sustaining their home by contemporising it without compromising its heritage. Because Inis Meáin is no longer between a rock and a hard place. Just like the island's flowers, it is pushing through the stone, with strength and simple beauty.
The Gloss Magazine: Wild Atlantic Women: Marie-Thérèse de Blacam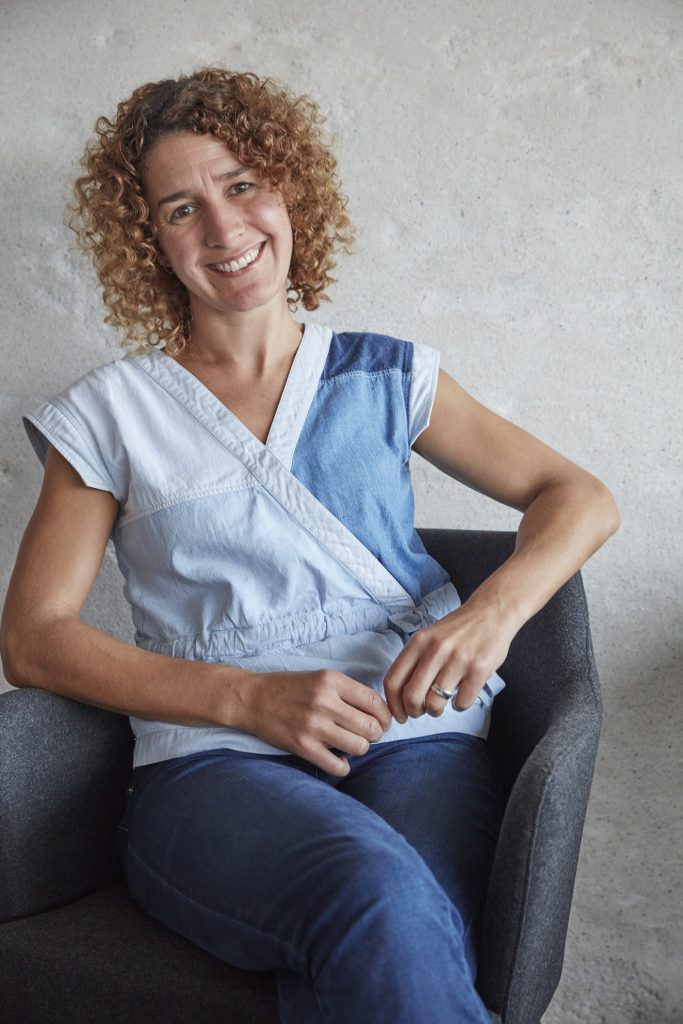 By
Penny McCormick
Published
The Gloss Magazine
2018
Marie-Thérèse and Ruairí de Blacam's restaurant and rooms on Inis Méain has gained almost mythical status. A multi award-winning enterprise, the suites book out nearly a year ahead with return guests. "Living on Inis Meáin we are more than in touch with nature, we are connected to it and dependent on it to get ourselves, our guests and our supplies on and off the island, 13 miles out to sea." Indeed the location informs everything from the elemental decor to the exquisitely simple food. De Blacam loves the "no distractions" factor of island living. With a population of just 160 people with no children's playground or assorted clubs, it translates as quality time with her two girls, aged seven and five. "We do lots of lego, art and baking at home." In the winter, de Blacam started a "seisiun spraoi" in the community hall on Sunday afternoons and for guests she initiated a Potato Club, sending them small crates of island potatoes for Christmas. "The secret to the taste is in the soil with seaweed and sand," says de Blacam. Their splendid isolation would not appeal to everyone. "The kids and business keep us more than busy, so I don't miss anything. For me, the advantages outweigh the disadvantages."
The Telegraph: Irish Hotels for Food Lovers - Four of the Best
By
Francesca Cyz
Published
The Telegraph
September 2011
It's about an hour and a quarter from Galway airport to the ferry port that takes you over to Inis Meáin, the smallest and least-visited of the three Aran Islands, smothered in wildflowers and populated by fewer than 200. It is also home to the wholly unique Inis Meáin restaurant & suites, owned and run by Ruairí (island-born) and (mainland born) Marie-Thérèse de Blacam, who source almost all of its ingredients from the island and its surrounding waters. They opened the restaurant, which seats 25 and was designed by Ruairí's uncle, in 2007. Originally it offered only one suite, but now it has five – the last was completed this spring. Each has floor-to-ceiling windows, panoramic views over the island, Galway Bay and Connemara, and its own private seating areas. They also come with bicycles and fishing rods, and are stocked with their own 'mini delis', with a freshly baked loaf of brown bread delivered each morning. There is plenty to do on the island, from walking and diving to exploring the oval fort of Dun Chonchuir.
Mood of Living: The hotel is booked to capacity every season
By
Pavi Chance
Published
Mood of Living
April 2018
In 2007, Marie-Thérèse and Ruairí de Blacam moved to the remote island of Inis Meáin, Ireland, driven by a compelling dream: to open a boutique hotel that fosters an intimate connection between its guests and the island environment. This dream manifested as Inis Meáin Restaurant and Suites, a hotel composed of just five suites, each with sweeping views of the stark island landscape and the vast ocean beyond. Guests dine nightly at the hotel's restaurant, which serves meals crafted with herbs and vegetables grown on the island and seafood harvested from its shores. During their visits, guests can spend their days exploring the island by foot or bicycle, experiencing its bleak cliffs, austere beaches, and the rich culture of the local Gaelic-speaking community. It is no wonder that the hotel is booked to capacity every season — in a time when pristine landscapes and simple lifestyles are becoming increasingly hard to find, the de Blacams have succeeded in creating a refuge from modern life.
Mood of Living Q&A
Mood of Living:When did you realize you wanted to open Inis Meáin Restaurant & Suites, and where did the idea come from?
Ruairí & Marie-Thérèse:
Ruairí had always wanted to have his own restaurant, and having one in his homeplace of Inis Meáin was an attractive prospect. However, to have a high-end restaurant, we knew we would have to provide high-end rooms also to provide a package for the clientele that we hoped to attract.
MoL: Where do you look for inspiration?
R&M:
We both travelled internationally for many years for our previous jobs, so knew what we wanted and didn't want in a hospitality experience. However, much of the ideas that we implemented at Inis Meáin Restaurant & Suites are our own, and are inspired by the nature and terrain of our stunning and unique island location.
MoL: How did you two meet?
R&M:
In Dublin, at university, where our paths crossed studying for a degree in Entrepreneurship through Irish.
MoL: What about your experience working at Inis Meáin Restaurant & Suites sets it apart most significantly from your past work experiences?
R&M:
The big difference is that we're our own boss, which is much more satisfying. We have a clear style and defined opinions, so it's very nice to be able to have the freedom to make all the decisions for our business and our work in the way that we would like.
MoL: Tell us about Inis Meáin island — what is the environment like, and the culture? How important was creating a sustainable destination for you, with respect to the environment, architecture, and the food experience?
R&M:
Just us relocating to Inis Meáin to do this, or anybody relocating to Inis Meáin, makes a big difference to the sustainability of the island, as the population is only about 160 people. Everything is inspired by the nature of the island — both the physical nature and the characteristic nature, including the architecture, interiors, and the food. It is a wildly-natural terrain completely intertwined with the constantly-changing oceanic weather, and it is a very quiet place.
MoL: What are some of your favorite things about living there?
R&M:
The beauty of the nature and the peace and quiet.
MoL: And least favorite things?
R&M:
How difficult it is to find and relocate staff here.
MoL: What is the relationship like between the natural world of the island and its human inhabitants?
R&M:
Completely intertwined. The process of reclaiming land by annually laying out sand and seaweed to create soil on top of the exposed bedrock, in order to raise animals and crops to support life here, has gone on for thousands of years and continues today.
MoL: How has the island changed and is continuing to change?
R&M:
It hasn't changed too much. If you read J.M. Synge's The Aran Islands, which was written over 100 years ago, you will feel many of the same feelings Synge describes if you stay on the island today. It has been made much more accessible and easier to live on with daily ferries and planes and electricity since 1978 or so. But thankfully the neighboring islands of Inis Mór and Inis Oirr soak up most of the tourism, so the visitors that come here are usually looking for the peace and quiet that Inis Meáin offers.
MoL: What is the relationship like between Inis Meáin Restaurant & Suites and the local community?
R&M:
Very good, we've had great support since we opened 11 years ago. We have an islander rate in the restaurant, and many islanders will bring visitors to the restaurant, or visit for family birthdays or just a night out.
MoL: What is it like to bring up children there?
R&M:
It's a wonderful place to have a family, as it is completely safe and very in touch with nature, and always has been.
MoL: Ruairí grew up on Inis Meáin, and Marie-Thérèse moved there later in life to open Inis Meáin Restaurant and Suites. Do you think you have different perspectives on and relationships with the island, and have any such differences proved either detrimental or beneficial?
R&M:
To a small extent, in that Marie-Thérèse can probably distance herself from island community matters a little more easily and offer a slightly different perspective on them. Purely as she didn't grow up with the personalities and all the history of the island around us, as Ruairí did.
MoL: Tell us about the architecture of Inis Meáin Restaurant & Suites. Who is the architect?
R&M:
Shane de Blacam of de Blacam & Meagher Architects in Dublin (Ruairí's uncle). Shane and his partner John Meagher have been described as "The Godfathers of Irish Architecture" in the book Architects of Today, and a 40 year retrospective of their work was presented as the Irish Pavilion in the Venice Biennale of Architecture in 2010.
MoL: Inis Meáin Restaurant & Suites has just five rooms — how do you think the staff and guests benefit from its small size?
R&M:
It means that our guests don't feel like just one in a large number. We usually get to know our guests a little, as they meet all of the staff several times over the course of a two or four night stay, and a third of our guests return, many of them every year. This makes the experience and the work more enjoyable for everybody.
MoL: What are the rooms like, and how does their design reflect the kind of experience you want to give guests?
R&M:
The suites are designed to reflect the island outside and to complement the peace and quiet that the island gives to visitors. They each have a 10-meter-long continuous window looking out over the island landscape, Galway Bay, and the Connemara mountains beyond. We try to bring that landscape through the window into the suite itself by using only natural materials, in tones of the colors that you see outside the window — wooden floors, grey soft furnishings in wool and felt, black and white photographs of the island, lime plastered walls…
MoL: What attracts guests to Inis Meáin Restaurant & Suites? Over the years, have you observed any commonalities among the kinds of people who decide to stay with you?
R&M:
They are all looking for an escape in nature. You could say that what we do is similar to a nature lodge (a concept more common in places like Patagonia and New Zealand, but we seem to be the first ones to do it in Ireland). Many have an interest in design. Many work in international metropoles like Dublin, London, and New York, and have very busy lives. They are often independent and shy away from the tourism locations. Health professionals, creative professionals, and all sorts of entrepreneurs and self-employed professionals make up the majority of our guests!
MoL: What do you hope people take away from their visits to Inis Meáin? What kind of feedback do you most often receive from guests; has there been any feedback that has been especially meaningful to you?
R&M:
The best feedback we could possibly get is guests booking in to come back the following year before they leave, which happily happens very often. There are often small things which we do our best to add to the suites each year, for example, guests suggested deckchairs to lounge in in the private seating area outside each suite, so we designed our own with the island dry-stone walls printed onto the canvas. The objective is for guests to take away a feeling of relaxation and refreshment, and perhaps a realignment of themselves and a reconnection with what's important to them in their lives. Inis Meáin, and hopefully our place, gives them the space, and sometimes the stimulation and inspiration needed to do that.
MoL: What do you do during the hotel's off-season?
R&M:
Work at making it better! As well as all the continuous administration work of bookings, finance, marketing, etcetera.
MoL: Where do you see yourselves, Inis Meáin Restaurant and Suites, and the island community years (or even decades) from now?
R&M:
Hopefully here, retired, and with any luck, with one or both of our beautiful young daughters at the helm (they are only 7 and 5 for the moment)! If one or both of our daughters decide to settle here as adults, it will mean that the island community will be in a good state of health for them to make that decision.
MoL: In what ways do you think you benefit from running Inis Meáin as husband and wife team?
R&M:
We have fun together and there is a huge amount of support for each other. We both say we couldn't do it alone.
MoL: How do you two make time for life outside of work? Do you cook?
R&M:
We make sure to have scheduled family breaks — we close the business for some days during the season to do this, and have a proper holiday during the winter. We have flexibility with our time in the winter to make sure we make up for any family or couple time that we lack during the season. Mostly at home in Inis Meáin, as we love living here all year around.
MoL: What are the biggest lessons you've learned from running Inis Meáin Restaurant & Suites?
R&M:
We've always been consistent with our ideas, our style and our concept and that really makes all the decisions easier as you have one thread running through everything. It's also much easier to market, as your message is clear. That has worked really well for us and is something we try to carry through to other projects.
MoL: What are the biggest challenges you've faced?
R&M:
Financially, running a very small business in a remote and logistically-challenging location is always going to be difficult. We are booked out a year in advance, but maintaining a margin and working out how to grow profitably is always our challenge.
MoL: What has been the most rewarding?
R&M:
Running our own business that makes people happy and wanting to return!
MoL: What has running Inis Meáin Restaurant & Suites taught each of you about yourselves and each other?
R&M:
That we are both impatient and like to be our own boss, so we have clear lines to differentiate between our patches! Also that we both need to have an ongoing creative outlet somewhere within our many roles to feel satisfied.
MoL: What advice do you have for people who want to pursue careers in food and hospitality?
R&M:
Make your money first or look for a friendly investor. It's a tough industry with high costs and a high reliance on staff and raw ingredients — the availability and cost of both of which can fluctuate fairly wildly.
MoL: What scent makes you happy?
R&M:
The sea — from the seaweed around the coast to the produce we harvest from the surrounding sea for the restaurant.
MoL: What music inspires you?
R&M:
The birdsong here in springtime and the visiting cuckoo in May.
MoL: Where do you go for peace of mind and spirit?
R&M:
Anywhere on Inis Meáin.
The Sunday Times: Fine Dining With Digs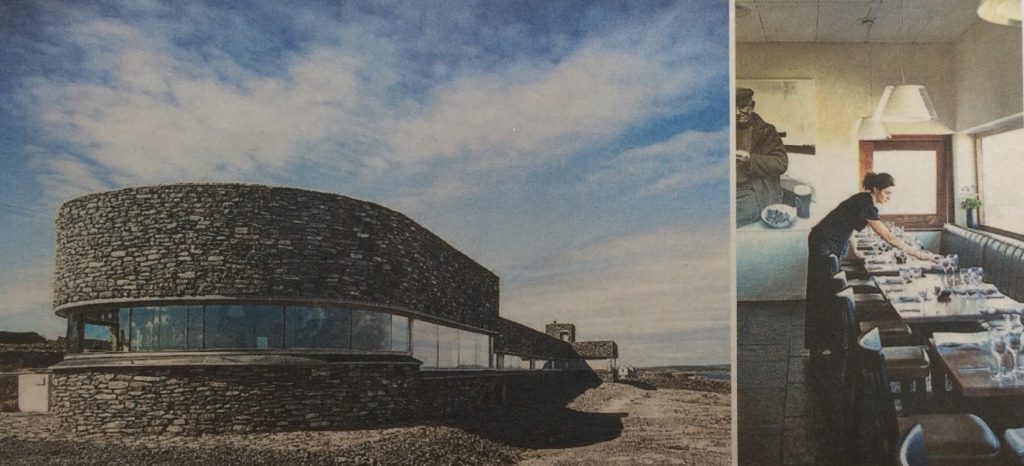 By
Dara Flynn
Published
The Sunday Times
April 2016
Fine Dining With Digs
Inis Meáin is a spectacular example of contemporary architecture, rooted to its remote island location on Inis Meáin, and designed by Shane de Blacam of DeBlacam and Meagher. This is all about rugged escapism: there are just five private suites, each a minimum of 50 square metres in size with a 10-metrer expanse of glass framing panoramic views of the island and sea. The interiors are modern-rustic – all wood, limestone and wool – and the suites open from April to the end of September for two-night minimum stays.
The restaurant's four-course dinner changes nightly, based around the best ingredients the island has to offer for a so-called "taste the view" dining experience centered on a clean "elemental eating" ethos.
Headed up by Ruairί de Blacam, chef and a native of the island, and his wife, the sommelier and host Marie-Thérѐse, the restaurant grows its own vegetables and herbs on-site, uses shellfish caught around the Irish coast (including fresh lobsters landed on the pier) and serves only wild Atlantic fish and homestead reared meat. A daily breakfast is delivered to your suite, as is a packed lunch, bicycles, fishing rods and any other tools you might need for exploring the island.
Irish Independent: Room with a view? Check. Fabulous Food? Check.
By
Pól Ó Conghaile
Published
Irish Independent
March 2018
Where:
Aran Islands, Co.Galway.
Why:
It could fit any number of categories. Room with a view? Check. Fabulous food? Check. The destination Darina Allen once dubbed "my favourite place to stay in the world" is like Fäviken via the Father Ted opening credits. Ruairí and Marie-Thérèse de Blacam make art out of pure local produce, and their dining room and suites offer stunning views over the Aran Islands moonscape. New for 2018 are a fruit garden, armchairs upholstered with natural felt wool, and a host of Irish language links (check out Scrabble as Gaeilge) for Bliain na Gaeilge. "The whole point is to slow down and take it all in," as Marie-Thérèse says. That could be a manifesto.
Insider Tip:
Book ahead. The suites are now entirely booked out for 2018!
The Toronto Globe and Mail: The hotel and restaurant are booked up months in advance....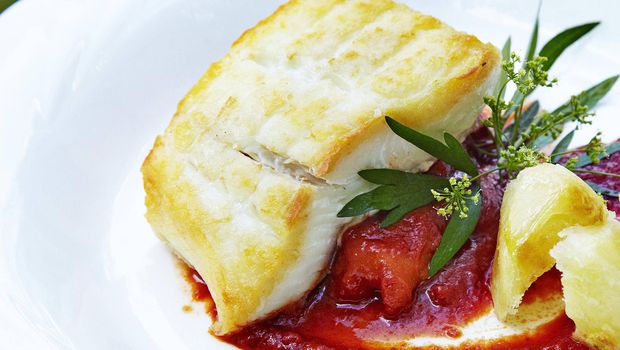 By
Lucy Waverman
Published
The Toronto Globe and Mail
March 2017
As we walked to Inis Meáin restaurant through the narrow twisting roads of Inishmaan, soft Irish rain fell and gave the rocky landscape an otherworldly look. Inishmaan is the middle and smallest of the three Aran Islands off the coast of Galway Bay. It is also the quietest, housing 150 families, sheep, cows and a lot of wildflowers. There are great stretches of beaches, ancient forts and settlements and the house in which J.M. Synge wrote many plays. It is a place to escape, explore, walk and let the cares of the world quickly fade away. Inis Meáin Restaurant and Suites is a hotel built to fit into the craggy island architecture. Chef and owner Ruairí de Blacam grew up on the island (his name is from Norman times), and with his wife, decided to open a hotel and restaurant that would be totally self-sufficient. For six months of the year, they display the pedigree of the land through growing and producing all their own food and retrieving fish and seafood right out of the sea. "You cook your location," de Blacam says. "We in Ireland are fortunate because we have the best ingredients – ale, honey, dairy, fish and seafood and grass-fed animals – all of which define the Irish palate." Tasting de Blacam's simple, tasty, homegrown and home-cured food is a special treat. It's not surprising that the hotel and restaurant are booked up months in advance.
Image Daily: Festive Food & Wine Wishlist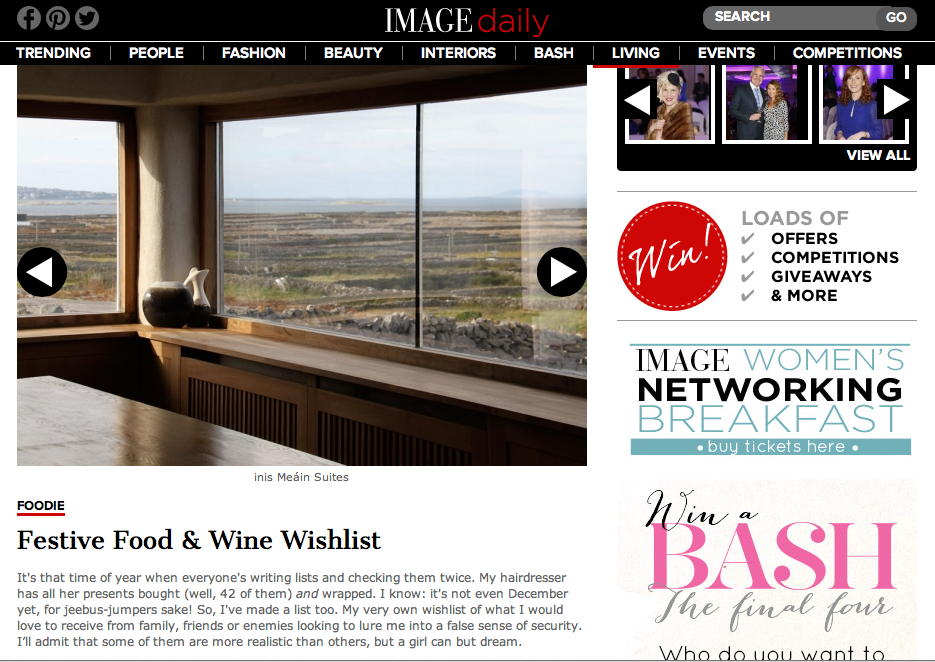 By
Aoife Carrigy
Published
Image Daily
November 2013
One of this writer's Christmas Gift Wishlist:
A voucher for Inis Meain Restaurant & Suites so I could go back and recreate one of the best short breaks I've ever had. And maybe I could go towards the end of their season and they'd let me stay on and write that novel I always thought I'd get around to. It'd be the perfect spot for it, what with all that windswept wilderness on your doorstep, and the food is pretty darn spot on too. (I could do island lobster and fresh spuds on a daily basis, no problem!)
Olive Magazine: A stunning restaurant with wall-to-wall windows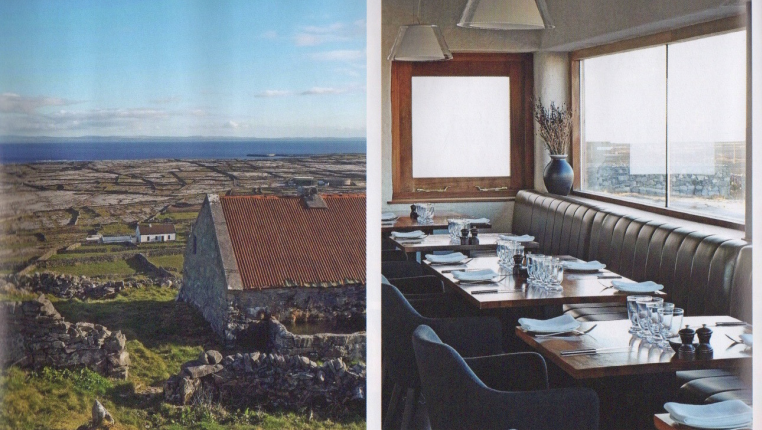 By
Clare Hargreaves
Published
Olive Magazine
June 2018
It's Inis Meáin, the least visited Aran Island, that most surprises. Ascending its stonewalled lanes from the ferry, I spy what at first glance looks like a designer pillbox hewn from local limestone. In fact, it's a boutique inn, Inis Meáin, the creation of local boy Ruairí de Blacam and Cork-born Marie-Thérèse (inismeain.com). Inside is a stunning restaurant with wall-to-wall windows ensuring every diner devours not just the food but the landscape that spawned it too (for those facing inwards, there's a mirror). Don't expect show-off cooking – each of dinner's four courses has just two elements: say, squid and tomato, or homegrown broccoli and hollandaise. It's pure and pared-down so that you celebrate each ingredient – which pretty much sums up what's happening in this wild and beautiful corner of Ireland.
Sunday Independent: Darina Allen's best meal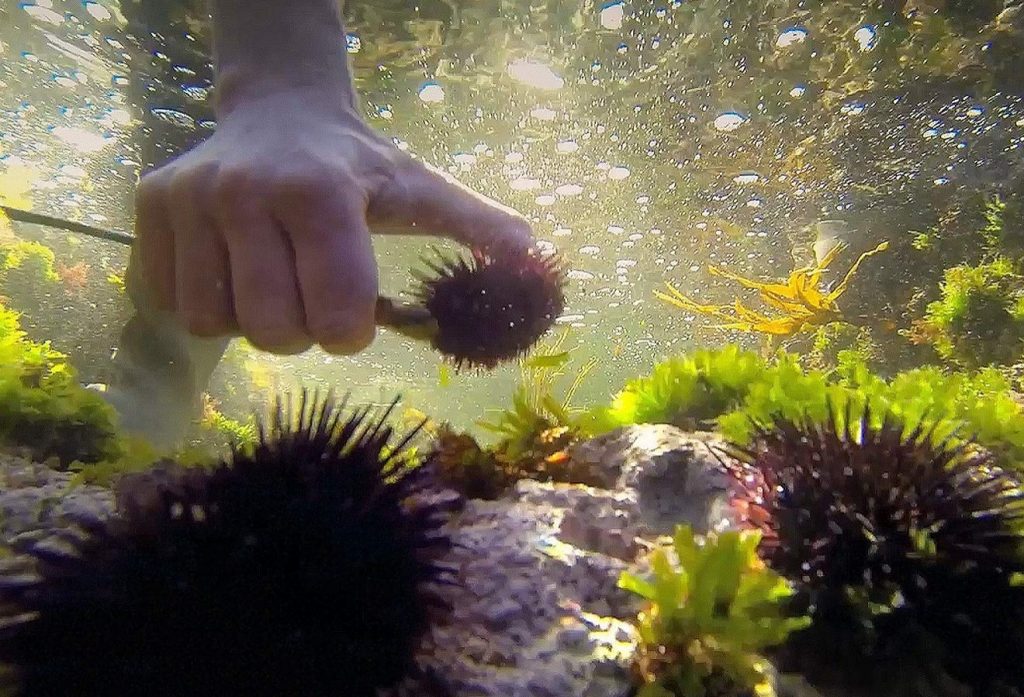 By
Darina Allen
Published
Sunday Independent
June 2013
Sunday Independent: What is the best meal you ever had? Darina Allen: A feast of sea urchins at the Inis Meáin Restaurant and Suites on the Aran Islands.
The Financial Times: Host to 2 FT Photoshoots on Inis Meáin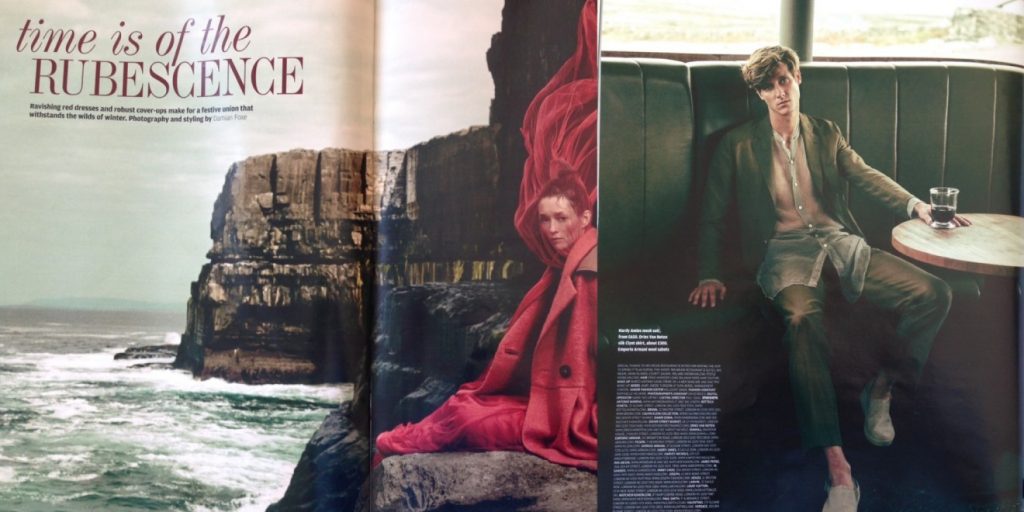 By
Damian Foxe 2016
Published
The Financial Times
Special Thanks to Inis Meáin Restaurant & Suites for hosting the How To Spend It Team during these shoots.
RTE Ear To The Ground: Extraordinary architecture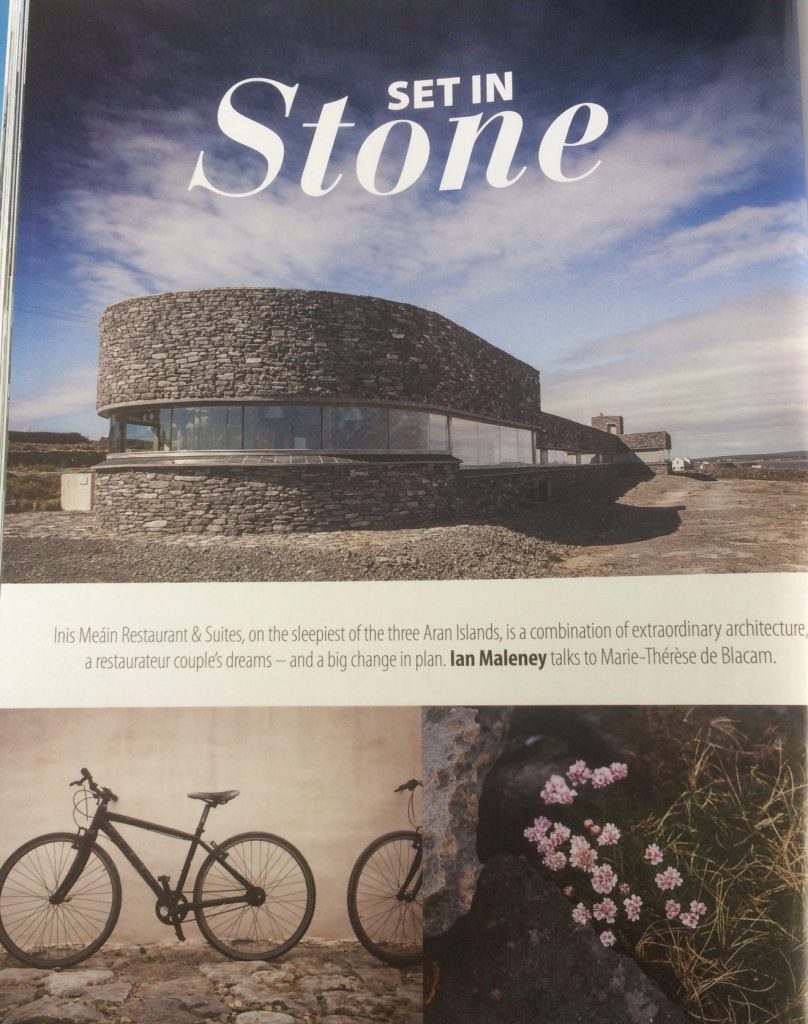 By
Ian Maleney
Published
RTE Ear To The Ground
August 2015
Inis Meáin Restaurant & Suites, on the sleepiest of the three Aran Islands, is a combination of extraordinary architecture, a restaurateur couple's dreams – and a big change in a plan. Ian Maleney talks to Marie-Thérѐse de Blacam.
Opening a high-end restaurant and hotel on a population of 150 could easily be construed as madness, but looking at what Ruairί and Marie-Thérѐse de Blacam have done on the rocky outcrop of Inis Meáin, the term "living the dream" comes to mind instead.
Ruairί de Blacam is an island native, having grown up on Inis Meáin before leaving for Dublin to attend secondary school. Having spent 15 years cooking in kitchens across Ireland and Europe, de Blacam also worked as a globe-travelling salesman for his father's island-based knitwear business. Around the turn of the millennium he started to think about opening a restaurant of his own, but the burgeoning property boom made setting up in Dublin almost impossible. He bought three acres of land on Inis Meáin, married Marie-Thérѐse and, inspired by the island cottage of John Desmond and Ellmary Fenton on Heir Island, started to work on what would become Inis Meáin Restaurant and Suites.
"I think Ruairί originally would have thought that, at some point in the future, I'd like to semi retire back to Inis Meáin and do a small restaurant there like John and Ellmary have done," says Marie-Thérѐse. "In reality, when the numbers weren't stacking up in Dublin, that plan was brought forward and he realised this isn't just a semi-retirement plan, it's a life plan."
De Blacam enlisted his award-winning architecture uncle, Shane de Blacam, to design a truly unique building for them. Clad in that distinctive island stone, its low, graceful profile makes it feel as if it's emerged whole from the bedrock. The building contains five spacious suites, each entered through its own veranda, while the restaurant commands a 180-degree views of the bay….
…..While Ruairί began to craft a menu for the restaurant using available local ingredients, Marie-Thérѐse designed the bespoke interiors, developed a range of baked breads and biscuits, and managed the front-of-house. Together they started a kitchen-garden just outside the building, growing their own vegetables and salads, while the Atlantic provides lobster, crab and fish as well as sea urchins that were described by Darina Allen as the best meal she'd ever had.
Inis Meáin itself is the least visited of the three Aran Islands, attracting just a tiny fraction of the tourists the other two receive. While this makes opening a hospitality business even more daunting, the island's isolation and quietude is a boon for those who make the trip. "Inis Meáin is very much the piggy in the middle island, and in terms of services, would be very much be behind the other two," says de Blacam. "It's not the easiest place to make something sustainable because it is very, very quiet. On the other side of things, that's the beauty of it because guests just have the place to themselves pretty much. "We do a minimum two-night stay and that's because it's a real getaway wind-down, but you can really only appreciate that if you take long, three or four-hour treks out the back of the island where you've absolutely nothing, just you and the landscape…It's the kind of place that deserves the time to be taken to experience what it has to offer…"
Cara, Aer Lingus Inflight Magazine: It's hard to imagine a more heavenly spot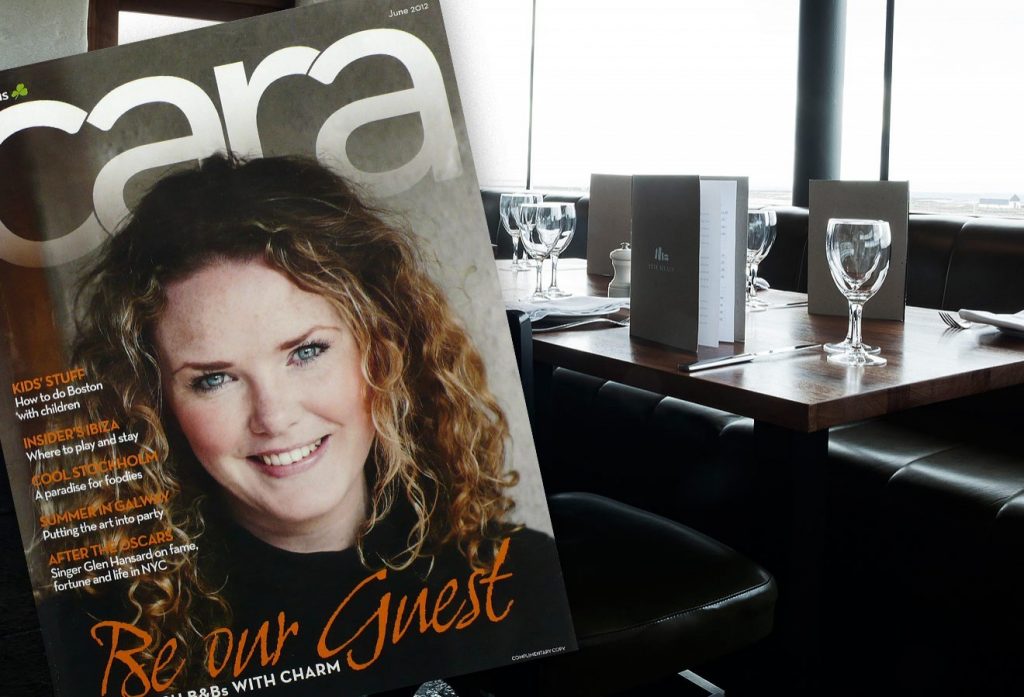 By
Emily Hourican
Published
Cara, Aer Lingus Inflight Magazine
June 2012
"Everything we do stems from our location. We are 15 miles off the west coast; remote, isolated and exposed to the elements. The beauty of the landscape and terrain is what informs us" So says Marie-Therese de Blacam, pictured above with husband Ruairí, and indeed the breathtaking appeal of Inis Meáin Restaurant & Suites is precisely this: it sits effortlessly into its stunning natural environment. Each suite has 10m-long continuous windows, in order to connect with the outside, interiors are natural wood and lime-plastered walls, with soft furnishings made from cashmere and baby alpaca from the island's own knitwear factory.
Marie-Therese and Ruairí encourage their guests to get out and explore the rugged terrain and wildlife of the island, providing light-weight bikes, binoculars and a freshly-cooked hot-pot lunch for expeditions The Restaurant meanwhile, which the couple runs with the help of Ruairí's cousin, Saileog Lally (see our cover), is increasingly being recognised internationally (the Financial Times lauded it as one of the twelve best in the world last year), and pursues the same commitment to the natural bounty of Inis Meáin. "Local lobster, crabs, scallops and fish are to the fore of our menus," Marie-Therese explains. "We grow almost all our own vegetables, and we keep pigs, chickens, and have used beef from island-reared cows." Wonderful natural ingredients are presented simply and without fuss, eaten in a dining room with panoramic views of the island and ocean, where the sky is often flooded with pink as the sun sets slowly behind the Connemara mountains.
Once there, it is hard to imagine a more heavenly spot.
The Sunday Times: A Minor Architectural Masterpiece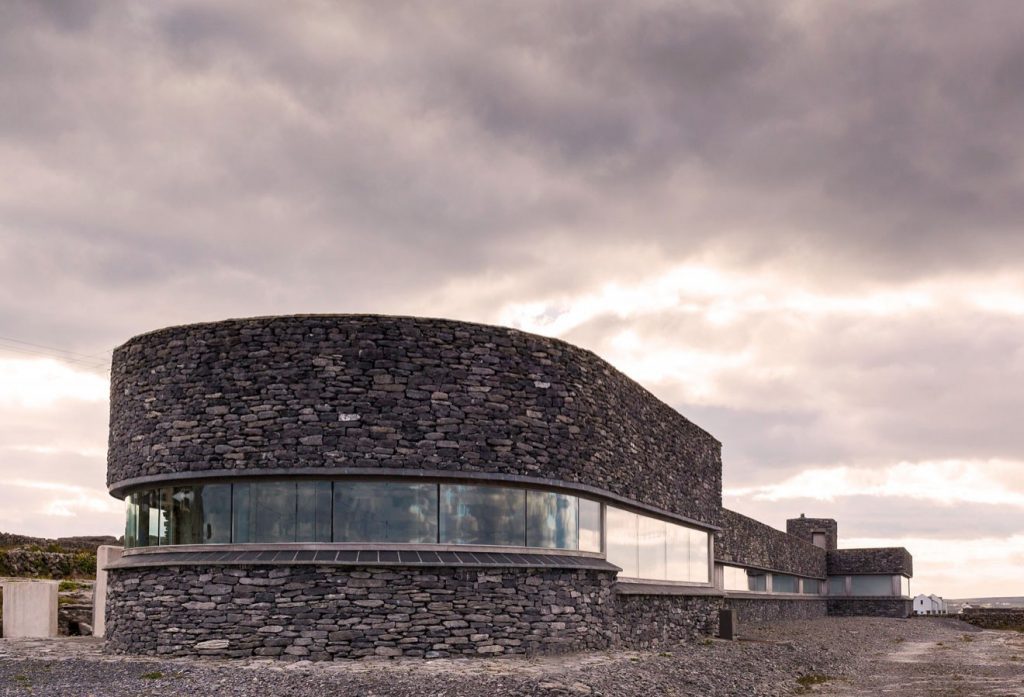 By
Sean Newsom
Published
The Sunday Times
June 2012
Ruairí de Blacam's restaurant with rooms is on Middle Island, and catches the full force of whatever's coming, whether it's brilliant sunshine or howling Atlantic gales. The building is a minor architectural masterpiece – sharp, yet entirely in sympathy with its low-rise, rough-hewn surroundings.
The Week: Hotel of the Week
Published
The Week
March 2011
Inis Meáin is the ideal base from which to explore the beautiful Aran Islands of Galway Bay, says Catherine Mack in The Guardian. Named after the island on which it lies, this "long, low-lying" glass and stone building is perfectly integrated into its stark, wild surroundings. The interior, too, mirrors the landscape, with soft grey furnishings and large windows in the four spacious guest rooms. Food is superb, conjured up by the owner, Ruairí de Blacam, as he chats with guests in his open-plan kitchen. Bikes and fishing rods are available to borrow, and the island's only pub is nearby.
Travel+Leisure Magazine: Best Secret Islands on Earth, Inis Meáin Ireland
By
Laura Read
Published
Travel+Leisure Magazine
October 2011
The pleasures of Inis Meáin are simple: a walk along the coast to the thunder of Atlantic swells; a tableau of fissured limestone that glimmers in the mist; the best potatoes you'll ever taste. At the stone-walled Inis Meáin Restaurant & Suites, owners Marie-Therese and Ruairí de Blacam have equipped the five suites with bicycles and fishing rods, oversize beds come with alpaca throws, and 30-foot-wide windows look out onto Galway Bay and Connemara. The real allure is the 30-seat glass-walled restaurant, known for its deceptively basic fish dishes and homegrown vegetables.
Effilee Magazin fur Essen und Leben (DE): Das Gebaude ist ein Abbild seiner Umgebung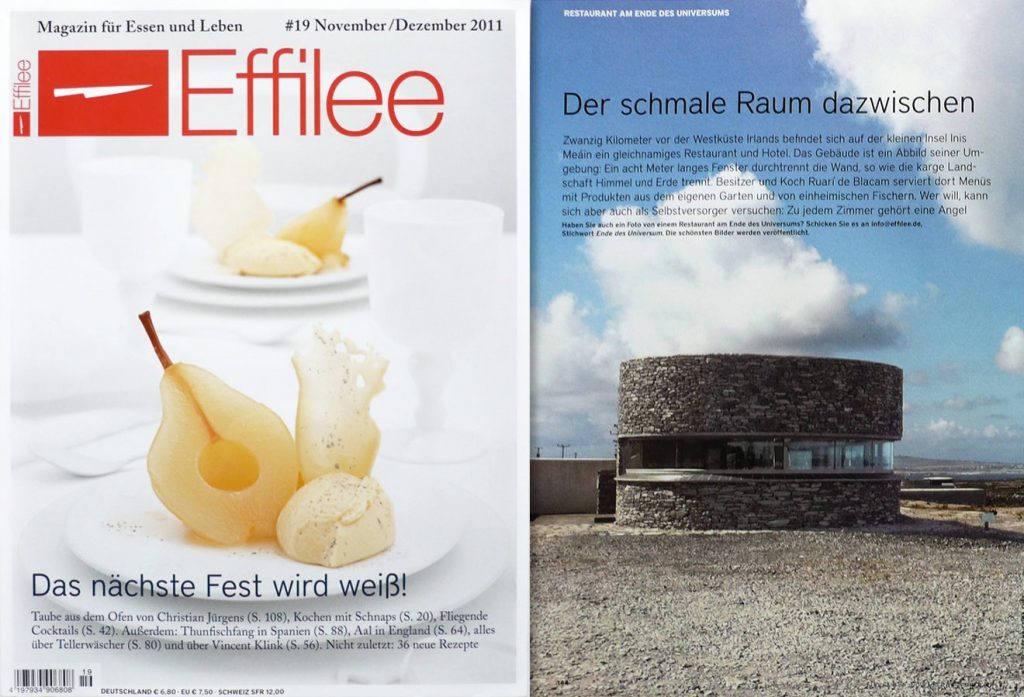 By
Christina Sues
Published
Effilee Magazin fur Essen und Leben (DE)
December 2011
Restaurant am Ende des Universums Der schmale Raum dazwischen Zwanzig Kilometer vor der Westkuste Irelands befindet sich auf der kleinen Insel Inis Meain ein gleichnamiges Restaurant und Hotel. Das Gebaude ist ein Abbild seiner Umgebung: Ein acht Meter langes Fenster durchtrennt die Wand, so wie die karge Landschaft Himmel und Erde trennt. Besitzer und Koch Ruarí de Blacam serviert dort Menus mit Produkten aus dem eigenen Garten und von einheimischen Fischern. Wer will, kann sich aber auch als Selbstversorger versuchen: Zu jedem Zimmer gehort eine Angel.
The Telegraph: Famous for sky-high quality and immersive island magic...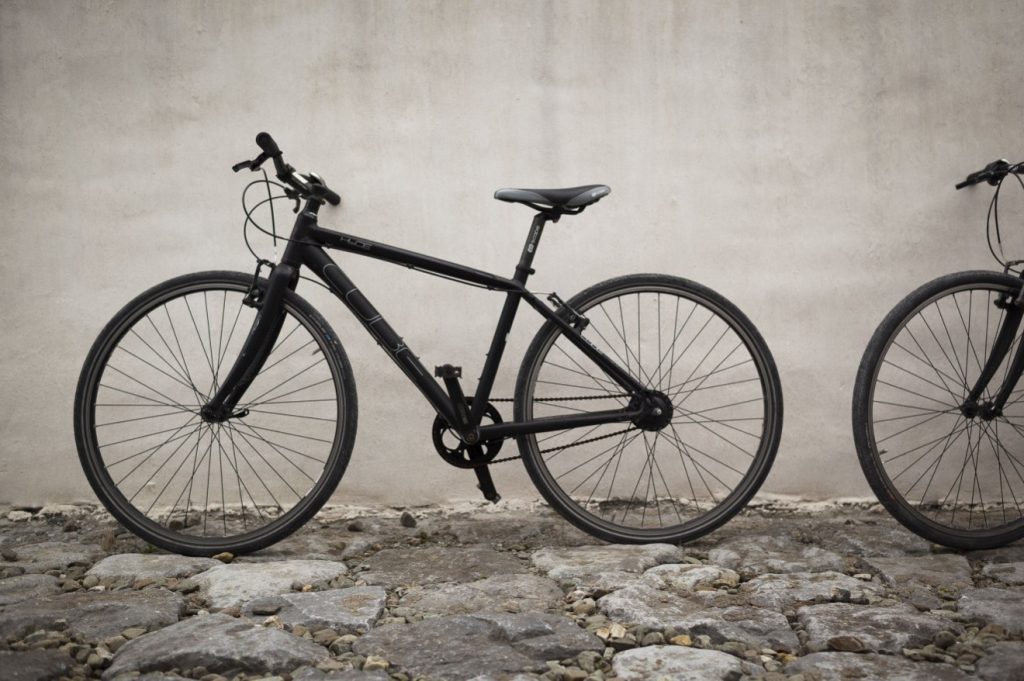 By
Neil Hegarty
Published
The Telegraph
9/10 Telegraph Expert Rating
Inis Meáin Restaurant & Suites offers a remarkable, carefully designed experience on the remote, beautiful and windswept island of Inishmaan. Ruairí and Marie-Thérèse de Blacam's splendid and intimate enterprise is only a few years old – but is already famous for sky-high quality and immersive island magic.
Location
The three scintillatingly beautiful Aran Islands – accessible by ferry and plane – are strung out across the mouth of Galway Bay in Ireland's Atlantic West, and Inishmaan is the least developed and populated of the three. Inis Meáin Restaurant & Suites, with its five spacious accommodation options, looks out across a spectacular world of limestone contours, dry-stone walls, rare fauna and Atlantic horizons. Don't expect abundant services out here! Instead, breathe the air and walk the island landscapes.
Style & Character
'Designer' is probably the most apt word – but this term really doesn't do justice to what the owners have created here: an intimate, sleekly modern place which draws on the materials to hand to create marvellous spaces for high-quality living and eating.
Service & Facilities
Out of this world. The de Blacams' intention is to ensure a full Inishmaan experience – and with this in mind, guests are provided with a full exploration kit for experiencing the island at their own pace. Expect customised island bicycles, fishing rods and tackle, maps, reading material, walking sticks, binoculars and sturdy (and elegant) backpacks, plus a healthy soup-based picnic lunch.
Rooms
Five suites only. Each of the four Burren suites is spacious, and each is furnished in a clean, spare, yet luxurious manner, drawing on island elements of wood, stone and glass. Beds are king sized and supremely comfortable; wet-room bathrooms are granite-lined with power showers, Aveda toiletries and Philippe Starck fixtures; the living area comes complete with sofa, teak chairs, reading materials and panoramic windows. The immense Connemara Suite has a wood-burning stove and its own kitchen. Each suite also features a private outdoor seating area.
Food & Drink
The restaurant, with its wide windows, caters to a maximum of 16 diners; dinner is served nightly at 8pm using customised earthenware and glassware. Ruairí de Blacam's serious cooking has a dedicated following – and provenance is crucial, with vegetables and salads grown on site, and fish landed and meat reared locally. Breakfasts (local meats, smoked fish, yogurts, fruit, breads) are equally thoughtful, and are delivered early each morning to each suite in a special teak box.
Family-friendly?
This is a place more suited to adults.
Sunday Business Post: 101 Great Irish Restaurants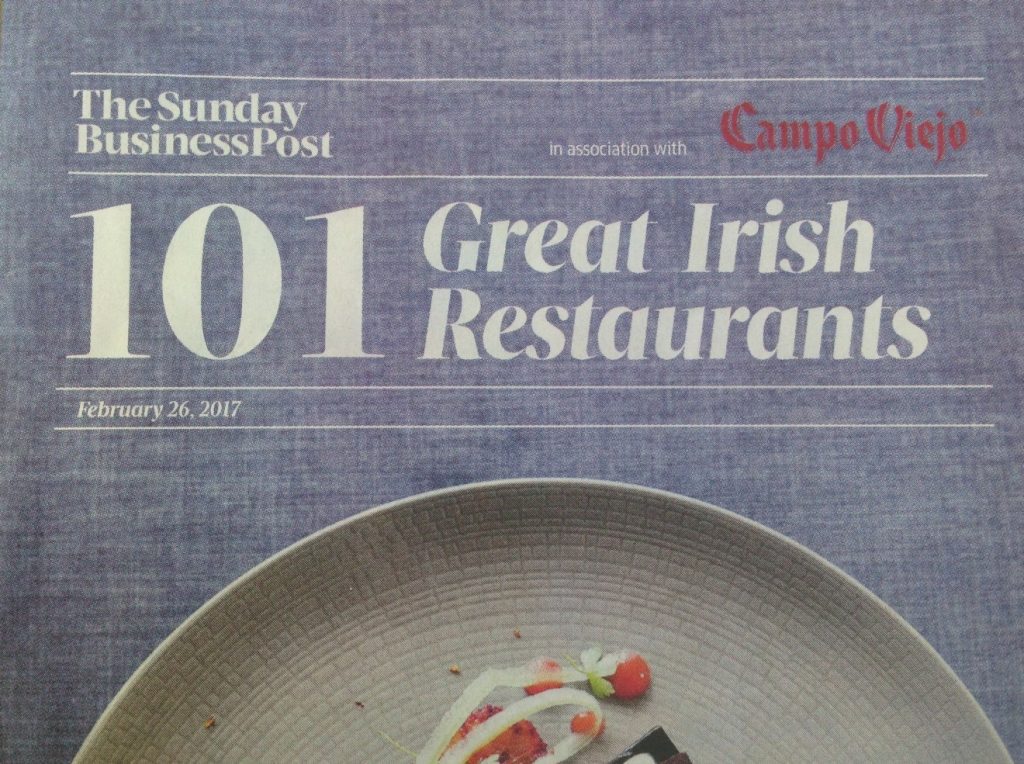 By
Gillian Nelis
Published
Sunday Business Post
February 2017
Inis Meáin Suites, Inis Meáin, Aran Islands
You'll need to plan well ahead to eat in this gorgeous restaurant in Ruairί and Marie-Thérѐse de Blacam's small hotel on Inis Meáin: it only has 16 seats and is closed for half of the year. But it offers one of the most unique dining experiences in the county, and with a little bit of organisation, you can get to try it
Dinner is €70, and consits of courses comprising just two or three elements – jerusalem artichoke with white truffle, for example, or baby squid with grilled courgette, and perhaps rhubarb and vanilla with hay custard for dessert.
You don't have to be staying in one of the five suites to eat there, but you will need to stay overnight on the island, and the de Blacam's have put links to accommodation options on their website.
Darina Allen's Blog: One of my favourite places to stay anywhere in the world...
I'm sure you could count the number of restaurants in Ireland easily on one hand that offer sea urchins on the menu – Ballymaloe features them occasionally when they come up from West Cork. I adore sea urchins but rarely get the opportunity to feast on them so I was thrilled to bits to see them right on the top of the the dinner menu at Inis Mean suites on the Aran island with the proviso (order 24 hours ahead).
The restaurant with just five rooms owned by Ruari and Marie Therese de Blacam and is one of the hottest foodie addresses in Ireland right now. We love it for a ton of reasons not least that dinner starts with a little bowl of freshly picked periwinkles. How about that – not everyone's cup of tea but it gave me a oops in my tummie – what ever turns you on!
I'm an enthusiastic forager both on land and in the woods and on the sea shore but I've never known how to find sea urchins so I ordered them for the following night on the proviso that I could come with Ruari when he was collecting them. What an experience, we wound our way down to the seashore along the narrow botharins until we came to Tra Teacht. From there we scrambled over jagged boulders, limestone karst, round algae covered stones, slippery seaweed and fossils until we came to some rockpools exposed only during the spring tides a couple of times a year. Ruari waded in in his wellies and prized them out of their little nests with a chisel. I kept thinking how the little sea urchins were quietly conjugating in their natural habitat one moment and seconds later they were my dinner!
So how do you go about eating a sea urchin? Well, pick it up, hold it firmly with the mouth upwards, tap around in a circle with the bowl of a teaspoon until you have cracked enough of the hard shell to lift out the ? and made a opening large enough to scoop out the contents. Inside there will be five pieces of orange coral and other gunge all of which is delicious. Some people like to squeeze in a couple of drops of lemon juice but I love the fresh briny tasting coral on it's own.
We sat on the seashore watching the pollock jumping, feasting on sea urchins and the Morrocan chickpea stew in the picnic which had been delivered to our bedroom earlier in cute littleThermos flasks with a spoon tucked inside the lid. (Just what I need for my travel survival kit).
Later we went fishing with Turlough, Ruari's Dad, we were totally hopeless but he caught 10 or 15 mackerel, four and five at a time, I also love fresh mackerel so Ruari prepared sashimi with a ginger and sesame marinade and some spring onions, it was brilliantly good , in fact it was one of the most memorable things I've eaten all year.
Everyone speaks Irish on Inis Mean, the least visited of the Aran Islands off the west coast of Ireland. It can be reached by plane or ferry and is truly a world apart with one of my favourite places to stay anywhere in the world.
ethicaltraveller.co.uk: ethicaltraveller.co.uk: The de Blacams want you to savour every bit of Inis...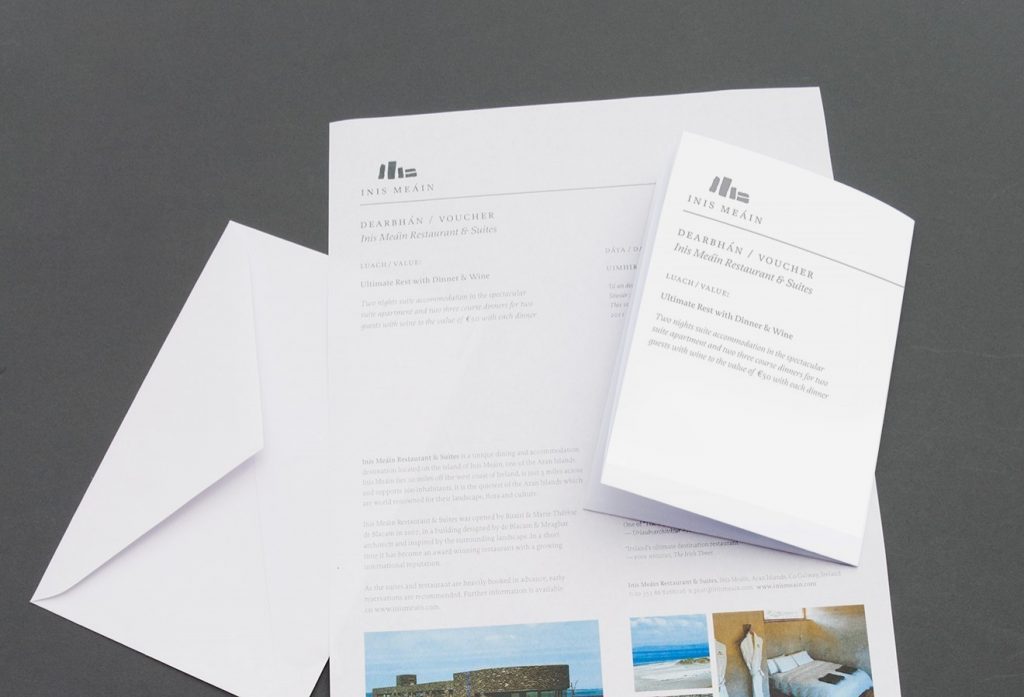 Few things in life beat a wish which actually comes true. This time last year I wrote a New Year's wishlist, which included a mission to visit more of our stunning islands. First, a trip to Cape Clear made me smile and celebrate our natural heritage, but a trip later in the year to Inis Meáin, one of the least visited of the Aran Islands, actually made me cry. In the same way that a fine work of art makes me cry, or a stunning piece of writing, or just an overwhelmingly kind gesture. I experienced all of this on Inis Meain, staying at Inis Meáin Restaurant and Suites, a place where I felt all my travel writing Christmases had come at once.
Inis Meáin is a place of solace and reflection and Inis Meáin Suites has been designed with this in mind. As the only hotel here, it could have made a big splash, but instead its architect opted for a native limestone façade, with just enough glass to reflect the soft, luminescent blue sky, creating a long, low-lying building which segues seamlessly into the matching limestone terrace. This is just one of hundreds of hard-won terraces, so characteristic of the Aran Islands, stretching out in every direction like veins across a body.
Indeed, Inis Meáin Suites plays the role of a central artery on the island, providing tourism income which is sustainable in a sumptuous, seductive and yet sensitive way. Sustainability is core for its owners, Ruairí and Marie-Thérèse de Blacam. Ruairí is chef in his own restaurant, where the food has already won endless accolades from the gastro press. Before dinner, he showed me his impressive fields of vegetables, free range chickens, cow and piglets. As we walk past one barren field after another, all enclosed by the famous stone walls, I realised it's not long ago in the island's history that this land was considered impossible to cultivate. However, the local people created soil from sand and seaweed and, having grown up on the island, Ruairí seems to have inherited some of this determination to create life and sustenance out of the rock.
How far this island has come, with developments like the hotel's water harvesting system which enables the use of grey and rainwater, helping in the creation of salads, herbs, cabbage, spinach and spuds. Later in the restaurant, his inspiration seeps through every mouthful of his food too, as we watch him produce lobster salad, monkfish and dry aged sirloin from his open plan kitchen, chatting with the guests as he merrily chops, sears and simmers.
The de Blacams want you to savour every bit of Inis Meáin, so even though you have the luxuries of an enormous whiter than white bed, chilled champagne, white robes and alpaca throws, the call of the land is too great. They leave bikes outside each suite, as well as swimming towels and a fishing rod. I managed to avail of all three and, along with my hiking boots, was able to reach the less accessible coves and cliffs, allowing me to live every moment here. I even caught some Pollock off the pier, which Ruairí prepared as a starter later – not just thrown in a pan, but sashimi style, sprinkled with sesame seeds, ginger and a bowl of wasabi sauce.
Walking is the only way to truly imbibe the wild, desolate and totally intoxicating beauty of Inis Meáin. The de Blacam breakfast is strategically generous, so that you can pack the leftover boiled eggs, salami, cheese and homemade bread into your bag for a good long walk. Don't miss the wilder south west side of the island which took me a good four hours, as I navigated my way across the mad, craggy, limestone cliffs, constantly stopping to try and get my head around these unique and awe inspiring seascapes.
This is a pricey getaway, with suites €250 per night and a minimum 2 night stay. But if I could pick one ethical travel treat as a voucher for someone this Christmas this, without doubt, is my top tip. Because although I generally adore the solace of islands when travelling alone, Inis Meáin evokes such poetry and passion, offers such mystery and magnificence, that it is just one of those special places which begs to be shared with someone you love.
ardbia.wordpress.com: A sparkling gem of Irish hospitality nationally and...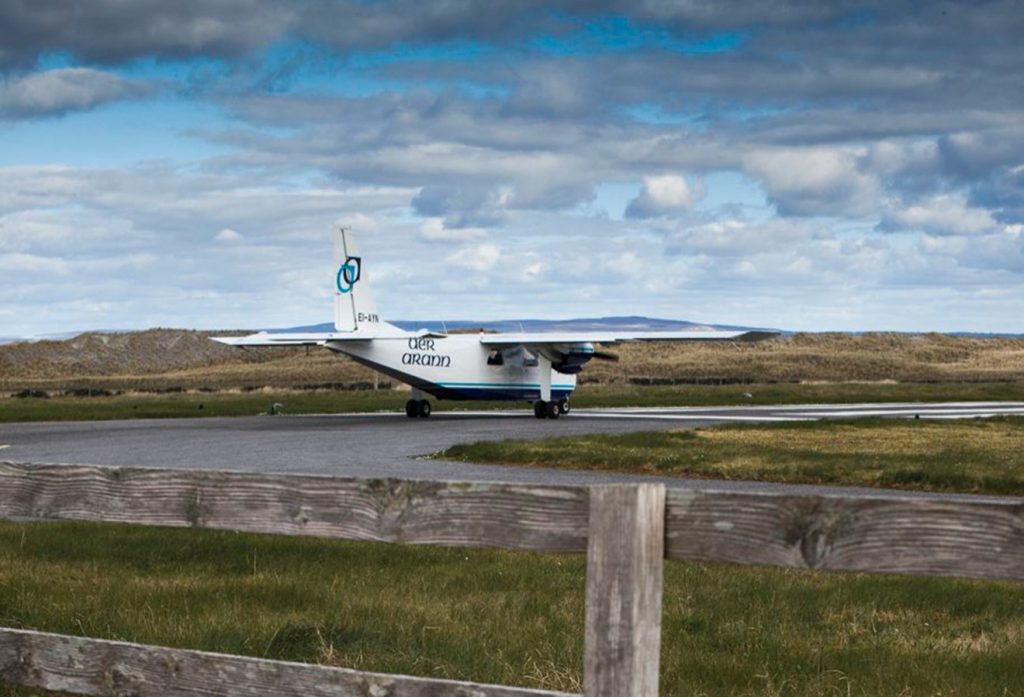 Inis Meáin is the least frequented of the Aran Islands. But it typifies that which is truly the spirit of these unique islands. Psychologically, the islands feel far away even for us nestled away in Galway but they are very easily accessed from Rossaveal by boat and also very uniquely by airplane from Inverin – the flight being a mere eight minutes from Connemara airport. It is wonderful to experience both ways of getting to the islands as you can have different perspectives of scale. The flight is stunning and as you approach the airstrip, you really get a sense of place and time on these islands that are an exercise in anthropology and climatic diversity.
I had not been to the islands for years but the draw of the award- winning Inis Meáin Restaurant and Suites was too great. Ruairí and Marie-Therese de Blacam have created a stunning restaurant with four large suites attached. The building itself was designed by architects Blacam and Meagher and was directly inspired by the surrounding area. It is a monument in contemporary stone and sits in tandem with the local stonewalling. The build is much publicised for its unique aesthetic and design consciousness. It exists as a contemporary build with a total embodiment of all that is around it, from wool throws on the bed, Irish pottery, periwinkles to start with as an amuse bouche before dinner and fishing rods and bikes left outside for your amusement. This place presents something totally fresh but with the greatest respect for everything that it has come from. This is what makes Inis Meáin suites stand alone as a sparkling gem of contemporary Irish hospitality both nationally and internationally.
The rooms are simple and yet luxurious with a view that would take your breath away. Egyptian cotton sheets in white with grey tweed furnishings and dark wood lend a simple tone that allows the space itself to shine. Breakfast in the morning is dropped off to the porch of the suite, homemade granola, fruit compote, traditional soda bread, jams and fresh boiled eggs from the house chickens. Breakfast can then be eaten on the expanse of windowsill that is an unending table in and of itself. You are then well set up for the day's activities; a detailed list of what to do is laid out charmingly and amusingly by the owners in an almost 'things to do' on the island. A walk to Synge's chair on the precipice of the cliff past the writer's house is a sublime and head clearing adventure, cycling all the lanes of the island, an afternoon in the local pub with a toasted sandwich and a glass of Guinness followed by a visit to the multi generational traditional knitters in a nearby house, a swim at the deserted beaches, and without fail a trip to Inis Meáin knit wear factory shop.
It seems all that these people do is spot on and done with such integrity. Inis Meáin knitwear supplies stores all over the world. Its commitment again to the local product is combined with an element of luxury that positions their products in stores as renowned as Bloomingdales in New York. The store itself is an old barn but houses a most extraordinarily diverse collection of knitwear. With bargain baskets galore, this is a chance to get your hands on some wonderful bargains and great finds. You can spend hours here looking at the old black and white photos and trying on endless combinations of knits and working up your appetite for dinner.
The simple stone dining room is really one of the most appealing restaurant rooms in Ireland. Large old black and white photos of the islanders subtly break up the room. The dark wooden huge windowsill again dominates and frames the landscape as if it were a photograph, light exists everywhere, it is almost like eating outside such is the openness of the space. Ruairí cooks in open plan in the centre of the room. The menu is simple; bearing in mind that all food has to be shipped or flown in, that alone is a huge achievement. There is naturally a strong element of seafood with the crab and lobsters caught daily by the local fishermen in their currachs. The vegetables come from their own garden and arrive simply buttered and seasoned, as they should be. There is cooking – here the ingredients are allowed to shine. You leave having had wonderful attentive service by Marie-Therese who fills you in on the local island activities and anecdotes, which further enhances this unparalleled dining experience.
After three days of blistering sun we leave revived and restored.Happy in the knowledge that we didn't have to fly hours to have an exceptional holiday, knowing we were supporting a local community and staying with people who work to enhance not exploit as they create an exceptional time for their guests. This is eco tourism at its best and most integral. The Aran Islands are a stunning destination and if you haven'tbeen for a while, visit them again. The local community could do with slightly more tourism and coupled with that, you will have some breathtaking peace and beauty.
Hoosta Magazine Online: An unforgettable holiday blend of tradition and modernity...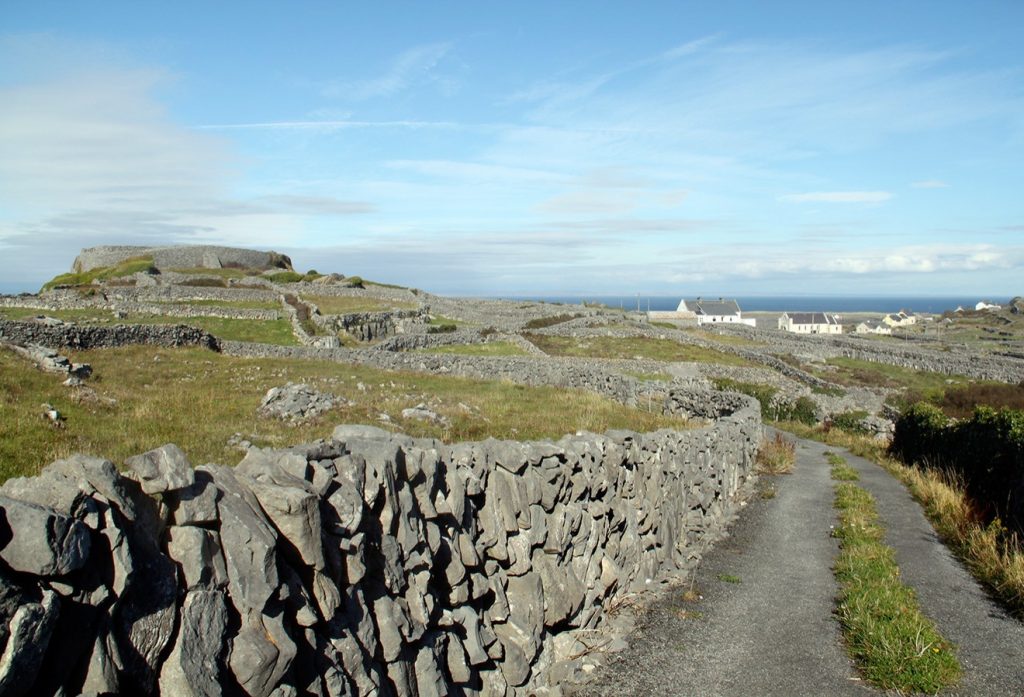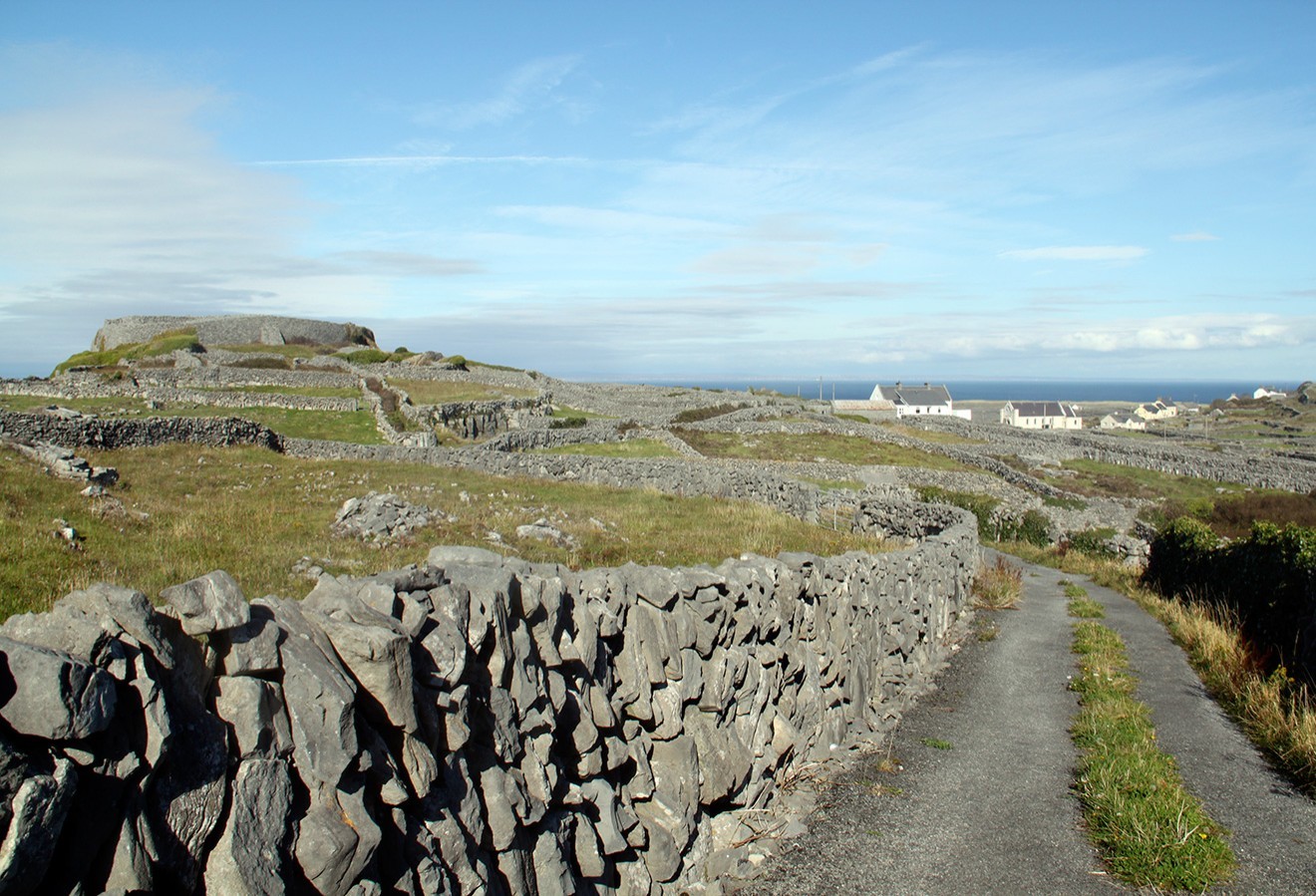 It is an island in the middle of the ocean, a wonderful garden, a permanent show. Away from the Mediterranean heat, Inis Meáin (Middle Island) is developing its own concept of charming tourism. An immersion in the Irish land of the design hotel Inis Meáin Suites.
Less touristy than its neighbors, with only 187 inhabitants, Inis Meáin Island is located in the center of the middle island of the Aran Islands, off Galway on the west coast of Ireland, and sees the birth of a unique and original place. A restaurant and four suites are based in the Irish landscape through limestone materials used. Glass, wood, stone, slate are combined to result a sober and refined style. With its large windows, the restaurant that serves delicious local cuisine offers a breathtaking view on one of the three steps out of Europe described by the poet Seamus Heaney. This secret Ireland, land of narrow paths, and these men were fishermen and farmers who managed to tame the elements combine in a setting moon glistening in the rain. The precious hotel Inis Meáin Suites. offers an unforgettable holiday blend of tradition and modernity.
Focus Online (DE): Wo die Landschaft die Zimmer schmuckt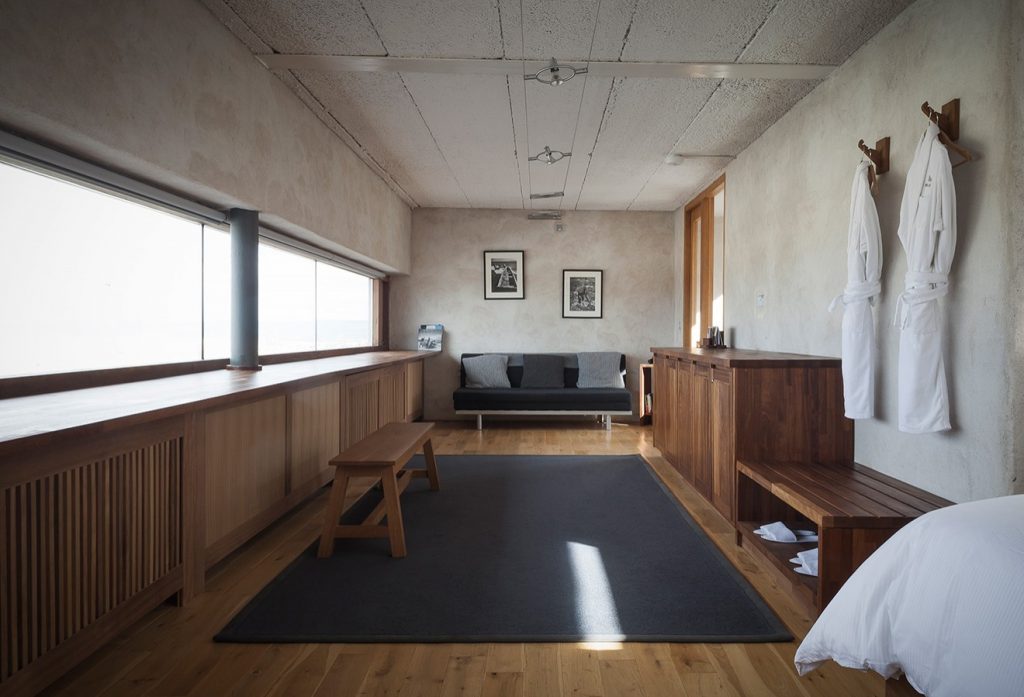 Stein und Geröll bestimmen das Bild auf den Aran-Inseln. Auch das eines außergewöhnlichen Bed & Breakfasts, das "die Landschaft in die Zimmer holen will".
"Wir sind das Gegenteil eines Spa", sagt Marie-Thérèse de Blacam, "die Landschaft soll in den Raum reflektieren und umgekehrt das Design des Raumes zur Landschaft passen." Gemeint sind ihre drei Suiten mit Blick auf die Steinlandschaft und Weite von Inis Meáin, so der gälische Name. Jene Insel, gut 20 Kilometer vor der Westküste Irlands gelegen, gerade mal fünf Kilometer lang und drei Kilometer breit, ist die mittlere der drei Aran Islands – und so abgeschieden von der Welt, als lägen sie im Dornröschenschlaf. Gerade einmal 200 Bewohner leben auf dem Eiland, sie treffen sich meist im einzigen Pub. Doch seit zwei Jahren gibt es eine Alternative, die nicht nur Einheimische anlockt: das Bed & Breakfast von Marie-Thérèse.
Gerade ist ein Fernsehteam aus den USA auf der Insel unterwegs, originelle Motive sind gefragt. Im Haus des Schriftstellers John Millington Synge, der auf Meáin fünf Sommer lang verbrachte und eine tiefe Liebe für das Leben und die Sprache der Aran-Bewohner entwickelte, waren sie bereits. Die ovalförmige Burganlage von Dún Chonchúir und die Kirche von Mary Immaculate mit ihren eindrucksvollen Fenstern sind ebenfalls schon im Kasten. Jetzt steht der musikalische Teil an, im Pub, das bis auf den letzten Platz gefüllt ist. John Millington Synge zeigt mit seiner Fiddle, der Violine, Steve mit der Tin Whistle, der Metallflöte, und Conor mit seiner Bodhran-Trommel ein großes Repertoire. Das Publikum ist begeistert.
Auch Ruarí, Marie-Thérèses Mann, bahnt sich einen Weg zum Tresen. Er ist gelernter Koch und Mitbegründer von "Inis Meáin Suites B&B" – endlich hat er Feierabend. "Die Letzten sind gerade gegangen", erzählt er erschöpft und nimmt einen kräftigen Schluck vom frisch gezapften Guinness. Eine Gruppe Einheimischer habe den 50. Geburtstag eines Freundes gefeiert und mit alten Liedern ausklingen lassen. Ein schöner Beweis dafür, dass das Restaurant nach anfänglichem Misstrauen nun auch bei den Inselbewohnern immer besser ankommt.
Vor allem Familien, deren Kinder im Sommer vom Festland zu Besuch kommen, bestellen meist einen großen Tisch zum Wiedersehen, berichtet Ruarí. Er selbst ist auf Ines Meáin aufgewachsen, hat dann seine Kochkünste in einem Düsseldorfer Restaurant gelernt und ist im Anschluss viel herumgereist. Für den Vertrieb des heimischen Modelabels Knitwear Store, das hochwertige Wollprodukte wie Pullover, Schals, Mützen und vieles mehr in alle Welt vertreibt, hat er zahlreiche Hotels an unterschiedlichen Orten kennengelernt. Doch es zog ihn zurück in die abgeschiedene Heimat.
"Irgendwann wurde der Wunsch, etwas Eigenes aufzubauen, immer größer", berichtet der sympathische Ire in rheinisch gefärbtem Deutsch. Etwas Besonderes sollte es werden, darin waren sich Ruarí und seine Frau einig. Auch wenn sich die aus dem fernen Cork stammende lebenslustige Marie-Thérèse sich erst mal an Land und Leute auf der Insel gewöhnen musste. Was die Architektur des Hauses anging, so schwebte ihnen ein Stil vor, der zur heimischen Natur passt und zugleich Designansprüche erfüllt. Ein exklusives Hotel, das ihnen ermöglicht, in diesem besonderen Fleckchen Erde gemeinsam heimisch zu werden. Ein befreundeter Architekt half bei der Konzeption der "Inis Meáin Suites B&B".
Mint Magazine: L'île magnétique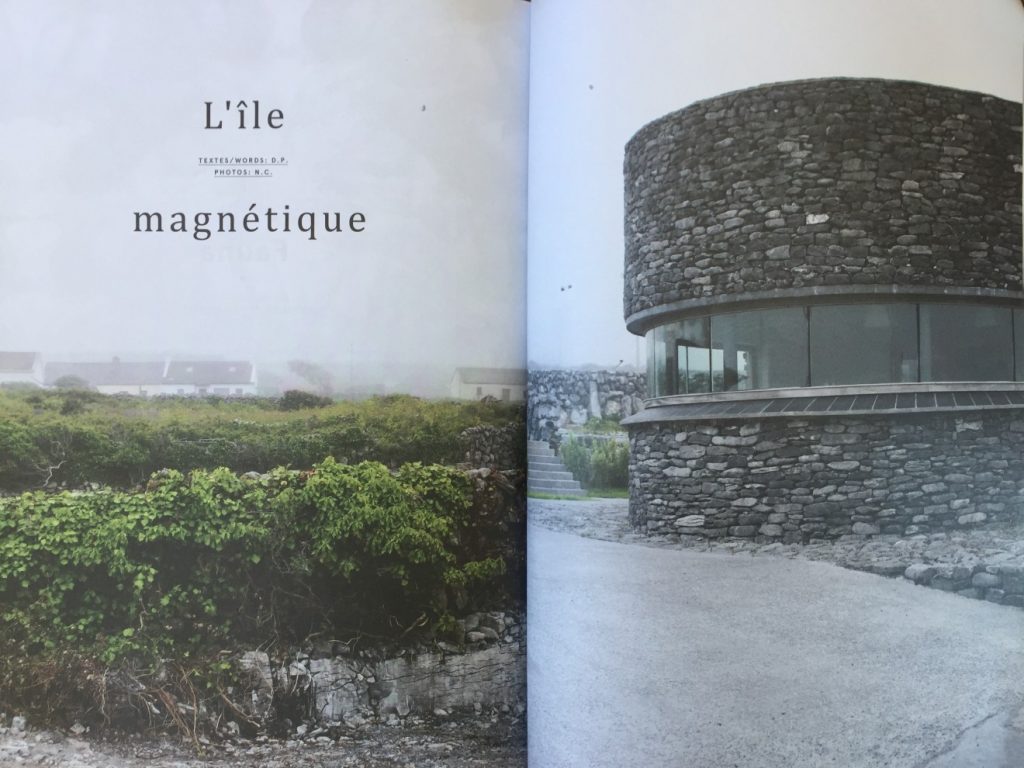 By
Déborah Pham
Published
Mint Magazine
2015
Á une poignée de kilomètres du territoire continental se trouvent les trois îles d'Aran. Elles sont la continuité du Burren, situé dans le comté de Clare, et possèdent la même richesse naturelle, rassemblant des mondes végétaux aux géographies opposées. Pas moins de 600 espèces de plantes différentes s'y côtoient en harmonie, qu'elles viennent de l'Arctique, des Alpes ou même du bassin méditerranéen. Pourtant, Inis Meáin se mérite et l'on peut passer à côte de son charme, à l'image du général britannique Edmund Ludlow qui, en 1651, déclarait: « Il n'y a pas assez d'eau pour noyer un homme, ni assez d'arbres pour le pendre, ni assez de terre pour l'enterrer. » Néanmoins, Inis Meáin est un véritable joyau irlandais où sont installés le chef Ruairí de Blacam ainsi que sa femme Marie-Thérèse.
The three Aran Islands sit a handful of miles from the mainland. Once attached to the Burren, situated in County Clare, they have the same rich environment, uniting plant life and remarkably diverse landscapes. No less than 600 different plant species live together in harmony, coming from the Arctic, the Alps or even the Mediterranean basin. Still, Inis Meáin isn't easy, and its charm can go unappreciated. As it was by British general Edmind Ludlow in 1651, who declared: "There is not enough water to drown a man, wood enough to hang one, nor earth enough to bury him". And yet Inis Meáin is a real Irish gem, home to chef Ruairí de Blacam and his wife Marie-Thérèse.
Urlaubsarchitektur - A Guide to Architectural Retreats: Ein preisgekröntes Restaurant indem der Besitzer selber...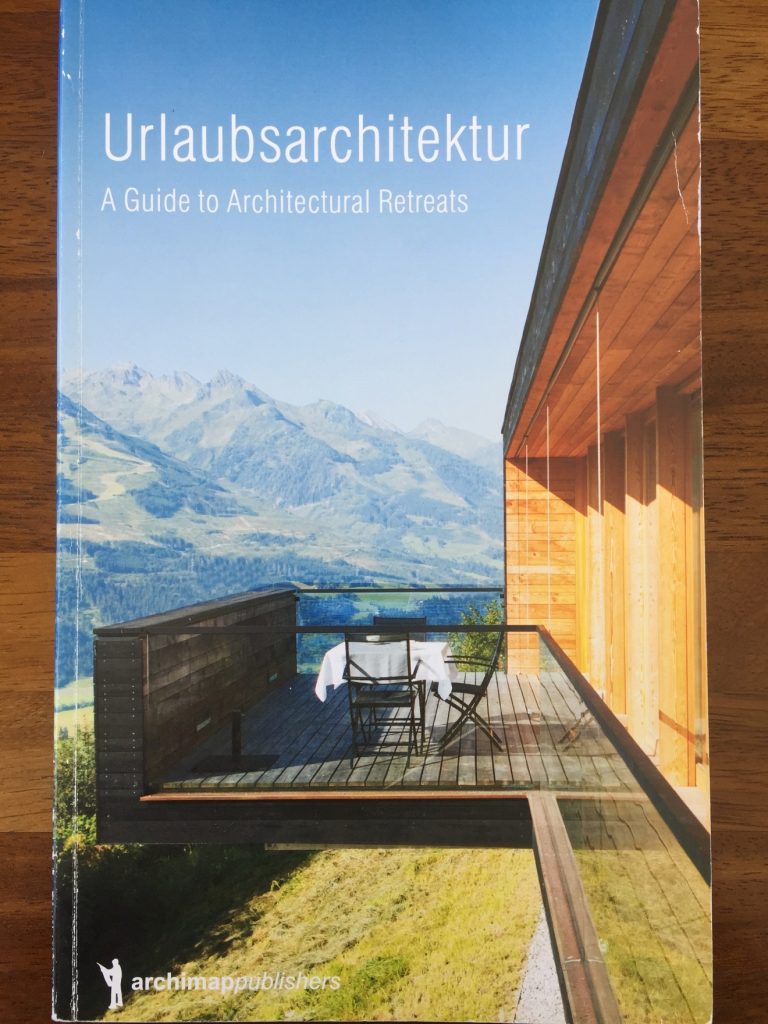 By
Jan Hamer
Published
Urlaubsarchitektur – A Guide to Architectural Retreats
2010
Inis Meáin ist die mittlere der drei Aran-Inseln in der Galwaybucht 20 Kilometer vor der Westküste Irlands. Die Natur der nur fünf Kilometer langen und frei Kilometer breiten Insel ist einzigartig. Ihre Landschaft ist geprägt von Stein, schroffen Felsen und dem Klima des Nordatlantiks. Für das Ehepaar Ruairí und Marie-Thérèse de Blacam, er auf Inis Meáin aufgewachsen, entstand während vieler Reisen der Wunsch, auf der Insel mit einem besonderen Projekt heimisch werden zu können. 2008 eröffneten sie dann ein kleines Restaurant mit Gästesuiten. Die typische Landschaft von Inis Meáin sollte in der Architektur reflektiert werden und zugleich das moderne Design des Bauwerks akzentuieren. Die Architekten de Blacam und Meagher setzten diese Ideen in die Realität um. Durch die Natursteinfassade scheint das Gebäude wie aus der Insel erwachsen zu sein. Innen bestimmen einfache, grau geputzte Wände, Holzparkettböden und große Fensterfronten die Räume. Die fünf Suiten bieten je zwei Personen Platz. Von einem großen, offenen Raum mit Wohn – und Schlafbereich und vorgelagertem Freisitz hat der Besucher durch die verglasten Fensterfronten einen freien Blick auf sowohl die Insel als auch die Bucht. In dem mit Awards ausgezeichneten Restaurant in zeitgenössischen Stil wird lokale Küche wie fangfrischer Lobstermund Krabben serviert. Außerhalb eine 130 m² große, exklusive Apartmentsuite gemietete werden.
Ocean and Mountains - Hotels in extraordinary places: An impressive panoramic view of the North Atlantic ...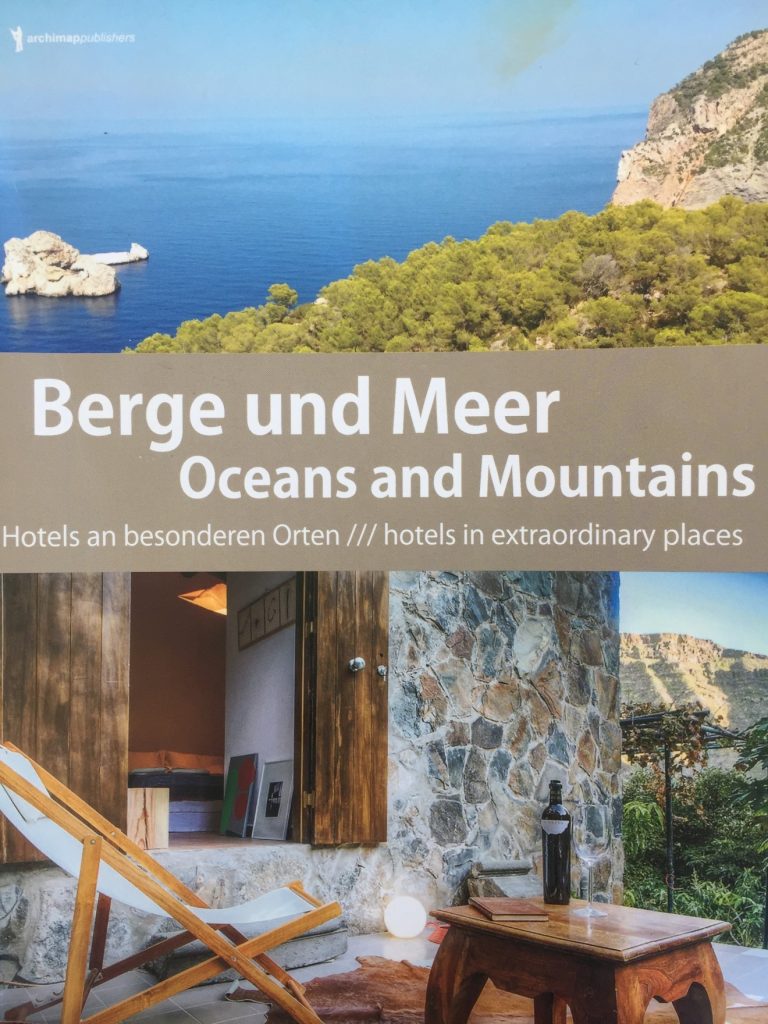 By
Nils Peters
Published
Ocean and Mountains – Hotels in extraordinary places
2014
Inis Meáin is the middle of the three Aran Islands in Galway Bay, 20km from the west coast of Ireland. The nature of the just 5km long and 3km wide island is unique. Its landscape features stone, rugged cliffs and the climate of the North Atlantic. For the married couple Ruairí and Marie-Thérese de Blacam, he having grown up on Inis Meáin, many travels gave rise to the wish to make the island their home with a special project. So in 2008 they opened a guesthouse with a restaurant. The typical landscape of Inis Meáin was to be reflected in the architecture and at the same time accentuate the modern design of the building. The architects Blacam and Meagher translated these ideas into reality. Owing to its natural stone façade, the building appears to grow out of the island. In the interior, the rooms feature simple, lime plastered walls, wood parquet floors and large window fronts. The five suites each provide accommodation for two people. From a large, open room with a living and sleeping area, guests can enjoy open views of the island and the bay through the glazed window fronts. In the small restaurant with a dining hall in a contemporary style, local ingredients such as freshly caught lobster and crabs are served, with an impressive panoramic view of the North Atlantic.