With a total living space of 300sqm, the award-winning Stone House, designed by de Blacam & Meaghar Architects, provides optimum spaces for both individual privacy and relaxed communal gatherings for a group of up to 8 guests. It is set on 3 acres, a small parcel of the wider 70 acre farm estate, that also contains our vegetable gardens, greenhouse, hen run and beehives – all of which guests are welcome to explore.



Architecture, Art & Design
Iconic architecture, art and design combine in the exterior, interior and landscape of both Houses.
Natural Comforts
Natural materials are used extensively in both Houses including lime plastering, stone facing, granite tiles, slate finishes and wooden joinery.
In the interiors, custom-designed sold wood cabinetry features throughout, with 100% linen bedding, feather and down duvets and pillows, Inis Meáin Knitting Company cashmere, marino, baby alpaca and silk soft furnishings, with Burren Perfumery and Aveda toiletries.
Exclusive use of House & Grounds
Each house has its own private grounds including gardens, patios, outside sitting areas and other features.
Individual Privacy
50sqm Suite Studios with independent outside entrances in the Stone House, and spacious Ensuite Bedrooms in the Boat House, ensure privacy and comfort for couples and individuals when personal space is needed.
Convivial Gathering Spaces
Spacious living areas with extensive island and sea views, solid oak long dining tables, high spec and fully equipped kitchens, cozy couches and books of interest, all ensure comfort for catching up with friends and family or island musings after a day spent outdoors together.
Remote Working Spaces
For when guests can't leave everything behind, each Suite Studio in the Stone House has a 10m long, solid teak desk running below a panoramic window, and the spacious Ensuite Bedrooms in the Boat House have collapsible solid oak desks.
High Spec Facilities
Good quality wireless broadband, laundry facilities, power showers and premium brand appliances feature across both Houses.
Central Island Location
Both Houses are located right in the middle of the Island, just 100m apart.  They are around 5 minutes walk to the Island Shop and the Island Pub.
The Island is about 5km by 3km and the closest beach is around a 15 minute walk or a 5 minute cycle.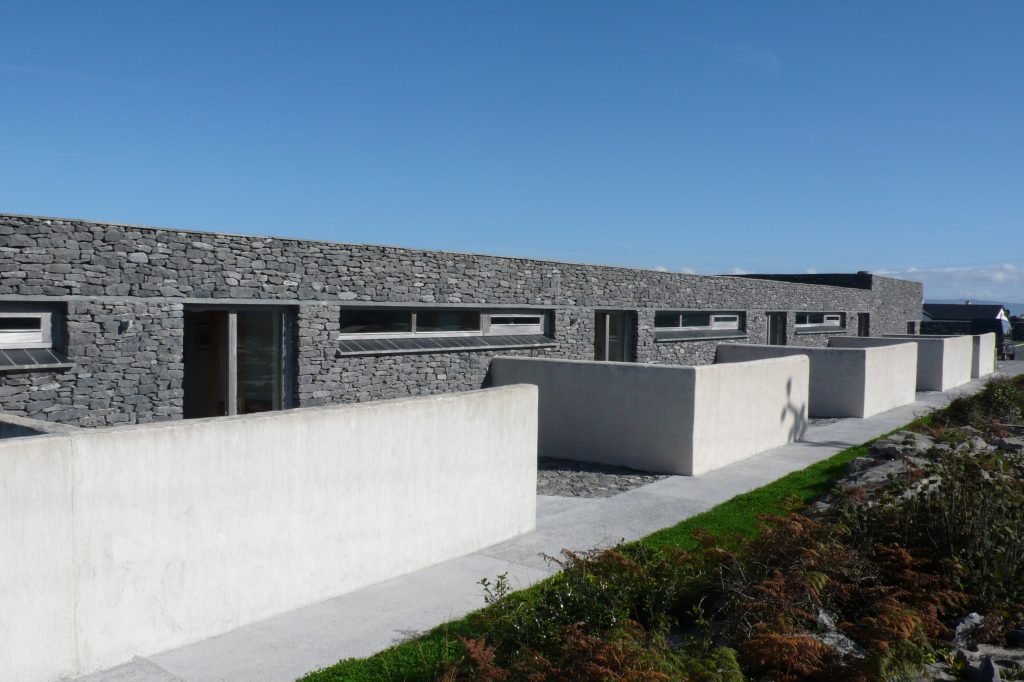 Personal Space
The Stone House has four identical Burren Studios of 50sqm that each provide sleeping and living quarters for 1 or 2 guests from the group.
Each Burren Studio has their own outdoor patio looking south on to our natural rock garden. Deckchairs, featuring our stone wall print, are provided and custom-sourced bicycles are also kept outside each Studio door.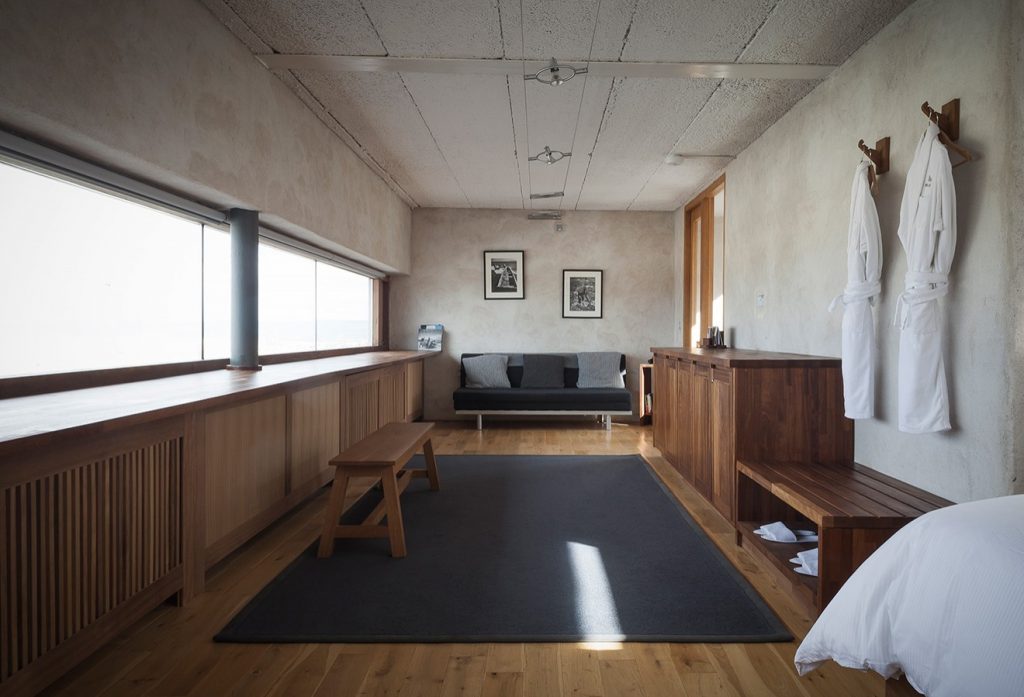 Individual Privacy
The Burren Studios provide very comfortable and private spaces for individuals or couples within a group. They feature a couch with Inis Meáin Knitting Company soft furnishings, solid teak joinery with integrated fridge, tea/coffee making facilities, and games and books relevant to the island.
The sleeping area has a linen-dressed superking bed with comfy armchairs, and a bathroom with walk in shower.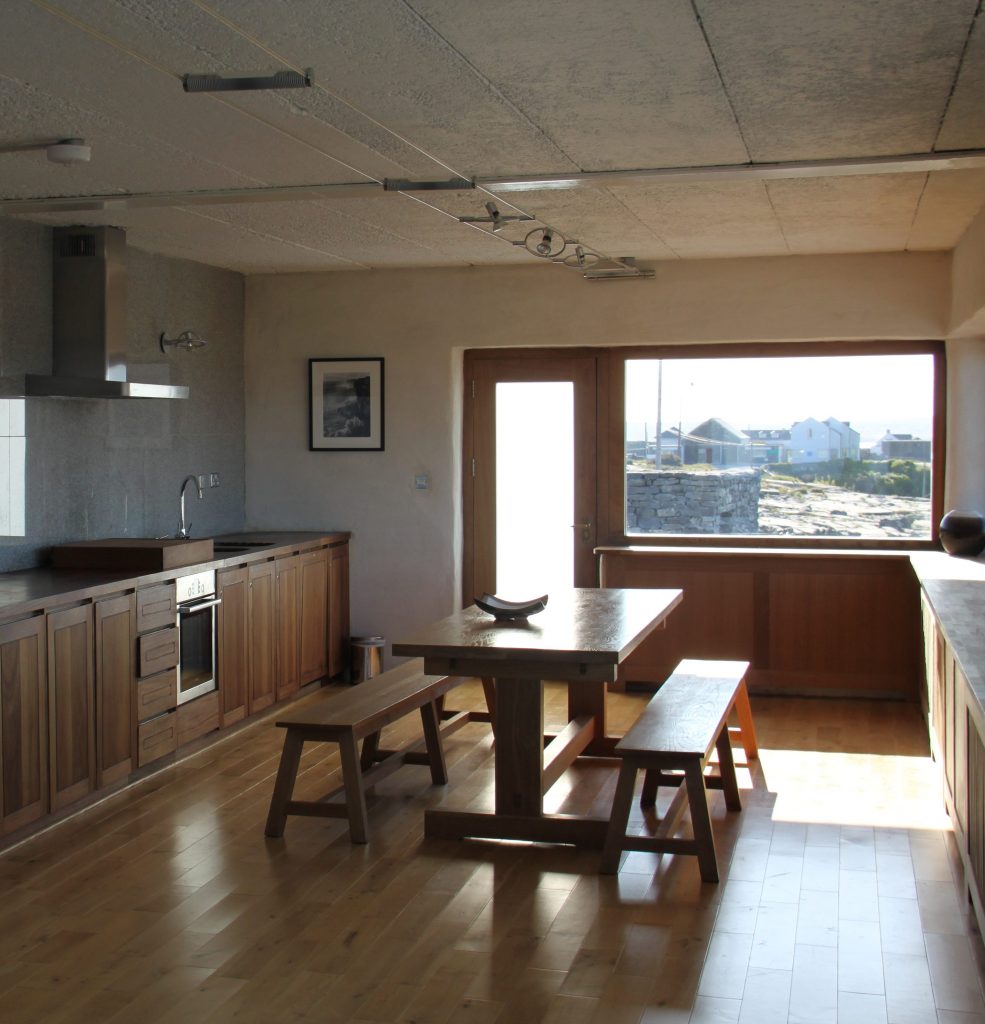 Convivial Dining
Separate to the four Burren Studios, which provide all of the sleeping quarters, the Stone House has an extensive living space for the group to enjoy time together.
Located at the west end of the long Stone House with sunset views, it includes a full kitchen, with top spec appliances, and a long oak table.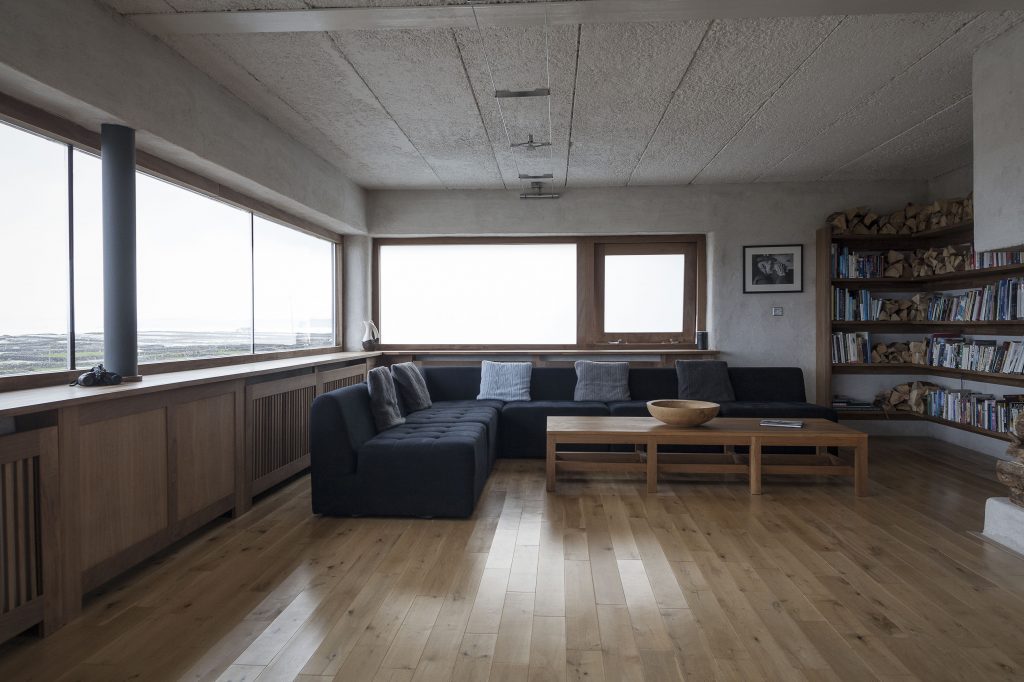 Relaxed Lounging
The open plan Living Space also features wrap around windows with expansive views, and a living area with a large L-couch, mini-library, wood-burning stove and guest restroom.